World Suicide Prevention Day 2019
September 10, 2019 @ 6:00 pm

-

8:00 pm
Event Navigation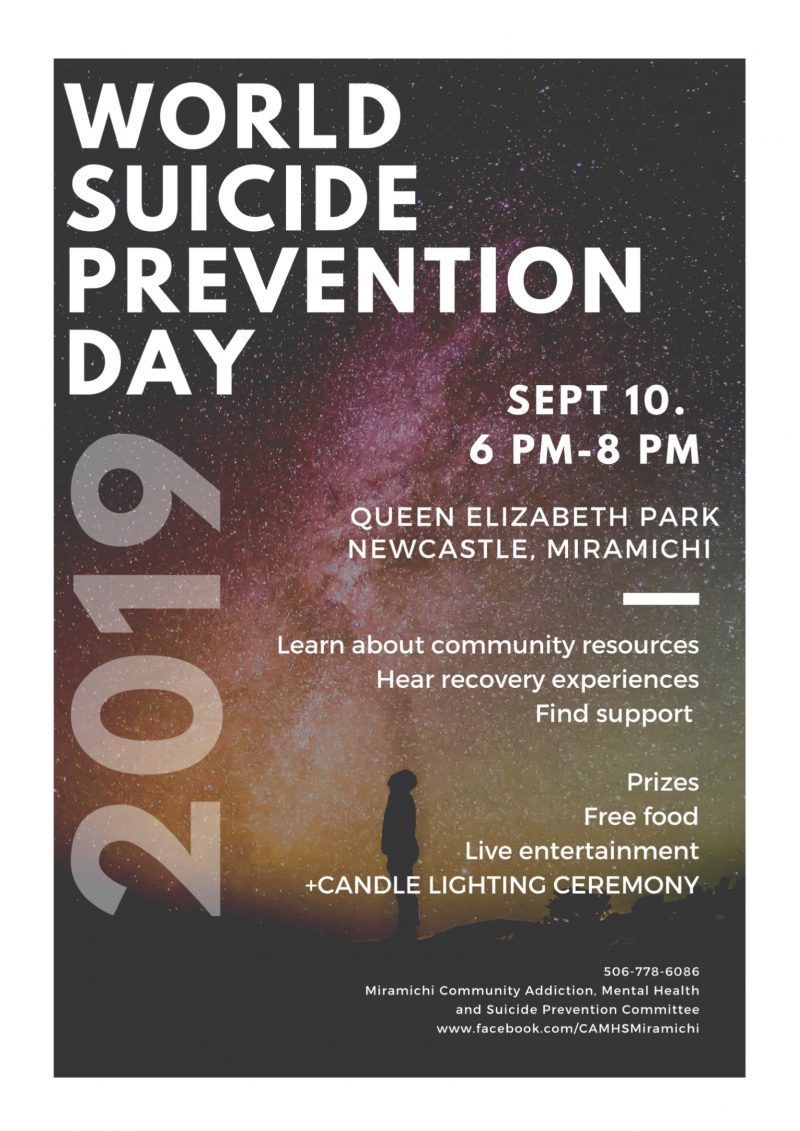 Put on by the 'Miramichi Community Addiction, Mental Health, & Suicide Prevention Committee' (or Miramichi CAMHS).
September 10th, beginning at 6 PM and ending at 8 PM.
There will be free food and refreshments (vegetarian chilli, bread rolls, blueberry cake, coffee/tea) for the first 50 people who show up! Includes live music by local artists, recovery sharing experiences from guest speakers, additional activities such as washer-toss and face painting for children.
'Helpers' (clinically trained) will be on-site for those who wish to speak to someone during the event. There will even be a 'buddy bench' for those who have trouble asking for help, where a Helper will come and talk to you and help direct you to the help you may need or simply just to talk/answer questions.
There will also be a candle-lighting ceremony for those who wish to light a candle in memory of a loved one who they've lost from addiction/mental health/suicide-related issues.
The purpose: 'Helping people get help' – There will be resource and information booths set up for each mental health-related resource in the community. For each booth visited, you will receive a ballot to be entered into a draw for prizes. $250 worth of Rodd gift cards to be given away.
Resource/Info Booth Included:
1.Addictions and Mental Health Services '
2.Caring Friends Activity Centre '
3.First Nations '
4.Men's Mental Health '
5.Miramichi CAMHS Committee '
(Community Addiction, Mental Health, & Suicide Prevention)
6.Miramichi Emergency Centre for Women '
7.Miramichi Regional Multicultural Association '
8.Miramichi Trauma Resource Centre '
9.Pride '
10.Schizophrenia Society '
11.Seniors '
12.Social Development '
13.Transportation '
14.Youth '