32nd Annual Parade of Lights
December 1, 2017 @ 6:30 pm
Children of all ages are invited to celebrate the 32nd annual Parade of Lights, taking place Friday, December 1st in the Historic Chatham Business District. This year's theme, There's No Place Like Home For Christmas embodies all that holiday celebrations should be, love, tradition, family, friends and sharing. Festivities will begin on Historic Water St. at 6pm with hosts Veronique Arsenault and Paul McGraw. We encourage everyone to come down early enough to find a viewing spot and enjoy hot drinks and treats for the kids provided by some of our local merchants.
For parade participants, form-up will begin at 5pm in the James M. Hill High School parking lot. Children do not need to be on the floats until 6pm. Registration forms are now available at the Miramichi Leader, City Hall and in the Historic Chatham Business District building lobby located at 1745 Historic Water Street beside the Hospice Shoppe.
In partnership with Autism Resources Miramichi, "The Quiet Block" will once again be set up for those in the community who experience sensory difficulties from loud noises and/or flashing lights. It will be located across from O'Donaghue's Irish Pub beside Dewey Photography.
The Parade of Lights continues to support the collection of non-perishable food items to fill Christmas Hampers for our community families in need with the partners Pizza Delight Chatham along with the Miramichi Leader Elves.
Much gratitude goes out to the Miramichi Police Force and NBCC Police Foundation students who will once again be controlling the flow throughout the district and keeping everyone safe. The parade will depart from James M Hill High School, proceeding North on Henderson St., East on Wellington St., North on King St., West on Water St., South on Lobban Ave., finishing at the Blanchard Clinic.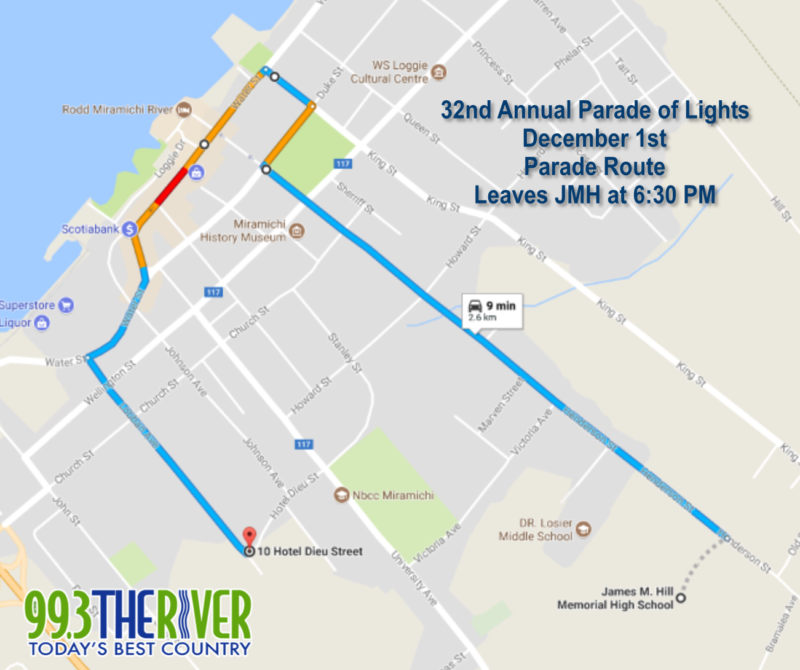 PLEASE NOTE: Water Street will be closed to traffic and parking between Henderson and Duke from 4:30pm until following the parade.
PLEASE keep children on the sidewalk at all times to ensure all have a fun, safe, enjoyable night.