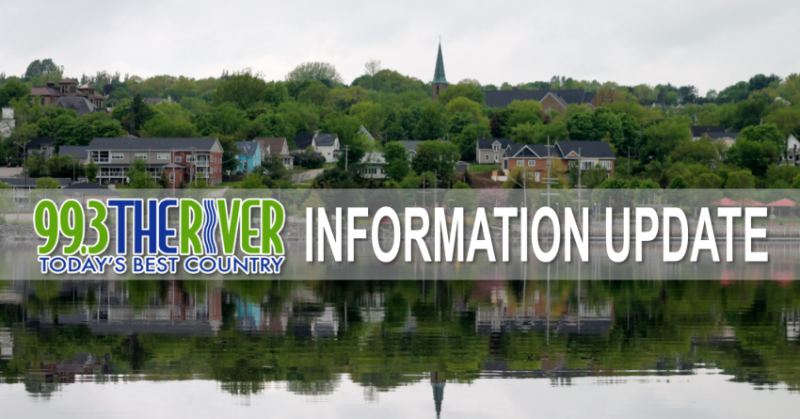 99.3 The River News—-March 15th, 2021
ALL STORIES FROM MBS NEWSROOM
—-
COVID CASE COUNTS
Public Health officials announced five more cases of COVID in the province yesterday after none on saturday.
There's one new case each in the Moncton and Fredericton health zones which are travel-related and three in Edmundston which are under investigation.
With recoveries the active case count has risen to 37 with one person in hospital.
The Miramichi has 16 active cases but there are none in the Bathurst or Campbellton zones.
The Moncton region now has 9 active cases.
The Saint John Region has 2 active cases.
—-
HIT AND RUN
A 21-year-old man from Cap Pele has been charged with murder following a fatal hit-and-run Friday.
19-year-old Javin Melanson of Moncton was found dead in the parking lot of a business on Elmwood Drive and determined his death was the result of a homicide.
They arrested Anthony Miller later that day and arraigned him in court virtually Saturday on a charge of second degree murder. He's due to appearin court again tomorrow.
—-
VACCINE IN PHARMACIES
Phone lines at pharmacies around the province will have a lot of busy signals. People 85 and older can now book appointments to get their COVID vaccine shots.
The pharmacies will be pumping mainly the Moderna vaccine into elder arms because of its less extreme cold storage requirements. Family members and caregivers of that age group can also book appointments.
However, Public Health is asking people in other age groups not to call pharmacies, doctors offices or 8-1-1….you'll just be tieing up the lines.
Doctors aren't giving out vaccines yet.
—-
SNOW CRAB FISHERS   
Snow Crab fishers are getting an earlier start to their season.
They say an earlier start will help protect the endangered North Atlantic right whales and improve their catch. With an earlier start, fishers could set traps before the whales migrate into the Gulf. The season is due to start at the beginning of April, four weeks earlier than normal. Coast Guard icebreakers were working on the weekend to clear ice around the Acadian Peninsula.
According to CBC – The population of the whales is now estimated at just 350 left in the world.
—-
HOTAIR BALLOON TRAVEL   
A British couple is looking to set a world record this year by travelling from New Brunswick to England by balloon.
Deborah Day and Mike Scholes are hoping international borders will open by this summer to allow them to attempt their crossing from our Sussex to their home in Sussex, U-K.
This will be their third attempt as the pandemic foiled plans for the trip last summer, and there was a worldwide helium shortage in 2019, according to CTV.
If successful, Day would be the first woman to captain a transatlantic balloon crossing, while Scholes would become the first blind crew member on such a trip.
—-
GREENS ON CARB TAX     
The New Brunswick Green Party's environment critic says the premier has been misspending revenue from the carbon tax.
M-L-A Megan Mitton is criticizing the government for spending only 26 of the 36-million dollars budgeted from the carbon tax revenue.
Mitton says the remaining 10-million dollars should go toward helping residents save money, but Premier Blaine Higgs is using it to balance the budget.
She also says the government should be investing in initiatives to reduce carbon emissions by expanding affordable renewable power.
—-
MILITARY OMBUDSMAN       
Canada's military ombudsman is calling on the federal government to make his office truly independent.
Greg Lick says the current structure is undercutting confidence in his ability to fight for aggrieved Canadian Armed Forces members and others.
In an exclusive interview with The Canadian Press, Lick says he initially believed when he took the ombudsman's job in 2018 that he could work within the current structure. However he has since changed his mind, saying the situation sets up real and perceived conflicts of interest.