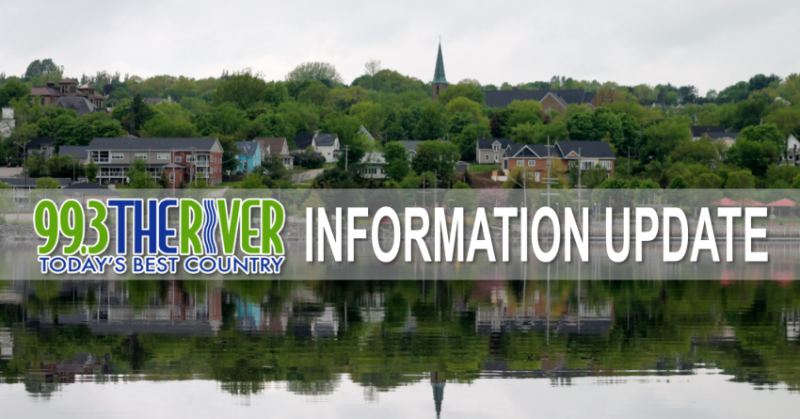 99.3 The River News—-Feb 4th, 2021
ALL STORIES FROM MBS NEWSROOM
—-
LORDON ON NEW VARIANT
Mayor Adam Lordon called the news this week that the U-K variant had been detected in a case in the Miramichi region scary…but he also tells the Leader it's not a cause for panic.
There have only been eight confirmed cases in the Miramichi since the onset of the pandemic…but only two are still active.
Lordon says the announcement that the more easily transmitted UK variants here reinforces the importance of following Public Health guidelines like self-isolation and social distancing. Doing that will reduce the spread of the variant just like it has with the original strain over the last few months.
—-
COVID NUMBERS
The number of active cases of COVID-19 in the province is now 274 after 17 recoveries…but 14 new cases were also added yesterday. They were mostly in the Edmuindsotn/Grand Falls region…but also four in Zone 1 in the southeast rangingin age from under 19 to over 60. There was also one case in Zone 3 – the Fredericton region.  Five people are in hospital and three are in intensive care.
—-
SHOTS FIRED/ONE INURED      
RCMP are inestigating after shots were fired at a vehicle and one person was injured in Johnville, north of Florenceville-Bristol. Police say they  responded after multiple  shots were fired at a vehicle around 1am Sunday and found a vehicle in the ditch off Route 105. RCMP say a 20-year-old woman, who was the lone occupant of the vehicle, suffered non-life threatening injuries as a result of the shooting.
Police say they searched a residence in Johnville on Monday as part of the investigation and seized a firearm  – but no arrests were made. Mounties say the investigation is ongoing.
—-HOUSING PUSH
The city of Miramichi is trying to get more housing in the two downtown cores. Economic Development Director Jeff McTavish tells the Leader the city is offering up to $10,000 for each built in the Newcastle Business District or the Historic Chatham Business District.
MacTavish says units must be at least 600 square feet. The incentive covers new residential units built from scratch as well as renovations in existing buildings.
—-
HELP FOR EDMUNDSTON 
Help is arriving for struggling long-term care workers in the Edmundston area.
The COVID outbreak has hit two long-term care homes especially hard. Dozens of staff are isolating at home after testing positive leaving fewer workers to look after residents…and they are getting worn out. The call went out for help.
About 20 Vitalité Health Network employees in Zone 4 have volunteered to help out in the nursing homes. Shannex is sending some employees from its long term care homes in Nova Scotia where numbers are low. And employees from several government departments around the province have also arrived.
—-
CARDY
Education Minister Domic Cardy went toe to toe with People's Alliance members in the legislature yesterday.
Cardy repeatedly suggested at a committee hearing about the online child care registry that objections by Liberal and People's Alliance members were inspired by online anti-vaccination activists and extremist populists. He even brought up the attack on the U-S capitol by extremist populists.
Kent South Liberal MLA Benoît Bourque, who was the target of some of the tirades, said his questions were not at all inspired by anti-vaccination
activists.   People's Alliance Leader Kris Austin shot back that asking for
clarifications is part of democracy…and there's no reason to get all wound up and defensive.
In the end, all the MLAs on the committee voted in farvour of the bill.
—-
MINDY GODIN     
The Man accused of killing Mindy Godin will undergo a psychiatric assessment
31-year-old Jonathan Beck Fontaine is charged with second-degree murder for the events that happened just before christmas in Edmundston
Fountaine was found fit to stand trial after a 5 day fitness assessment but was sent to Restigouche Hospital Centre for a 30-day assessment last month to determine whether he was of a sound mind when the attack occurred – those results have not been made public…
According to CBC – He's still seeking a defence layer willing to act on a legal aid certificate and has been given a month to do so
Fontaine is scheduled to return to court on March 10
—-
CHILDCARE BILL
A proposed Child-care bill has gotten some push back from the opposition
Bill 3 would give the Education Department the power to collect personal information for an online registry of daycares, meaning – names, addresses, places of work, language preferences and dates of birth, as well as information about a child such as allergies, medications and other special requirements would be shared through the registry with the Health Department and the daycare operators
The Bill and online registry would allow for parents to look for available spaces in their area, register their children and calculate whether they're eligible for financial support.
Both the Liberals and the People's Alliance have raised concerns saying the information being collected is an overreach
Education Minister Dominic Cardy Tells CBC – the objections were inspired by anti-vaccination activists.
After almost four hours of debate no MLAs voted against the bill, The approval vote sends it back to the full legislature for final approval.
—-
COVID NATIONAL
Canada has reached a benchmark in its mass vaccination campaign against COVID-19.
The country has surpassed one million shots going into arms. But the government is also advising the provinces there will be further reductions in the number of dozes of the Moderna Vaccine arriving this month…20%-25% fewer doses.
3,200 new cases were reported across the country yesterday with the active case count a little over 48,000….and there were 142 more Canadians losing their battle with the virus.