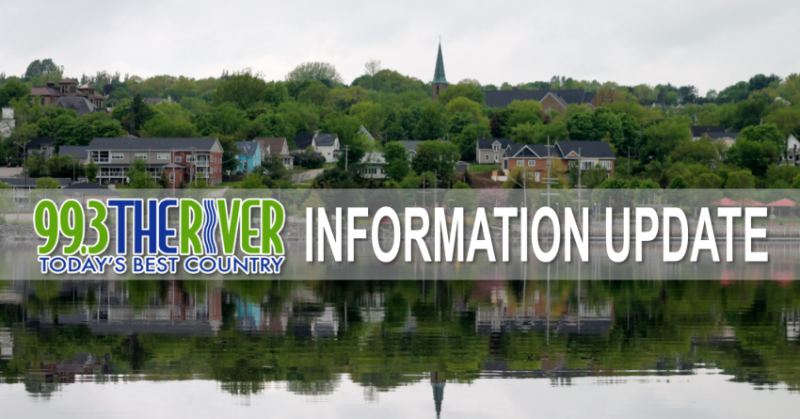 99.3 The River News—-Feb 22nd, 2021
ALL STORIES FROM MBS NEWSROOM
—-
HOSPITAL VISITS
The health minister is reviewing hospital pandemic visitation policies.
Miramichi MLA Michelle Conroy has been pushing for changes to the policy for months. Conroy tells the Leader her son was in a car accident last fall and was taken to the hospital E-R in a state of shock…but she couldn't be with him because of the visitor restrictions. It was his first time in the emergency room and there was nobody there to help him.
Conroy says hospital workers are beyond exhausted and have to answer a lot of calls from families of patients wanting answers about their care. ..andthat just adds to the stress they are already under.
The Health Department says it is trying to keep COVID out of hospitals…but the minister Dorothy Shephard says visitation policies will be reviewed.
—-
BONUS TAX REVENUE
Miramichi-area municipalities are thinking about what they will do with some extra money from the province they weren't expecting.
The six municipalities will be getting an extra $345,000 in tax revenue and equalization grants this year. That's because the Higgs Government is dropping the assessment cap in place for the last decade.
Miramichi will see the biggest increase of over almost $282,000.
—-
MORE HOUSING
Construction has begun to convert a former school in Chatham into affordable housing.
Sunfield Apartment Rentals of Fredericton is covertinethe former Saint Andrew's Elementary building on Chatham Avenue, into 24-26units according to the Leader. The company says rents will be comporable to similiar properties in Fredericton where a single room with a washroom and WiFi rents for $560 a month.
Mayor Adam Lordon welcomed the project, saying we finally have some momentum to bring more affordabe housing to Miramichi.
—-
COVID
There's been another death from COVID-19…the province's 25th.
It's a person in their 80s at the Manoir Bellevue which has been struggling with an outbreak for the last month. It's the sixth death associated with the facility.
Public Health also announced four new cases of the coronavirus and with recoveries the number of active cases is now 87.
There's 1 active in each of the Miramichi zone 7 and Bathurst zone 6 region.
There are 8 active in the Moncton zone 1 region.
There are 3 active in the zone 2 Saint John region.
(Campbellton is the only health zone right now with no active cases.)
The great majority are in the Edmundston region.
—-
EARTHQUAKES  
New Brunswickers in the north felt a small earthquake yesterday morning
A 2.6-magnitude quake was recorded south of Mount Carleton Provincial Park shortly after 4:00am.  2.6 is considered small and isn't usually expected to cause damage…but it can shake people up who hear it.
Stephen Crane, a research scientist with Natural Resources Canada says they haven't had residents report feeling the eathquake but it's important to track it regardless. According to CBC, there has been 125 earthquakes of 2.0 magnitude or greater in New Brunswick in the last 10 years, the largest being 3.7.
—-
YOUTH CRIMINAL JUSTICE ACT   
The provinces Child and Youth Advocate says the way police are tracking down group home runaways with arrest warrents is concerning.
Advocate Norm Bosse is questioning whether the missing person reports being sent out violate the Youth Criminal Justice Act, which protects young offenders identities.
When asked about the legality of identifying a youth in care who is subject to arrest, Saint John Police say they work with the guardians of the youth in order to locate them safely, and only share information with permission.
According to the telegraph journal the Youth Criminal Justice Act only allows the youth, once an adult, or a judge to ok the sharing of the information.
Bosse says he's still waiting on the department of public safety to reply.
—-
BAD SANITIZERS?
Hand-sanitizer, antibacterial wipes and physical distancing have been important tools in limiting the spread of COVID-19. But scientists say the measures may have long-term impacts on the diversity of important microbes that live on and inside our bodies.
University of British Columbia microbiologist Brett Finlay says a limited microbiome is linked to conditions including obesity, asthma and cardiovascular and brain diseases. Don't stop using the sanitizers…Finlay and other experts recommend boosting your microbiome by getting outdoors, eating a healthy diet and having physical contact with members of your household and pets.