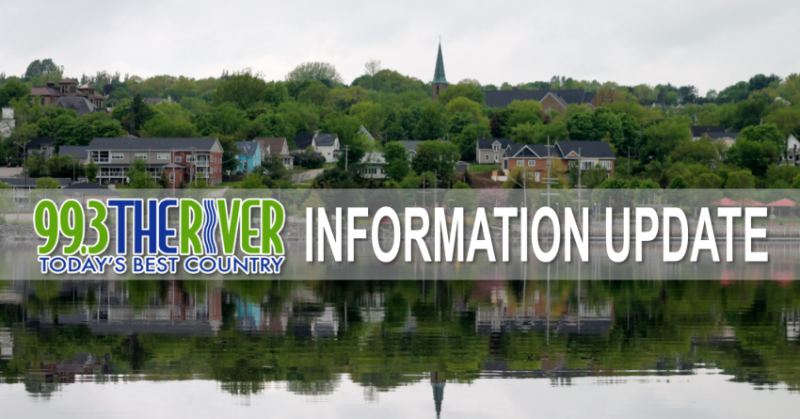 99.3 The River News—-Dec 18th, 2020
ALL STORIES FROM MBS NEWSROOM
—-
HOUSING AND COUNCIL 
Miramichi City Council has voted to accept recommendations from a consultant on the housing shortage here…with a couple of changes.
Economic and Tourism Director Jeff McTavish told council a couple of recommendations were tweaked a little to reflect current operational realities, according to the Leader.
The recommendations include explore options for a regional housing agency, launch an affordable housing pilot project and consider converting surplus school sites to residential units. McTavish says a housing pilot project is already underway. He also pointed out all former school sites have been sold to private developers but the city has other parcels of land which could be used for affordable housing.
—-
COVID 
Six new cases of Covid-19 were reported in New Brunswick yesterday…with 55 considered active.
Chief Medical Officer, Dr. Jennifer Russel says three are connected to the Edmundston outbreak and she is very concerned about the outbreak in the hospital there. Two other cases are in the Moncton Zone and one in the Saint John Region.
Dr. Russel also reported that there are now 20 confirmed cases at the Shannex Parkland Saint John care home after another staff member tested positive in the latest round of testing. 11 of those cases are residents.
All of the people are self–isolating and the sources of their cases are under investigation.
—-
VACCINE UPDATE   
Premier Blaine Higgs confirmed the first vaccinations will be administered beginning tomorrow at Miramichi Regional Hospital to 1,950 people.
Then the next batch of 3,900 doses will arrive next week…half will be stored until January 9th and 10hth to provide the required second dose to the first recipients.
The other half will go to Moncton which now has the specialized freezer capacity.
They are contacting people in the priority groups there now and will be many months.
—-
ABORTION FUNDING   
The Higgs Government used its majority in the legislature to block funding for surgical abortions at Fredericton's Clinic 554.
Caraquet Liberal MLA Isabelle Theriault introduced the option pleading with the nine female Conservative MLAs to support it, saying history will not be kind to women who turn their backs on the rights of women.
In the end the government MLAs voted to remove references to the clinic and ask the two health authorities to review whether existing abortion access complies with the Canada Health Act.
—-
PEI RCMP 
Nova Scotia's police watchdog has cleared the RCMP officers who shot and killed the mass shooter in April ending his killing spree.
Felix Cacchione, head of the police watchdog agency, says the two officers knew he had already killed several people when they came across him at the gas station in Enfieldoutside Halifax. They recognized him from an earlier briefing. When he raised his gun to shoot, they opened fire.
Cacchione says their actions were justified due to the threat he represented.
—-
LOCAL TRAVEL REBATE
The Higgs Government is extending one of the COVID relief programs…the Explore NB Travel Incentive Program.
It was brought in to encourage New Brunswickers to vacation at home last summer…and thousands of people claimed a total of over $17 million.
So according to CBC …  the government is extending the program into March.
The Ministry of Tourism, Heritage and Culture expected about 20,000 submissions for rebates…but got over 25,000.
—-
FREDERICTION SHOOTINGS
The families of the victims of Mathew Raymond had the opportunity to read victim impact statements to a judge yesterday in Fredericton.,
The 50 yearold Raymond was found not criminally responsible of the murders of Donnie Robichaud, Bobbie Lee Wright, Sara Burns and Robb Costello last month.
A disposition hearing gives family members a chance to describe how they have been affected.
Justice Larry Landry said Raymond will be held at the Restigouche Hospital Centre where he will continue to receive treatment for his schizophrenia. and there will be another disposition hearing in front of a review board within 90 days…but that board won't have the power to release him…just make recommendations.
Justice Landry declared Raymond a 'high-risk' to society, which means a judge will have to make the ultimate decision on when he can be released.
—-
SCHOOL FRAUD
A 49-year-old woman from Charlo, has been sentenced to two years of house arrest after pleading guilty to defrauding a New Brunswick school district.
Chantal Berthelotte will remain in the community but has to follow strict conditions set by the court.
She is also ordered to pay restitution of $50, 000.
On January 13, 2019, Berthelotte was charged with fraud over $5,000 and pleaded guilty in October,
—-
FAKE VACCINES
Health canada has issued a warning that fake covid-19 vaccines are for sale online.
The agency says these fake vaccines pose a serious health risk and nobody should be buying them from unauthorized sources.
A reminder that buying and selling counterfeit drugs or vaccines is a criminal offence that puts Canadians health and safety on the line
—-
BOEING FLIGHT 7-37    
The Boeing 7-37 Max is a step closer to flying again in Canadian skies.
Since January The jets have been grounded, after a software problem was to blame for two crashes that killed hundreds of people, including 18 Canadians.
Transport Canada has now approved some changes to the planes, but says safety plans and other improvements are still needed before the planes can fly again.
—-
NATIONAL SURGE
Things across Canada are getting much worse.
Over 7,000 new cases were reported yesterday pushing the active case well over 76,000. and the number of people succumbing to the disease is fast approaching 14,000.
Ontario recorded its worst day ever for new cases as hospitals call for a month long lockdown.
Alberta reported 30 more deaths…a daily record there.
and British Columbia's death toll has surpassed 700…more than doubling in just weeks….and most of them are seniors with outbreaks in 50 senior care homes.
—-
CERB REPAYMENT
The prime minister says young people who applied in good faith and received the emergency response benefit won't be forced to pay the money back.
N-D-P Leader Jagmeet Singh says Justin Trudeau needs to go further and tell the Canada Revenue Agency to stop issuing warning letters to people saying they may have to pay back some of the $500-dollar-a-week payments they received.
In an interview with The Canadian Press, the P-M says the government will have more to say in the coming months about what else might be done for anxious aid recipients.