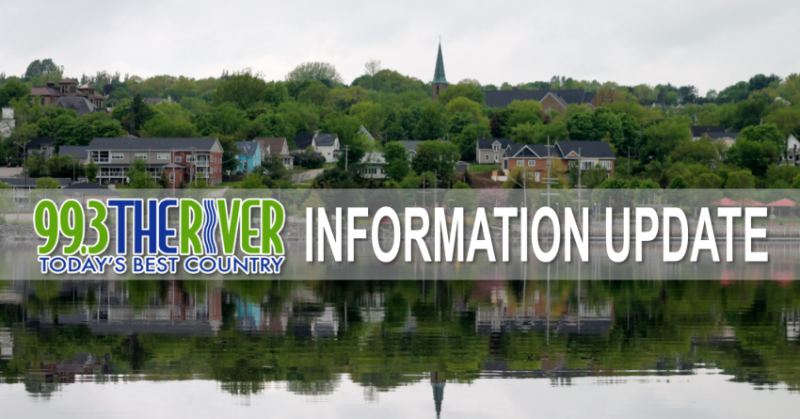 99.3 The River News—-April 7th, 2020
ALL STORIES FROM MBS NEWSROOM
—-
FIRST RESPONDERS PARADE         
There was another show of support for frontline hospital and seniors' home workers yesterday.
Police, fire fighters and other first responders paraded past Miramichi Regional Hospital and Losier Hall at noon with lights and sirens on. The Leader reports similar shows of support are taking place across the province.
—-
2 NEW CASES
Two new cases of Covid-19 were reported yesterday in New Brunswick, bringing the total to 103.
Chief Medical Officer Dr. Jennifer Russel says the news is encuraging compared to the situation elsewhere…but she warned the fight is far from over and people must continue self-isolation and social distancing and other measures recomended by government.
Russel says the two new cases were in the Moncton region and connectied to a previous travel case.
There are now 323 deaths across Canada, including a second in Newfoundland out of more than 16,600 cases.
—-
TASK FORCE       
New Brunswick has announced a pandemic task force to more rapidly respond to the COVID-19 pandemic.
The task force will have the authority to make decisions about the pandemic response for all aspects of the health-care system, including the regional health authorities.
Health Minister Ted Flemming describes it as implementing a military-like command structure and protocol to keep ahead of a virus that he says moves at a "relentless pace."
New Brunswick is reporting two new cases of COVID-19 — bringing the total to 103.
—-
 US MASK ISSUES   
New Brunswick might be getting a 100-thousand masks from Ottawa but a large order to the province has been put on hold after US president Donald Trump ordered manufacturer 3M to prioritize America.
Premier Blaine Higgs tells CBC the order hasn't been cancelled and they remain optimistic, but have not been given a firm delivery date for 295-thousand masks they had ordered.
Late yesterday 3M announced they have struck a deal with US officials to allow the export of masks to Canada, but there was no word on when orders would start being filled.
—-
RAYMOND UPDATE      
A judge has rejected the request that Matthew Raymond's latest fitness hearing can be heard by judge alone.
Raymond is charged with four counts of first degree murder in the alleged killings of two Fredericton police officers and two civilians.
According to CTV a 38-page decision released yesterday ruled Raymond is unable to adequately respond in his current medical circumstances.
He had been found medically unfit by a jury last October, but responded to medication prompting the courts to schedule a "re-fitness hearing" that will now need to have a jury present.
—-
SHIPS COMING HOME   
Navy ships are coming home from overseas missions and hundreds of other Canadian troops on missions in other countries are coming home as well.
DND has cut overseas missions short recalling four navy ships and hundreds of other troops in mission overseas because of COVID-19, according to CBC. It wants to make sure it can still conduct essential operations here.
HMCS Glace Bay and HMCS Shawinigan are returning to Halifax from west Africa and should be here by the middle of the month.