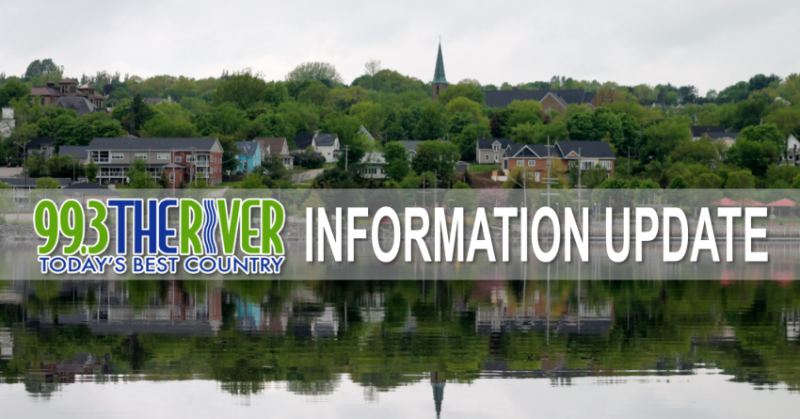 99.3 The River News—-April 6th, 2020
ALL STORIES FROM MBS NEWSROOM
—-
NOISY SATURDAY     
It got pretty noisy in Miramichi Saturday evening.
Residents went out into their yards or just opened their windows and start blowing horns, banging pots, blaring music or just yelling to show their support for front line employees in the battle against COVID-19.
Mayor Adam Lordon issued a release saying while many are staying home they wanted to find a way to recognize their efforts.
—-
MIRAMICHI TRANSIT
Miramichi buses are free as of today.
In consideration of the safety of the Public and Transit Employees, Miramichi Transit is suspending the collection of all tickets and cash.  It is also encouraging passengers use transit only for essential travel to help maintain social distancing aboard.
—-
NB NUMBERS
With three new cases reported yesterday New Brunswick now has 101 confirmed cases of COVID-19.
Chief medical officer of health Dr. Jennifer Russell said 58 are travel related, 32 are close contact to confirmed cases, five are community transmission, and six remain under investigation.
The new case ranged in age from 30 to 59 in zone-1, Moncton Region, zone-2, Saint John Region, and zone-3 the Fredericton Region.
Premier Blaine Higgs says we know there is more to come… there will be more cases… that is why we are doing everything we can to fight this.
Nationally the federal COVID-19 website is reporting over 15-thousand cases and 280 deaths.
—-
COTTAGES                       –
Following the lead of Canada's chief public health officer Dr. Theresa Tam…
New Brunswick's Dr. Jennifer Russell is also advising people not to travel to cottages and summer homes.
Doctor Russell says as a small province trying to maximize resources there are risks for people moving around and going to rural areas.
Tam for her part expressed this last week to those living in urban centers saying they shouldn't travel to places that have less capacity to manage COVID-19.
Both agree the best way to battle the virus is staying put and not travelling to summer properties.
—-
FIRE BAN     
Under the provincial state of emergency all outdoor campfires and use of open fires pits has been suspended until at least May 1st.
Fire are allowed in a CSA approved device and it is best to check with the municipality for individual recommendations.
Premier Higgs says those who don't follow this advice and who won't respond to warnings now face the risk of being charged for violating the state of emergency order
—-
APPLY FOR BENEFIT
People can start applying for the Canadian Emergency Response Benefit today, but to help with demand the government has set up a system of applying based on your birthday.
You can apply today if you were born between January and March. Tomorrow for those with birthdays between April and June.
On Wednesday applications open for those born between July and September…
Thursday is for those between October and December.
Friday and the weekend is open to all. You can apply online or by telephone at 1-800-959-2019.. 1-800-959-20-19
Those who applied for EI will automatically be switched over so there is no need to do anything. The fund provides 2-thousand a month to those who have lost employment due to COVID-19.
—-
THE QUEEN'S MESSAGE     
The Queen issued a message directly to Canadians yesterday, hours after delivering a public speech to the British people and members of the Commonwealth.
The 93-year-old monarch says she understands Canadians may be struggling to remain hopeful "when faced with loss and uncertainty, but Canadians have many reasons for optimism, even in the most trying times."
—-