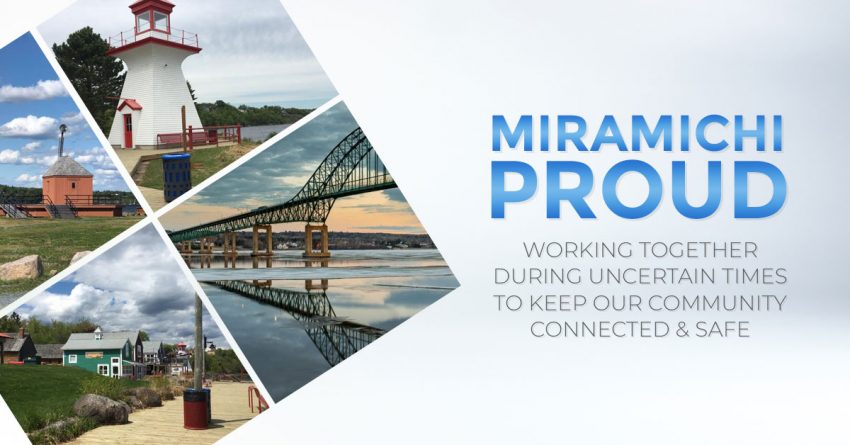 Miramichi Proud
Towne Chrysler Dodge Jeep Ram
Our service department is open for anyone who needs to stay on the road during these trying times—
especially our essential workers. If you need service, give us a call and we'll make arrangements to pickup and drop-off your vehicle.
506-622-3900 townechrysler.ca/ Our online inventory is always open for browsing! And what's better, we'll deliver your dream vehicle for a test drive! 😊
Have you looked at our website lately? Now's the time to check it out! www.townechrysler.ca/ It's time to start thinking about putting away your winter boots.
From service to tire changes and anything between, our service department is operating for you! Make an appointment today!
506-622-3900 www.townechrysler.ca/
Mikes Bar & Grill
We are open for curbside pickup and delivery only
Place your order by calling 622-7752
Check out our menu at mikesbargrill.com
Please do your part and do not enter the building just give us a call and let us know you are here
We really do enjoy bringing it out to your car! We also accept debit/credit and cash for curbside and delivery
Thank you so much Miramichi for all the support💖
JT All Season Motorsports Inc.
Check out our 2020 models now in stock! View inventory cityargo.com
Spring inventory arriving daily. Call for parts & service and we provide curb side pickup. Call and set up an appointment to drop off your snowmobile for final maintenance for the season. 778-8497
Dickison's Pharmasave
Dickison's Pharmasave is prepared and committed to providing essential services to the community of Miramichi.
We need to stay strong and support each other during this challenging time. We are asking all our customers to practice social distancing
of 2 meters (6 feet) from each other. Please understand that these steps are being taken to limit the spread of COVID-19 and keep our community and staff healthy.
If you are experiencing a fever, cough or shortness of breath, DO NOT ENTER THE PHARMACY, please call us instead. (506) 622-3511
We commit to deliver to our customers daily – delivery of your prescription needs plus other items you need from Dickison's Pharmasave.
Starting Saturday March 28th we are also changing our hours – Saturday 9-6, Sunday & Holidays 10-6, Monday – Friday 8:30-7:30.
Let's work together to keep our community healthy."
Chapmans Home renovations
Chapman's Home Renovation reminds Miramichier's to be kind, patient and caring during this challenging time.
Protect yourself and others by adhering to the government rules and restrictions currently in place,…
and please, PLEASE be kind to our frontline employees, including our dedicated health care workers
and those who continue to work through the pandemic to keep food in our fridges and on our tables.
A sincere and heartfelt thank you from Chapman's Home Renovation.
Napa Miramichi/Garwa Sales Ltd
Please be advised. We are limiting the access to our showroom and below are the current rules in order to keep our staff and the public safe.
No more than 2 customers will be allowed in store at a time. No Browsing of the showroom is allowed, the staff will assist you.
Doors are locked so please knock and we will assist you ASAP. There may be a wait so please be patient.
Please call ahead to order product you require so we can prepare and have ready for when you arrive and limit exposure for all parties.
Physical distancing is to be followed the showroom floor is marked and please follow directions of staff.
If you are currently sick in any form or have symptoms please DO NOT come into store. Updated Store Hours –
Monday – Friday 8:00 am -5:00 pm. We are closed on weekends until further notice. We apologize for the inconvenience,
your support and co-operation with this is greatly appreciated! Stay safe and healthy out there everyone!
McDonalds
McDonalds Miramichi, I would like to say thank you to my amazing staff and guests during these unprecedented times.
Our 1st priority is the safety of my staff and guests. We remain at your service through our Drive-Thru, Curbside pick-up
Plus, enjoy your favourites with ease using the My McD's® app. Order ahead, pay through your phone and pick-up at our Drive-Thru or Curbside.
We're keeping our Curbside Service open from 8am to 8pm. Order on our app, park in one of our designated curbside stalls and enter the stall # when prompted.
If you're a transport truck or oversized essential service vehicle, enter stall 99 when prompted. One of our crew will bring your order out to you.
We will also continue to serve all truckers who walk DT window when possible. Safety first of course. Thank you to all and please stay safe
Greater Miramichi Regional Service Commission
Following the recommendations to help limit the spread of the Covid-19 virus,
the Greater Miramichi Regional Service Commission is temporarily suspending the residential curbside recycling program effective
Monday, March 30th 2020. Garbage will be collected on a weekly basis. We encourage you to stockpile recyclables until further notice.
For up-to-date schedule and notifications, download the Free Recycle Coach app on Google Play or Apple Store.
Adaptive Office Solutions
The current state of health in the world has had an impact on all businesses,
and many people have been asked to work from home. Sometimes that's easier said than done…
and that's where Adaptive Office Solutions comes in. They'll analyse your needs, and help you to be
proactive with a plan to help your organization stay up and running remotely…
even during a situation like the current Covid-19 outbreak. One less thing to worry about-
sleep easier with Remote Support Services, talk to Adaptive Office Solutions today. Call 624 94-80. Adaptive office dot ca.
Carstar Collision & Glass
In response to the Covid 19 outbreak, for the safety of staff and customers,
Carstar Miramichi asks that anyone who needs an estimate for repairs to call the shop at
506 773-6106 and provide them with some details along with your email address.
they'll create an appointment and e-mail you a link where you will be able to attach
photos of your vehicle damages and they will be able to do the estimate remotely.
For more details call or visit Carstar Miramichi on Facebook.
Big Brothers/Big Sister
The Gold Rush 50 50 Draw is this Wednesday. For now, only Prepaid Gold Rush Numbers are in the Draw.
To Prepay a Gold Rush number there are 3 ways to do it: give us a call, go to our website, send it by mail.
One lucky Gold Rush Winner will be drawn on Wednesday. Same Deadline to play: Tuesday at 4 pm
Big Brothers Big Sisters / Boys & Girls Club Gold Rush, Together We Win By Staying In!
Papa & Boys
Nobody likes moving… but Papa and Boys Trucking can make your next move a lot less stressful! Papa and Boys
specializes in moving families to their new home, with service throughout the Maritimes!
They're experienced movers will get your stuff where it needs to go on time and in one piece!
Papa and Boys also specializes in pickups and deliveries, with the prompt, courteous service you'd expect
from a family company! Papa and Boys Trucking, Loggieville. Call Bob at 626-3982! That's 626-3982!
Sobeys Douglastown
We are doing everything we can to ensure the safety of our employees and customers in our stores. We will continue to evaluate and implement new measures as needed.
As of now:
1. The cashier disinfects their register and debit pad after each client.
2. We ask that you do not put your reusable bags on the belt, please leave them in your basket until you reach the other side of the register.
3. If you bring reusable bags from home, you will now have to pack your own groceries. (And no we do not have plastic bags but we do have paper.)
4. Suspended the lotto sale until further notice.
5. It is now MANDATORY to remove your gloves you wore from home and WASH YOUR HANDS when entering our store! If you want gloves after you wash your hands we will provide a pair instead of you wearing the ones you brought from home.
6. Plexiglass installed at each checkout to protect our employees and customers.
7. Opening hours reduced from 8 am to 8pm to give more time to extra disinfection efforts and storage of our shelves.
8. Added additional resources allowing cashiers to clean common spaces even more often.
9. introduced "Senior Shopping Hour" for the first hour of the day, 7am-8am offering the most vulnerable of us a dedicated time to buy goods.
10. Markers being installed outside to Mark 6ft, markers at each cash to follow 6ft rule and all our aisles are now 1way, so follow our arrows on the floors.
11. Create a process for our employees to wash their hands every 15 minutes.
12. Stop the sale of all served bakery products and any bulk food in self-service areas, such as dried nuts etc..
13. Cancelled all product demonstrations, samples and events in our community rooms.
14. encouraged all employees who feel sick to stay at home and implemented the recommended procedures recommended by the health authorities for those who have travelled or have been exposed to others who have travelled. We support our teammates who have to be away from work due to their own quarantine or to care for family members at home so they don't have to choose between their health or family and their income.
15. have raised the tap limit to $250
16. Encourage customers to use debit / credit if possible.
17. Do not accept any returns at this time, including 18 L water bottles.
18. Will not issue any rain check.
19. Removed hand held shopping baskets.
20. ENCOURAGE 1 Person per household to come to the store. Not groups.
21. limit the number of people in the store only if needed
22. During COVID-19 crisis implemented online ordering or curb side pickup to have less traffic in the store.
We appreciate all our customers support during this time.
The Financial and Consumer Services Commission
Fraudsters are taking advantage of the COVID-19 crisis.
The Financial and Consumer Services Commission is warning New Brunswickers to be extra careful to avoid falling victim to scams.
Beware of COVID-19 related emails and text messages with links to click or attachments to open.
Be on the alert for COVID-19 related phone scams. Avoid sharing personal or banking information with people you don't know.
Protect yourself by learning to recognize the red flags of fraud. Visit FCNB.ca