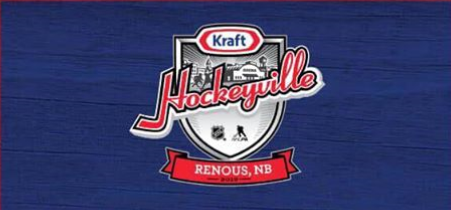 KRAFT HOCKEYVILLE TICKET INFO
(FROM THE RENOUS KRAFT HOCKEYVILLE COMMITTEE)
The time is finally here to announce registration for the Kraft Hockeyville 2019 NHL® Pre-Season game between the Montreal Canadiens® and the Florida Panthers® that takes place on Wednesday, September 18th at the K.C. Irving Regional Centre.
The local organizing committee from Renous has worked tirelessly to have as many people enjoy this once in a lifetime opportunity. While we could never reach everyone we hoped, our focus has remained on including as many youth as possible.
To register, you will need to fill out a ballot in person at the Renous Recreation Centre on one of the following dates. To register, you must be 18 years of age and provide proof of birth date and address. Ex. Driver's License.
For all categories that require a draw, entries are limited to one per household.
Tuesday, August 27th, 2019 thru Friday August 30th, 2019 and Monday September 2nd,2019 thru Tuesday, September 3rd, 2019.
During the times of 11:00am-3:00pm AT and 6:00pm-9:00pm AT on each of the above mentioned days.
For any category that is a lottery, there will be a public drawing on Facebook Live on or before 7:00pm AT on Wednesday, September 4th, 2019. All eligible names will be put into a clear drum and drawn while streamed live online, via the We Are Renous Tom Donovan Arena Kraft Hockeyville In Memory of Thomas Dunn Facebook group.
Winning entrants will have their names posted on this same site. A list will also be available at the Renous Recreation Centre.
Tickets can be picked up from Thursday, September 5th thru Saturday, September 7th, at 5:00pm to 9:00pm AT. Special arrangements can be made for those unable to make either time.
There will be another public draw at a date to be announced for any tickets that were not claimed by the deadline.
Who is eligible? All residents of New Brunswick.
Children under two (2) years of age may enter K.C. Irving Regional Centre for the Kraft Hockeyville 2019 NHL® Pre-Season game without a ticket, but must sit on the lap of an accompanying adult. Children two (2) years of age and older must have a ticket in order to gain entrance to the game.