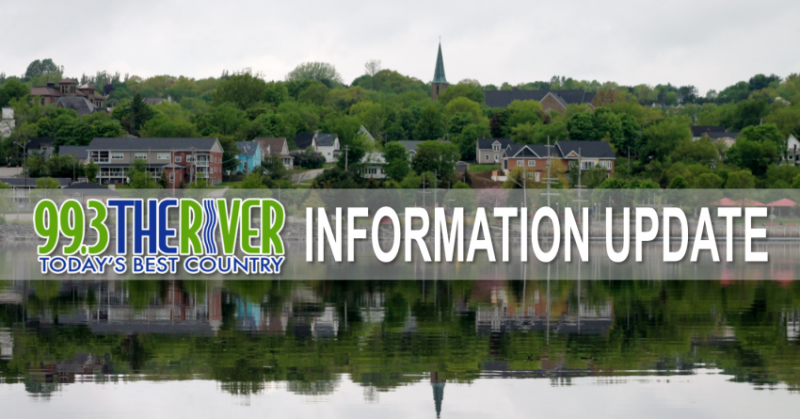 99.3 The River News—-Wednesday March 3, 2021
ALL STORIES FROM MBS NEWSROOM
—-
COVID 
New Brunswick reported its 28th COVID-related death yesterday.
It's another resident of Manoir Belle Vue in Edmundston who was in their 80s.
Public Health also announced four new cases…all in the Miramichi Region.
They include one case at Miramichi Valley High School which the school district announced monday night. The school is closed for March break….and contact tracing is underway to see how much it spread before school let out last week.
Another recent case in the Miramichi zone is presumed to be the U-K varient….they're just waiting on confirmation from the national lab in Winnipeg.
There are now 36 active cases of covid-19 in New Brunswick with three people hospitalized in intensive care.
The Moncton zone 1 is down to just 4 active cases.
—-
MURDER CHARGE        
A 54-year-old man has been charged with second-degree murder in connection with the death of a woman in Pont Landry, northwest of Tracadie, last week.
RCMP say a passerby discovered the body of 49-year-old Monique Gallien next to a vehicle the afternoon of February 24th. An autopsy later confirmed her death was a homicide.
RCMP have now charged 54-year-old Daniel Jean of Pont Landry with second degree murder. He is currently undergoing a five day fitness evaluation and is due back in court next week.
—-
CHIEF AUGUSTINE HONORED 
The Assembly of First Nations' regional chief is being honoured with a national award.
Roger Augustine of Natoaganeg First Nation  is one of 98 people receiving the Meritorious Service Decorations award from the Governor General's office, according to the Leader. The award recognizes individuals who have performed a deed or activity that brings benefit or honour to Canada.
Augustine is being recognized for creating the Rising Sun Treatment Centre in
1988 which offers alcohol and drug treatment programs for indigenous people who can use the six bedroom facility or virtual wellness services.
—-
PINEVILLE FIRE 
No one was injured but two people were forced out of their home southwest of Miramichi yesterday morning.
A man and woman in their 70s are staying with relatives for now and getting emergency supplies from the Red Cross.
They were forced out of their two storey home on South Renous Road near Pineville around 9:30. No wordon the cause.
—-
HEALTH PLAN   
New Brunswicks 5-year Health-care plan will begin with consultations this week
Ron Aiken, Sackville's acting mayor, tells Global News – that more services like surgeries, acute care beds and diagnostic units would help alleviate the workload at bigger, urban hospitals, and that more local control over health care would help improve the system because each community is different.
Over night closures of ERs are NOT part of the plan this time…and a big issue on the list is recruitment and retention, especially with more staff leaving the field than are coming in.  35% of family doctors and medical lab technicians are retiring within the next five years, and 40% of nurses are in similar positions.
The virtual sessions take place Tuesdays and Thursdays, beginning with Sackville tomorrow at 6:30, ending with Edmundston on April 27. A full schedule and link to register can be found on the provincial website.
—-
CANCER AWARENESS WALK        
A New Brunswick senior is raising money for cancer awareness by walking
70-year-old Paul Kitchen plans to walk 10KM a day for the month of May.
Kitchen was diagnosed with a rare, slow-growing cancer in the lymphatic system seven years ago.
According to Global News, around 1,500 Canadians have it, and getting the diagnosis can be hard, as symptoms differ from person to person.
Kitchen is asking for sponsors as he prepares with a goal of 300kms througout the month of May. He'll track his progress and share online, on the WM Foundation of Canada website.
—-
SUICIDE INQUIRY CALL 
The Green Party leader is calling for a public inquiry into the handling of suicidal youth by the province's hospital emergency departments.
The call by David Coon follows the death of a 16-year-old girl in Fredericton. Lexi Daken waited for eight hours to see a psychiatrist at the Chalmers hospital in Fredericton but left without having been seen and just a referral. She took her own life a few days later.