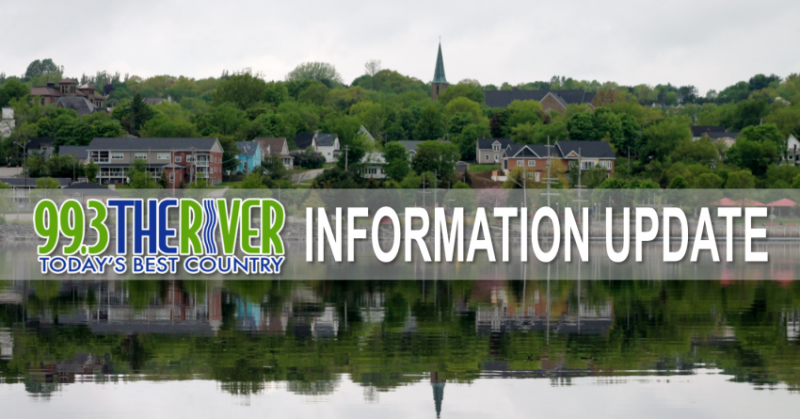 99.3 THE RIVER NEWS – SEPT 9, 2020
(ALL NEWS STORIES FROM MBS NEWROOM)
New Bridge
Construction will begin shortly on a new bridge on the southern edge of the
city.
Jeremy Trevors in the Department of Transportation and Infrastructure tells
the Leader the contact has been awarded to Caldwell and Ross of Fredericton,
which had the low bid at $27.5 million to replace the Anderson Bridge.
Trevors says the work shouldn't impact traffic flow, except a little when
they move the construction equipment in.
—-
Leaders Business session
Business people were the target of three of the party leaders yesterday in
virtual question and answer sessions.
The Liberal's Kevin Vickers says the province needs a growth agenda and not
what he called Blaine Higgs' path of cuts and austerity. Vickers promised to
beef up the province's development agency putting Opportunities NB on
steroids.
P-C Leader Blaine Higgs pointed out the budget his government tabled in the
spring is paying off and he's not planning anything new, saying he's never
seen a time when there's been so much positivity in the province.
Green Leader David Coon says his government would help small business that
run up against barriers because they are seen as too small to warrant
interest. He's also leery of plans for the development of small nuclear
reactors in the province calling it a very risky business.
The business groups will hear from N-D-P leader Mackenzie Thomason and Kris
Austin of the People's Alliance today.
—-
School's back
Thousands more students head back to schools today as the staggered return to
classes continues.
The return to classes has been split up depending on grade and initials.
Teachers run the students through an initial session outlining all the new
rules and protocols they will have to follow.
The first day yesterday seemed to go well.
While they have to wear masks in schools, it's not required outside and many
students heading out for lunch break took their masks off as they gathered
with friends.
—-
NURSE PRACTITIONER ASK
New Brunswick's Nurse Practitioners say they look forward to working with a
newly elected government to catch the profession up to other provinces.
A release by the association says New Brunswick is the only province that
does not give laboratory and diagnostic privileges to independent nurse
practitioners.
President Laura Gould says with 40-thousand people not having access to a
primary care provider they could be filling in the gaps.
Gould says many independen physicians have been granted access to these
privileges and they are simply asking for the same ability to care for their
patients.
—-
ROBBER CAUGHT
RCMP say a 54-year-old man has been arrested in relation to the two ATM
robberies in St Stephen on Monday.
Two woman were approached at two local bank machines with a man demanding
money. In one case a woman handed over an undisclosed amount of cash and was
unhurt.
The second woman was assaulted when the man took her purse and wallet… she
did not suffer serious physical injuries.
Police say the investigation pointed to the unnamed man from St Stephen who
was found hiding from police in a parking lot yesterday. He was taken into
custody without incident.
—-
COVID UPD
There were no new cases of Covid-19 reported in New Brunswick yesterday.
However, it was a differnt story elsewhere with PEI reporting two new cases
yesterday. That's in addition to the four new cases reported in PEI on
Monday.
All of those have been linked to international travel and Public Health in
PEI says all of the infected individuals were self-isolating as required and
pose little risk.
There are now nine active cases remaining in PEI, four in Nova Scotia, two in
New Brunswick and two in Newfoundland.
Across Canada numbers continue to increase with 16-hundred cases yesterday
with more than 7-thousand now active.
Because of that surge in cases British Columbia has reclosed nightclubs and
banquet halls effective immediately.
—-
CANDIDATES TOSSED STAYING
A pair of ousted provincial elections candidates say they're staying in the
race
Roland Michaud was pulled as the PC candidate in Victoria-La Vallee after a
social media post supported violence against transgender people.
John Gardner was tossed by the Liberals after a social media post offensive
to the LGBTQ community… he has since apologized.
Both Gardner and Michaud say they plan to stay in the race and at this point
its too late to change the ballots – meaning both will appear, on paper at
least, as liberal and PC candidates.
Should they happen to win each party would likely have to formally remove
them from caucus and force them to sit as independants.
—-
COVID-Trust
Canadian's faith in doctors and scientists remains pretty solid, nearly six
months into the COVID-19 pandemic.
A new survey conducted over the Labour Day weekend suggests that almost eight
in 10 Canadians still trust scientists, while a little more than that still
trust doctors.
The Proof Strategies survey shows little change from an earlier query at the
beginning of May and remains higher than the trust levels recorded in
January.
—-
SPORTS
Vegas shut down Dallas 3-0 to tie their western final at a game apiece.
The Blue Jays beat the Yankees 2-1. Phillies edged the Red Sox 6-5.