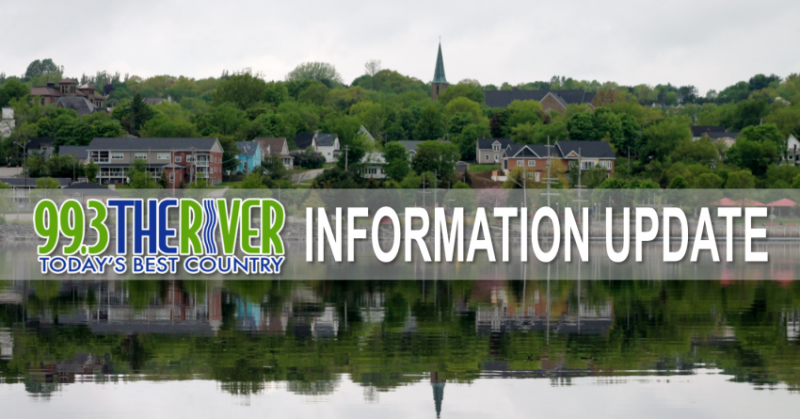 99.3 The River News – Sept 8, 2020
(ALL STORIES FROM MBS NEWSROOM)
Tucker Wins Back to Back
Ashton Tucker is making a name for himself on the racetrack as one of NB's top drivers.
19 year old Tucker, from Lyttleton, drives for Brad Silliker Motorsports and
became the first driver to win back to back RE/MAX East Coast Elite Realty
Pro Stock 250 at Speedway 660 in Geary.
—-
Back to school
It's a back to school day like no other.
Anxious parents will have to drop their kids off outside the front
doors…not allowed to accompany even the younger ones inside the school.
Other parents are leaving it up to the school bus drivers to get their kids
safely to and from school. Inside, students will have to get used to wearing
masks and abiding by social distancing practises.
Education officials are expecting there will be hiccups as everyone gets used
to the new normal.
—-
Advance polls update
Advance polls are open again today after record breaking numbers of people
turned out on the first day Saturday.
63,000 New Brunswickers, 45% more than last year, cast their ballots so they
could avoid lineups at polling stations on election day – the 14th. Officials
are expecting large numbers to vote early again today. Those advance polls
are open from 10:00am to 8:00pm and you can find the locations of the advance
poll in your area on your voter information card.
You can also vote this week by special ballot at any returning office and
officials say they have seen a big increase in requests for mail-in
ballots….all as people try to avoid crowds on election day this coming
monday.
—-
Election-Greens, NDP and PA
Green Party's David Coon says he would increase the minimum wage to $15 per
hour and guarantee sick leave, vacation and paid overtime for all workers,
pointing out the pandemic has revealed how many front-line workers in grocery
stores and other sectors are undervalued.
People's Alliance leader Kris Austin promised to help tourism operators and
small businesses to rebound from the pandemic.
The NDP's MacKenzie Thomason was campigning in Saint John and met with the
Saint John chapter of Black Lives Matter.
—-
CAMPAIGN TRAIL
The provincial election didn't stop for labour day as we draw within a week
of the September 14th vote.
Front runners PC Leader Blaine Higgs and Liberal Leader Kevin Vickers were
both in Saint John yesterday speaking about labour.
Vickers touted his plan to negotiate fair and reasonable contracts with
workers such as nurses and school teachers, while Higgs talked at length
about his governments response to workers during the pandemic.
NDP leader Mackenzie Thomason was also in Saint John and met with the Saint
John chapter of Black Lives Matter.
The Green's kept up the labour talk promising an increase to 15-dollars for
minimum wage and guaranteed sick leave…
People' Alliance Leader Kris Austin was in Moncton pledging help to tourism
operators to rebound from the pandemic.
—-
LIBERAL CANDIDATE GONE
Liberal Leader Kevin Vickers has announced John Gardner will not be running
for the party in the St. Croix area due to offensive comments on social
media.
In a release late yesterday Vickers stated Gardners previous comments are
offensive to women and the LGBTQ community.
Vickers says the unspecified comments are inconsistent with the party's
values and its unfortunate the people of St. Croix will not have the choice
to vote Liberal.
There has been no comment from Gardner on whether he will continue to run as
in independent.
—-
SMART METERS
The New Brunswick Energy and Utilities Board has approved the implementation
of smart meters.
The lengthy ruling issued on Friday paves the way for the 110-million-dollar
project saying a review of outcomes shows benefits to ratepayers outweigh
potential costs.
Smart meters or advanced metering infrastructure take away the need for most
meter readers and claim to better track usage, although some in other
provinces claim bills go up when their installed.
The meters will start being installed this year and the ruling has given NB
Power a three year time frame to make the changes.
—-
MICHAUD OUT
P-C leader Blaine Higgs has dropped one of his candidates after learning he
re-posted a Facebook message containing transphobic language.
Higgs says he was disturbed by the re-posting of a transphobic meme by Roland
Michaud who was running in the riding of Victoria-La Vallée.
It suggested physical violence against transgender women when they use
restrooms. Michaud apologized for the post, but says he will not withdraw his
name.
Higgs says he expects the former candidate to take down his signs and will
not be part of the party if he wins the riding.
—-
ATM ROBBERIES
RCMP in St. Stephen are investigating two robberies of woman at ATM's at two
local banks.
The first happened yesterday shortly after 10am at a Scotiabank ATM…. a man
approached while the woman was using the machine claiming he had a weapon and
demanded money… he fled with an undisclosed amount of cash.
The second took place at a CIBC around 2pm… a woman was using the ATM and a
man tried to take her wallet… she was assaulted but did not suffer serious
injuries. The man took off with her purse and wallet.
RCMP say they believe its the same individual responsible for both robberies
and the investigation is ongoing.
—-
COVID UPDATE
No new cases reported in New Brunswick yesterday leaving us at three active
cases.
News wasn't as good in the rest of the Atlantic bubble though with PEI
identifying four new cases linked to international travel and Nova Scotia
reporting a case still under investigation.
PEI now has seven active cases, Nova Scotia four, and Newfoundland two.
Nationally a recent surge in cases has pushed us to over 65-hundred active
out of more than 132-thousand across Canada.
—-
FATAL
A 45-year-old man from Plaster Rock has died following a motorcycle crash in
Rowena, just north of Perth-Andover.
RCMP say they believe the man lost control of his mortorcycle on Route 390
and collided with an oncoming SUV around 130 on Sunday afternoon.
The 45-year-old man driving the motorcycle died at the scene. The occupents
of the SUV were not injured. Mounties say the cause of the crash remains
under investigation.
—-
TAM ON SURGE
Canada's leading public health official says she is concerned about a slow,
but steady, increase in positive COVID-19 tests.
The average daily number of positive tests over the last week was 545.
It's a 25 per cent increase from the week before.
Dr. Theresa Tam is reminding Canadians not to get complacent about their risk
of contracting the novel coronavirus.
She says Canadians will need to be even more vigilant about following public
health guidance, particularly as the fall weather shifts activities indoors.
—-
SPORTS
The Raptors are now facing elimination in their Eastern semi-final in the NBA
after losing badly 111-89 to the Celtics and are down three games to two.
In the NHL playoffs…the Lightning zapped the Islanders 8-2 in game one of
their eastern final.
The Blue Jays rallied to beat the Yankees 12-7. Red Sox were off.