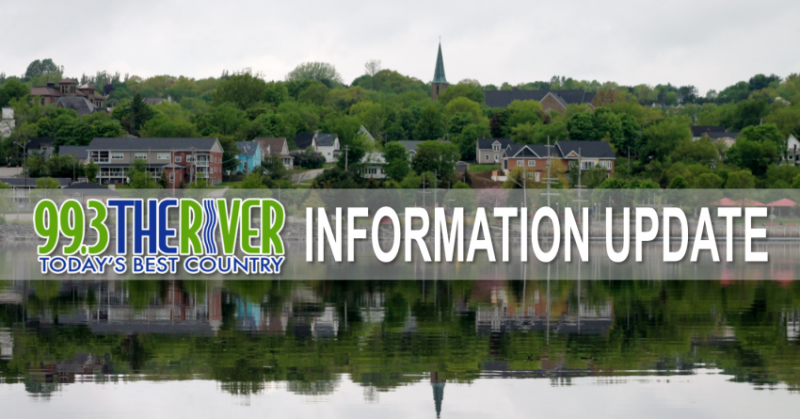 99.3 THE RIVER NEWS – SEPT 3 2020
(ALL STORIES FROM MBS NEWSROOM)
ROBBERY
A 30-year-old man from Esgenoôpetitj First Nation has been charged following
a robbery at a convenience store in the community.
RCMP say a man armed with a weapon entered Four D's Grocery on Peters Road
last Thursday morning and demanded money. The suspect fled with an
undisclosed amount of cash.
RCMP say, following their investigation, 30-year-old Tyson Joe turned himself
in on the weekend and has been charged with armed robbery, assault with a
weapon and wearing a disguise. Joe remains in custody and is scheduled to plea
to the charges on September 15th.
—-
TRAFFIC CHANGES
The city of Miramichi is considering making some of the temporary traffic
changes this summer permanent.
The Leader reports that includes the new four way stop at the intersection of
Newcastle Boulevard and Pleasant Street – and keeping all of Pleasant
street open to two way traffic. The temporary measures were put in place
while work was done on a number of King George Highway intersections – but
may be here to stay.
A plan to keep the four way stop at Newcastle and Pleasant, and eventually
put up traffic lights there, is expected to be voted on by council sometime
this fall. The engineering department is also recommending Pleasant remain
open to two-way traffic between City Hall and the Royal Bank – but council
will have to rework its by-laws on one way streets before it can make that
change permanent.
—-
VOTING INCREASE Elections New Brunswick's call for people to vote by mail or early at
returning offices appears to be working.
Chief Electoral Officer Kim Poffenroth says there has been a significant
increase in people applying for mail-in ballots and line-ups at returning
offices for people interested in voting.
She says any opportunity that people can take advantage to eliminate crowding
in polling stations is a good thing.
Poffenroth says under the circumstances of a shortened election and pandemic
measures things are going as well as can be expected so far.
—-
HUGS AND VISITS
Some families say the loosening of restrictions at long term care homes on
Friday was poorly implemented and created confusion.
Greg Loosley of Sussex tells CBC the reintroduction of designated support
people led to confusion around things such as physical contact and visits
outside the facility.
Loosley says he understood he would be able to hug his wife of 53-years for
the first time in six-months and take her home for the day, but
administrators told him at first that wouldn't be possible.
The province has since cleared up any confusion specifically saying hugs are
allowed with the designated person and off site visits are permitted much to
the delight of families.
—-
COVID UPD
One new cases of Covid-19 was reported in New Brunswick yesterday.
Public Health says the case, in the Moncton region, involves a temporary
foreign worker in their 20's who has been self-isolating.
The case bring the number of active cases of the virus in the province back
up to four.
Across Canada we added an additional 5-hundred cases yesterday as we approach
130-thousand with over 57-hundred still active.
—-
CAMP WRAP
Party leaders were talking balanced books, school food and renewable energy
on the campaign trail yesterday.
Liberal Leader Kevn Vickers promised to balance the province's books by the
spring of 2023…but said his government would run deficits in its first two
years to assist economic recovery from Covid-19.
P-C Leader Blaine Higgs restated his commitment to establish a province-wide
school food program to begin in the fall of 2021. He also spoke of his
government's commitment to raise pay for early childhood educators.
Green Party Leader David Coon announced his party's plan to convert the
province to 100% renewable energy by 2035, as well as plan to provide zero
interest loans for solar panels and to amend legislation to make it easier
for developers, municipalities and First Nations to pursue their own renewable
energy sources.
—-
FARMERS FOR GLYPHOSATE
The Agricultural Alliance of New Brunswick says its supports the use of
Glyphosate and opposes the Liberal, Green, and People's Alliance parties plan
to ban the pesticide.
The Agricultural Alliance says Glyphosate is one of the safest tools they
have for managing crops and says science has shown it does not increase
cancer risk as others have claimed.
They say farmers are becoming increasingly concerned about decisions such as
banning glyposate being made in haste and deeply affecting both their crops
and their livelihoods.
—-
POWER ELECTION
PC candidate and former Minister of Energy Mike Holland says NB Power holding
off on a proposed rate hike is not an election tactic.
When asked the question by CBC Holland responded with no, no, no…
absolutely not, saying deferring the 1.9-percent rate hike has nothing to do
with politics.
The utility which has delayed the increase until next March says the pandemic
made the decision for them saying the matter was discussed with the Higg's
government, but was their idea alone.
Holland says in this uncharted territory he's pleased the utility was able to
put measures in place to decrease the impact to ratepayers.
—-
Payette
Federal New Democrats are criticizing comments made by Prime Minister Justin
Trudeau, voicing confidence in embattled Governor General Julie Payette.
N-D-P whip Rachel Blaney says the prime minister has a responsibility to
ensure people working at Rideau Hall are treated with respect.
Trudeau said in interviews yesterday (Wednesday) that Canada has an
"excellent" representative for the Queen.
Payette has found herself the focus of intensifying public scrutiny over
alleged mistreatment of current and former staff within her office. There
have also been reports about expensive renovations at Rideau Hall to suit
Payette's wishes.
—-
SPORTS
The Avalanche have forced game seven in their western semi-final Friday with
a 4-1 win over Dallas last night.
On the diamonds….the Blue Jays edged the Marlins 2-1. Red Sox lost 7-5 to
Atlanta. The Rays beat the Yankees 5-2.