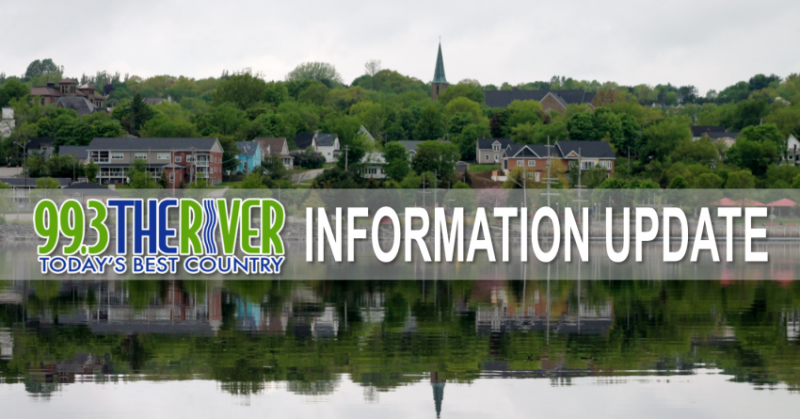 99.3 The River News—-Sept 25th, 2020
ALL STORIES FROM MBS NEWSROOM
—-
FIRST FEMALE MLA  OBIT      
New Brunswick's first female MLA and former Senator Brenda Robertson has passed away.
Family confirmed that Roberston passed Wednesday at the age of 91. Robertson, who was born in Sussex, became the province's first female member of the legislature when she won the riding of Albert in 1967. She was then re-elected in the new Riverview riding four more times. She became the first female cabinet minister in 1970 as health minister.
In 1984, she was named to the Senate where she served until she retired in 2004. He was also inducted into both the Order of New Brunswick and the Order of Canada.
—-
BUBBLE SHRINK 
Premier Blaine Higgs says with the rise in COVID-19 cases in Quebec is time to tighten up the northern travel bubble.
The province announced yesterday most Avignon (AV-ING-YON) county residents… which borders Campbellton… would no longer be able to travel into New Brunswick for non-essential travel.
However with no reported cases in Listuguj First Nation and Pointe-à-la-Croix those residents will still be allowed to cross the border for day trips without self-isolating.
Quebec has entered the second wave of the virus and Premier Higgs says with the change in the alert status in the region it was time to close it down.
—-
CHILD ABDUCTION  
RCMP in Saint-Leonard are investigating an attempted child abduction in the community.
Police say on Wednesday afternoon at 3pm they were called to a home on Mountain Path after a man attempted to get two young children into his car.
The man fled when approached by an adult and police were unable to locate him.  He's described as tall with a slim build, wearing a ball hat with white lettering and a blue shirt.
The vehicle was grey with no license plate, had a long antenna on the back and was similar to a Dodge Challenger. Police are looking or anyone with information on the incident.
—-
 LARGE DRUG BUST  
Search warrants served in the west of the province have resulted in nine arrests and the seizure of a large quantity of drugs.
Police say six warrants were served simultaneous on Wednesday morning in Perth-Andover, Johnville, Tobique Narrows, and on the Tobique First Nation.
What's believed to be cocaine, heroin, crystal meth, hydromorphone, methamphetamine, and illegal cannibas were seized… along with two firearms, a taser and ammunition.
Four men and three women from Tobique First Nations ranging in age from 22 to 56 were arrested and a man and woman from Johnville, age 19 and 27.
All are facing numerous drug trafficking charges.
—-
TWO NEW CASES 
Another two cases of Covid-19 are being reported in New Brunswick – and a third case involving a Quebec resident who works in Campbellton.
Public Health says the two new cases are travel related and involve a person in their sixties in the Moncton region and a person in their forties in the Fredericton area.
Meanwhile, contact tracing is underway for a Quebec resident who works in Campbellton and has tested positive.
That person is now isolating their home province but efforts are ongoing to identify anyone they came into contact with here.
Officially there are now six active cases of the virus in New Brunswick while nationally 13-hundred new cases were added with more than 11-thousand active.
—-
CLIFF DIVER DEAD     
RCMP divers have recovered the body of  man from the headpond near the Mactaquac dam, west of Fredericton.
Police say a man was cliff jumping in the area around 4pm on Wednesday when witnesses reported he started to struggle after re-surfacing and then disappeared under the water.
The body was recovered by divers this morning. Brunswick News reports the man had been jumping in an area known for cliff diving in the past but had since been fenced off.
—-
 RAYMOND TRIAL
The trial of a New Brunswick man accused of fatally shooting four people in Fredericton _ including two police officers _ heard more testimony yesterday from those who witnessed it Norma Foster told the court she awoke to the sound of gunshots shortly after 7 a-m. on August 10th, 2018 _ and she called police.
Another witness Sarah Gould sobbed on the stand as she described hearing gunshots, and then saw the two police officers killed as they approached the scene a short time later.
Matthew Raymond faces four counts of first-degree murder in the deaths of city police constables Robb Costello and Sara Burns, and civilians Donnie Robichaud and Bobbie Lee Wright.