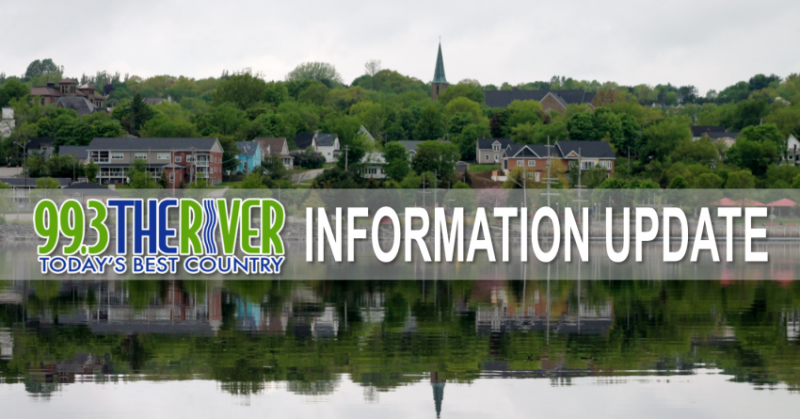 99.3 The River News – Sept 2, 2020
(ALL STORIES FROM MBS NEWSROOM)
DRUGS
Two people are facing charges after RCMP seized drugs and cash from a home on
the Acadian Peninsuala.
The Mounties executed a search warrant at a home on Route 135 near
Paquettville Monday night, seizing cocaine and an undisclosed amount of
cash. They arrested a 35-year-old man and a 65-year-old man who will be in
court at a later date.
—-
CITIES WANTS
The Cities of New Brunswick Association has released an updated copy of its
white paper, calling on all election candidates to commit to municipal reform.
Association chair and Miramichi Mayor Adam Lordon says municipalities are
calling on all parties to address their white paper and pledge to implement
it's recommendations. They include a fairer property tax system, increased
investment in infrastructure, changing the labour arbitration process to
consider what a city can afford and giving more power to municipalities to
raise non-tax related revenue.
—-
Campaign Wrap
Most of the campaigning yesterday took part in the southeastern part of the
province.
Liberal Leader Kevin Vickers was in Moncton where he pledged his government
would eliminate the provincial share of interest rates on student loans and
make post secondary education more accessible.
Progressive Conservative Leader Blaine Higgs was also in the Moncton area
touting his government's efforts to protect the environment with further
plans to expand glass recycling, crackdown on illegal dumping and eventually
ban all plastic bottles and single use plastic bags.
Green Party Leader David Coon was was in the northeast promising to set up a
department of rural affairs and community development. Coon says it would be
responsible for creating and implementing a regional development policy,
supporting renewable energy production and protecting agricultural land.
People's Alliance Leader Kris Austin made a number of stops in and around
Sussex, saying he would refocus government agencies, like Opportunities New
Brunswick, to support small business.
—-
SCHOOL CHANGES
A briefing on return to school yesterday focused primarily on class sizes and
changes to music programming.
Officials say class sizes for K-to-2 will stay as close to 15-students as
possible with grades 3-to-5 in the range of 22-students in order to close the
gaps that occurred when schools shut down.
Grades 6-to-8 will return to regular class sizes with increased spacing for
physical distancing when possible.
An about face by the province will now see singing and wind instruments
allowed in music class with protection protocols in place such as students
singing softly or increasing physical distance.
Deputy Minister George Daley says all schools finalized operational plans
will be released on Thursday.
—-
POND HOCKEY DONE
Organizers have announced the 2021 World Pond Hockey Championship in Plaster
Rock is cancelled for this year.
A release says with New Brunswick continuing in a state of emergency, travel
restrictions and use of public facilities limited its makes hosting the event
in February impossible.
The 20th anniversary of the globally loved event will now take place next
year from February 17th to the 20th.
The tournament that has gained a world wide following for is traditional
backyard feel hockey has drawn fans and teams from 15 different countries.
—-
CAMPAIGN INQUIRY
Indigenous leaders in the province say the number one campaign issue for them
is a promise to hold a public inquiry into systemic racism.
Chief Patricia Bernard of the Madawaska Maliseet First Nation tells CBC the
election campaign is an opportunity for all parties to step up and commit to
look at racism in the justice system.
The Green Party, NDP and Liberals have made that commitment, but neither the
Progressive Conservatives or People's Alliance have.
Bernard says she's not sure if rejections of the inquiry is parties digging
in their heels or a show of power, but feels it part of the systemic racism
they face.
—-
COVID UPDATE
Active cases in New Brunswick has dropped to three with no new cases of
COVID-19 reported yesterday.
The active cases remaining are in the Moncton, Saint John, and Frederiction
regions.
Across the Atlantic bubble PEI reported they are COVID free now after
recoveries from a recent cluster, Newfoundland remains at one and Nova Scotia
has six.
Nationally, numbers continue to grow with close to 5-hundred new cases
reported yesterday with close to 57-hundred active across Canada.
—-
STARBUCK MASKS
You can add Starbucks to the growing list of retailers and businesses who are
making masks mandatory for customers in New Brunswick/PEI.
Starbucks Canada says that as of September 14th any customer entering one of
their coffee shops will have to wear a face covering. They join other major
chains who have already made masks mandatory, including Superstore and
Walmart.
—-
COVID nationally
Canada's chief public health officer says when it comes to COVID-19
immunizations — the more the merrier.
Dr. Theresa Tam pointed to the forced quarantines, school closures and bans
on public gatherings during the measles and polio outbreaks of the 1930s,
'40s and '50s as motivation for Canadians to get vaccinated against COVID-19.
Tam says most of us are lucky not to have lived through those types of health
measures because of safe and effective vaccines. She says if Canadians ever
want to return to anything that looks remotely like life before the global
pandemic, we all need to roll up our sleeves and get vaccinated.
There are almost 5,700 active cases of COVID 19 across Canada with the death
toll climbing to 9,132.
—-
Residential-Schools-Historic
The dark heritage of Canada's residential schools is being formally
recognized as one of the events that helped shape the country.
The federal government has put residential schools on the official list of
National Historic Events. Two of the schools — one in Nova Scotia and one in
Manitoba — have been designated National Historic Sites.
The residential school in Shubenacidie took in about a hundred indigenous
children from all around the Maritimes from 1930 until it was closed in 1967.
—-
SPORTS
In the NBA…the Raptors lost their second game in a row to the Celtics in
the eastern semi-final 102-99.
The Canucks stayed alive in their western semi-final against Vegas with a 2-1
win and now trail three games to two. The Flyers also stayed alive by
beating the Islanders 4-3 in overtime in their game five.
The Blue Jays lost a 3-2 decision to the Marlins. the Red Sox were pounded
10-3 by Atlanta. The Yankees beat the Rays 5-3.