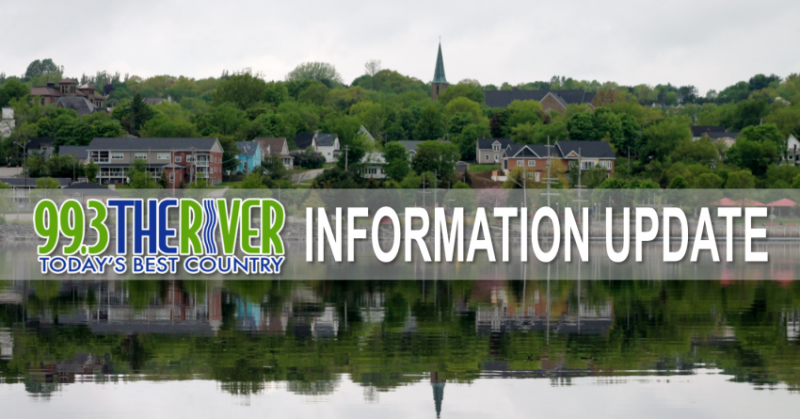 99.3 THE RIVER NEWS – SEPT. 11, 2020
(ALL NEWS STORIES FROM MBS NEWSROOM)
ATV TEEN DEATH UPD
Grief counselors will be back at James M. Hill High School this morning for
ay students who want to talk about the death of a classmate.
A 15-year-old boy was killed in an ATV accident Wednesday south of the
airport. Police have not released his name nor any details of the accident.
School officials also refused to confirm he was a student at JMH…but did
say the grief counselors will be back today.
—-
HIGGS PLATFORM
The Progressive Conservatives released their platform yesterday heading into
Monday's vote.
The document making promises to 'Recover, Reinvent, and Renew shows over
11-million-dollars in spending promises with heathcare, internet service and
mental health services on the forefront.
There was also 1.4-million to transition seniors out of hospitals and an
additional 2-million annually for policing.
Most of the promises made in the platform had been released during the
campaign adding to Higgs continued talking points of keeping the course and
no surprises.
—-
FINAL DEBATE
Four of the leaders squared off in the final debate hosted by CTV last night
with heavy pressure being applied to Progressive Conservative Leader Blaine
Higgs.
Liberal Leader Kevin Vickers, Green Leader David Coon and People's Alliance
Leader Kris Austin all hammered home the point that Higgs should not be
handed a majority government.
Vickers stated the PC leader has a hidden plan with more secrets than North
Korea. Austin while listening to a back and forth exchange with Higgs and
Vickers said he doesn't trust any of them to do it on their own.
Coon went back to a pandemic election saying the call for voters to head to
the polls shows a lack of stability and support by Higgs.
Higgs stayed on the path of other debates saying he isn't reinventing the
ship and will continue with strong leadership.
—-
NEW CASE
A new case of Covid-19 is being reported in New Brunswick – sort of.
Public Health says a resident of the Edmunston area has tested positive for
the virus while in Quebec.
The case will be added to our provincial numbers but Public health says the
individual will remain in Quebec until they're recovered.
With this new case there are now three active cases of the virus remaining in
New Brunswick.
Nationally, British Columbia posted a record 139 new cases yesterday and
6-hundred new infections across Canada were added as numbers continue to
surge.
—-
NEW POLL
Much of the talk at the roundtable was about not giving Blaine Higgs and the
P-Cs a majority government. That may be because a new poll was released
earlier in the day showing them with a sizable lead.
The MQO Research survey, conducted between August 12th and September 2nd
shows the PC's with 43% support among decided voters – a 16 point lead over
the second place Liberals who have 27% support. The Greens were solidly in
third with 17%, trailed by the NDP at 6% and the People's Alliance with 5%.
The Liberals' strength is outside of the province's three largest urban
centres.  The PCs have solid leads among voters in Saint John and Moncton with
a slight lead over the Greens in the Fredericton area.
—-
Trudeau-COVID
The prime minister says the country will be in COVID-19 crisis mode for some
time.
Justin Trudeau also says Canadians will have to learn how to continue to live
with the pandemic for "many, many more months." He says that means
continuing to be vigilant and to keep washing hands, wearing masks, avoiding
large gatherings and keeping physical distance from one another.
The P-M was speaking at a virtual Liberal fundraising event.
—-
EX-SENATOR VICTIMS
The Senate is siding with an independent evaluator saying victims of
disgraced ex-senator Don Meredith should be compensated.
A Senate committee met behind closed doors to consider a recent report by a
former judge who was brought in to recommend potential compensation for
former employees of Meredith who had experienced workplace and sexual
harassment by him.
An investigation concluded Meredith repeatedly bullied, threatened and
intimidated his staff, and touched, kissed and propositioned some of them.
—-
SPORTS
Dallas is up two games to one in the NHL's western final after beating the
Golden Knights 3-2 in overtime.
The Blue Jays had the day off. The Red Sox beat the Rays 4-3. The
Yankees-Orioles game was postponed.
The NFL season got underway with defending champions Kansas City beating
Houston 34-20 in front of a socially-distanced crowd of about 17,000.