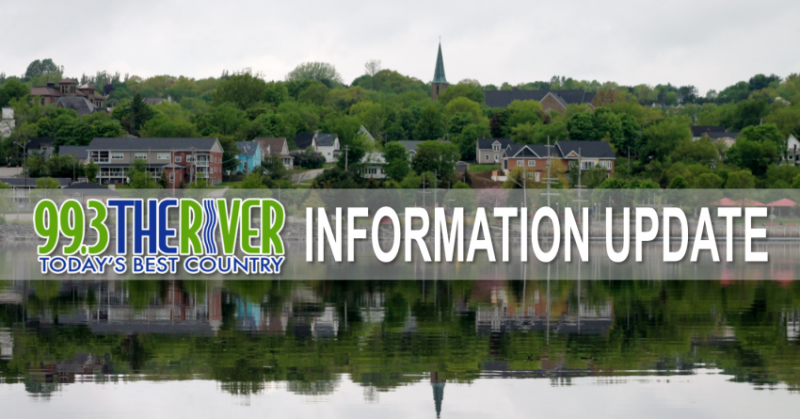 99.3 THE RIVER NEWS – SEPT 10, 2020
(ALL NEWS STORIES FROM MBS NEWSROOM)
ATV TEEN DEATH
Tragedy in the Miramichi as a teenager has died after an ATV accident
yesterday afternoon.
Police tell CBC a 15-year-old boy was found dead when they got to the crash
scene near the airport around 2:00pm.
No other vehicles were involved in the crash, which remains under
investigation. No other details are being released yet.
—-
ARENAS
The city says it expects both of Miramichi's arenas to reopen in the coming
weeks.
According to the Leader, Recreation Director Jason Walsh told a recent
council meeting there's a good chance both the Civic Centre and Beaverbrook
Arena will reopen soon…however, that will be dependent on the operational
plans of various user groups being approved. Walsh says sports association
have to submit plans for both municipal and provincial approval before they
can be allowed to use the arenas – but he did say interest is high.
The city has been working directly with the Miramichi Timberwolves on their
plan with the Maritime Hockey League aiming to open their season at the end
of October.
—-
LEADERS DEBATE
Last night's provincial leaders debate was a more low key affair with few
knockout blows and lots of policy talk.
The format of the debate relied heavily on talking points and reactions with
education, healthcare, and the pandemic coming to the forefront.
PC Leader Blaine Higgs was the center of attention again with other leaders
taking shots about being in an election no one needed.
Liberal Leaders Kevin Vickers called the election a power grab so Higgs could
close rural hospitals, which Higgs adamantly denied.
People's Alliance Leader Kris Austin picking up on healthcare said more
doctors are needed with Higgs replying its easy to SAY hire more doctors.
Green Leader David Coon countered saying more action is needed in mental
health to aid the overall system.
NDP Leader Mackenzie Thomason kept it simple in education stating the
resources need to be there calling on New Brunswickers to make that happen by
not allowing a majority government.
—-
CANDIDATE GONE
First the PCs, then the Liberals, and now the People's Alliance have dropped
a candidate for online comments.
The party says Memramcook-Tantramar's Heather Collins is no longer a
candidate for the party after comments made towards Muslims immigrating to
Canada.
A post in 2019 by Collins said Muslim people are the only people let into
Canada and its sickening.
A spokesperson for the party said as soon as Leader Kris Austin was aware
Collins was no longer welcome.
—-
ELECTION NIGHT
We could be in for a long wait on election night as final results won't be
released until after midnight.
Elections New Brunswick made the announcement in a release saying it is the
same process used in 2018, but pandemic measures could make the process
slower.
Officials say polling stations will close at 8pm, but those waiting in line
will be allowed to vote which could extend the time of closing.
The process of presenting results can't be started until stations close and
results can't be declared final until all ballots are processed.
—-
ADVANCED VOTE
Unofficial results indicate advance voting for the New Brunswick election was
up 50 per cent from the previous election two years ago.
Elections New Brunswick says a total of 133-thousand people voted on Saturday
and yesterday.
That's up from 88-thousand in the last election and about a third of all
those who cast ballots in 2018.
The chief electoral officer had suggested the COVID-19 outbreak could change
voting patterns due to people wanting to avoid lineups on election day
—-
CHIEFS – INQUIRY
The six Chiefs of the Wolastoqey Nations in New
Brunswick are renewing their demand for the next premier to call a public
inquiry into systemic racism within 30 days of the provincial election
result.
The chiefs call for an inquiry has been prompted by the deaths of three
Indigenous people in New Brunswick.
They include the hit-and-run death of Brady Francis two years ago, and the
police shooting deaths of Chantel Moore and Rodney Levi just days apart in
June.
Chief Ross Perley of the Tobique First Nation says the inquiry should be led
by an Indigenous person.
—-
WE closing
25 years ago, Craig and Marc Kielburger created the WE Charity as a way for
youth in Canada to help less-fortunate kids around the world. But now the
brothers have announced they are shutting down its Canadian operations.
WE is laying off 115 employees and selling off its Canadian property. The
Kielburgers are planning to leave once there's a transition to a new board.
WE cites COVID-19 and all the politicking around its being awarded the
contract to administer the student services grant program as reasons for its
decline.
—-
SPORTS
The Raptors forced game seven in their eastern semi-final tomorrow with a
125-122 double-overtime grinder against the Celtics last night.
In the NHL…the Lightning eked out an almost last second 2-1 win against the
Islanders for their second straight win the eastern final.
The Yankees avoided a sweep by beating the Blue Jays 7-2. Red Sox were off.