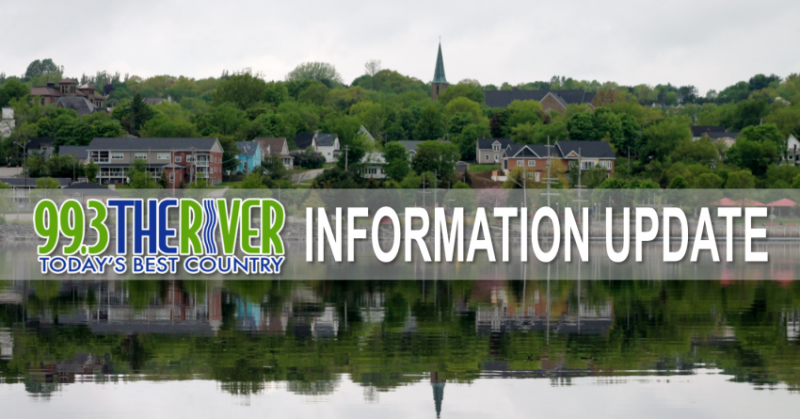 99.3 The River News—-Oct 9th, 2020
ALL STORIES FROM MBS NEWSROOM
—-
MUNICIPAL FUNDING 
Mayor Adam Lordon is generally pleased with the funding the city will get from the province next year.
Local Government Minister Daniel Allain announced this week how almost $76 million in community funding and equalization grants will be divied up.
Mayor Lordon tells the Leader municipalities in the Miramich region will be getting $7.39 million of that…mainly the city at $6.22 million. That's down slightly from this year but it's relatively stable….no big surprises no big holes they need to fill in the city budget. That's because the assessment base has grown.
—-
TRAVEL RECEIPTS     
The Minister of Tourism says over 1.8-million-dollars in rebates has been submitted for the Explore New Brunswick Travel Incentive Program.
The program announced in mid-July gave 20-percent back on travel costs of New Brunswickers that stayed overnight in the province.
Tammy Scott-Wallace tells CTV over 13-thousand people have submitted receipts so far totalling around 1.8-million-dollars of the 3-million available.
Due to the success Scott-Wallace says they have decided to extend the program till March with details on what that will look like coming soon.
—-
UNIVSERITY RANKINGS 
Mount Allison University has maintained the top spot in MacLean's annual University rankings released today. The sackville school has been named the top primarily undergraduate university in the country for 22 straight years now. Other maritime unversities on the list include Acadia, up one spot to number three; Saint Mary's University, up two spots to number four; UNB up four spots to number five; St.FX holding steady at six and UPEI as the tenth ranked undergrad school in Canada.
The back half of the list saw Universite de Moncton place 13th, St. Thomas 14th, Mount Saint Vincent 18th and Cape Breton University 19th.
Dalhousie Unversity , which is graded as a primarily medical or doctoral university,  ranked seventh on that list.
—-
MINI BUBBLE CLOSURE   
The border between Listuguj First Nation, Pointe-a-la-Croix Quebec and Campbellton  is officially closed once again because of the rising numbers.
Students in K-8 will still be able to cross in order to go to school, but high school students will switch to remote learning as of next week.
Residents will still be able to cross the border for approved work reasons and essential services like shopping and medical appointments.
—-
PLUS 3 CASES   
New Brunswick reported three new cases of Covid-19 yesterday. However, Chief Medical Officer Dr. Jennifer Russel says the new cases are not related to the outbreak at the Manoir Notre Dame home in Moncton.
One in the Saint John Region and one in the Fredericton region are travel-related. Russell says they are still tracing the source of the third case in the Campellton-Restigouche region.
Meanwhile, Dr. Russel says the number of cases connected to the oubreak at the care home in Moncton remains at 19. Three of those individuals are in hopsital with one in intensive care. Public Health is also barring visitation at all such homes in the Moncton area for the time being.
Dr. Russel also issued another possible airline exposure warning for anyone on Air Canada Flight 8792, from Montreal to Saint John, on October 4th.
Anyone on board that flight is advised to monitor for symptoms.
—-
RAYMOND TRIAL 
The jury will be back in their seats this morning at the murder trial of Mathew Raymond in Fredericton.
Justice Larry Landry dismissed the jury yesterday while he and the lawyers discussed a Supreme Court of Canada decision from earlier this week on how juries are selected. Then he announced the trial in the deaths of two police officers and two civilians two years ago would continue today.