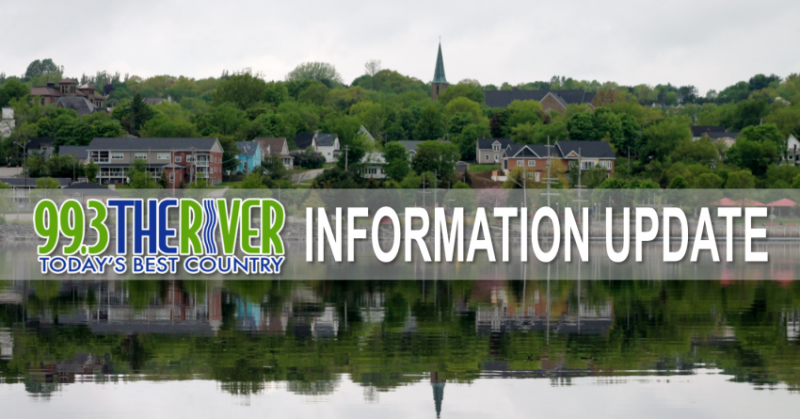 99.3 The River News – Oct. 8, 2019
(FROM MBS NEWSROOM)
Mill fire
Spectacular flames lit up the sky over Miramichi last night.
The former Miramichi Lumber Products mill was destroyed by a fire that could
be seen many kilometres away. No reports of any injuries and the cause of the
blaze is being investigated.
The sawmill on Jane Street in Newcastle, owned by the Anderson family for
over a century, has been closed since 2014 because of a dispute with the
provincial government over Crown wood allocations. At peak capacity, 140
people used to be employed there.
—-
School bus crash
A woman was trapped in her vehicle after colliding with a school bus
yesterday afternoon.
Fire fighters had to use the laws of life to pry the car apart after the
crash at King and Maher Streets around 4:00 o'clock.
There were no children on the school bus. The woman was taken to hospital.
The bus driver was shaken up but physically fine.
—-
MENTAL HEALTH WALK
With World Mental Health Day coming up, Miramichi is looking to raise
awareness and end the stigma with its sixth annual community walk.
Event organizer Beatrice Loggie says the stigma around mental health can
isolate people, while effecting their employment, housing, and educational
opportunities.
Loggie says community awareness can help with the burden social stigma places
on those effected.
The walk will take place on Thursday, October 10th at the Royal Canadian
Legion on McCurdy Street at noon.
—-
ROAD WORK
Several road projects are underway that could cause some delays in Miramichi.
A temporary entrance to Arbec has been opened and will remain in place for
the next three weeks.
Heavy truck traffic will be in the area as work continues.
Church Street will continue to be closed between Cunard and Henderson through
at least the end of the week.
George Street should re-open today as work by Jane and Margaret Streets wraps
up.
Also, University Avenue work should be completed by Wednesday.
—-
Lieutenant-Governor
An official ceremony to install New Brunswick's 32nd lieutenant-governor will
be held today in Fredericton.
The ceremony for Brenda Murphy is scheduled for 2 p-m at the legislature.
Murphy is a long-time feminist and social-justice advocate and is also a
former municipal councillor from the greater Saint John area.
She replaces former lieutenant-governor Jocelyne Roy Vienneau, who died
August 2nd after a long battle with cancer.
—-
Irving-Oil-Explosion
Irving Oil has been charged in connection with an explosion at its Saint John
refinery during the Thanksgiving weekend a year ago.
WorkSafeNB says Irving Oil Limited is facing one charge under the
Occupational Health and Safety Act and Irving Oil Refining is facing two
counts.
The agency says because charges were laid on October 1st, it won't be
releasing its final investigation report on the incident nor commenting on
the findings.
A handful of workers received minor injuries in the blast that occurred as a
massive maintenance project was underway. (Global)
—-
Nuisance deer and minister
The Higgs Government won't be relocating any nuisance deer as requested by
the Union of New Brunswick Municipalities.
The minister of energy and resource development, Mike Holland tells CBC the
government will address the exploding urban deer population in areas such as
St. Andrews …but not by relocating the animals. Holland says it's not
effective, costly and produces a high mortality rate. The deer also see
humans as a food source and they will just seek out another municipality if
relocated.
He says they need to ensure they handle the problem in a humane way…but he
wouldn't hint at what that might be.
—-
HUNTING CRACKDOWN
A ticket and a warning have been issued as conservation officers check
hunters in the Hampton Marsh area.
The Department of Public Safety says in a release … the patrol was a
response to reports of shots fired at night in the area before the start of
waterfowl season on Oct. 1.
It says one ticket was issued under the Migratory Birds Convention Act for
possession of an unplugged shotgun,
A warning was issued under the New Brunswick Fish and Wildlife Acts for
failure to produce a licence.
And, a guide will answer to a charge under the Fish and Wildlife Act for
having a firearm unwrapped at night.
The department goes on to say … any suspicious activity in the woods such
as illegal hunting, fishing or theft of wood should be reported to the
Department of Energy and Resource Development or Crime Stoppers.
—-
Debate
It was a debate that featured a lot of cross-talk and mudslinging last night.
Liberal Leader Justin Trudeau and Conservative Leader Andrew Scheer clashed
over who has the better climate-change policy. The N-D-P's Jagmeet Singh said
Canadians don't have to choose between, in his words, "Mr. Delay and Mr.
Deny".
Green Leader Elizabeth May framed the choice differently, saying bluntly "At
this point, Mr. Scheer, with all due respect, you're not going to be prime
minister".
On another topic, People's Party Leader Maxime Bernier says his party puts
"Canada first," accusing the other leaders of holding a "globalist"
ideology that inappropriately spends Canadian taxes abroad.
—-
SPORTS
The Blues beat the Leafs 3-2 in the NHL.
The Yankees eliminated Minnesota 5-1 sweeping their divisional series. The
Rays beat Houston 10-3, cutting the Astros' lead to two games to one. Over in
the National both series are going to a deciding game five. The Nationls beat
the Dodgers 6-1 and Atlanta edged the Cardinals 5-4.