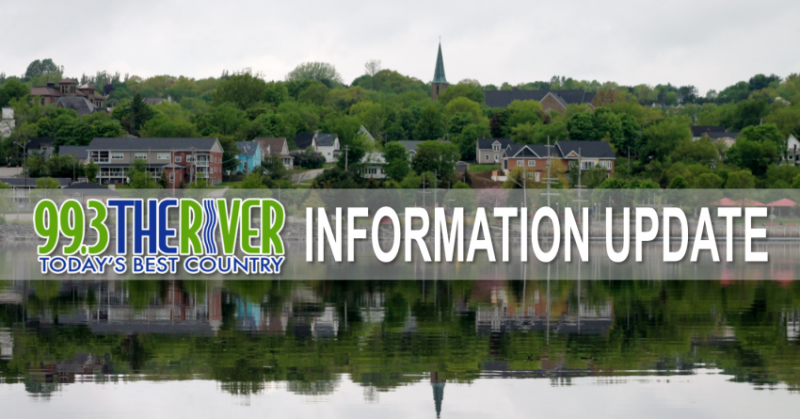 99.3 The River News—-Oct 6th, 2020
ALL STORIES FROM MBS NEWSROOM
PLUS TWO  COVID UPD   
Two new cases of Covid-19 are being reported in New Brunswick yesterday along with a pair of possible flight exposures.
The two new cases involve an individual in their sixties in the Saint John Region and and an individual in their twenties in the Moncton area.
Both cases have been linked to travel outsdie the Atlantic Bubble bringing the number of active cases in the province to five.
Meanwhile Public Health has issued a pair of possible flight exposures for those who travelled on Air Canada 0992 from Mexico City to Toronto on September 29th and on Air Canada flight 8910 from Toronto to Moncton on September 30th.
Anyone on board those flights is advised to monitor for symptoms.
Across Canada signs of the second wave aren't letting up as 28-hundred cases were added yesterday surpassing 17-thousand active.
—-
 BOOZE MASKS      
With the second wave of COVID-19 undway elsewhere in the country another provincial corporation is making masks mandatory.
NB Liquor has announced as of Thursday customers will be required to wear non-medical face masks when shopping at all corporate stores.
The move is in line with Service New Brunswick locations where masks have been mandatory since October 1st to allow more people in building in hopes to reduce lineups with colder weather on the way.
The rule does not apply to private agency stores, or at this point Cannabis NB.
—-
RAYMOND UPD 
Matthew Raymond's murder trial in Fredericton has been told police found a video where he appears to be complaining about noise around his apartment complex.
A senior R-C-M-P forensic analyst testified yesterday about material found on Raymond's digital devices after four people were shot to death outside his apartment building in August 2018.
Corporal Aaron Gallagher says they contained hundreds of thousands of images, including adult pornography and material from conspiracy websites.
Lawyers for the 50-year-old accused have admitted he killed the two police officers and two civilians but say he is not criminally responsible due to mental illness.
—-
FIRST NATION LAND CLAIM 
The Wolastoqey First Nations are filing a lawsuit agains the province and Ottawa seeking formal recgnition of its title to lands in New Brusnwick.
In a releases, the  Wolastoqey Nation says the Peace and Friendship treaties they signed with early colonizers never ceeded any of their lands – and says the terms of those treaties have also been broken.
Chief Ross Perley of the (Tobique) Frist Nations says those treaties envisioned sharing their land, not ceededing it, and says others have used and sold off that land for wealth without permission or compensation.
They're asking the courts to stop further selling of land to private interests without permission – and for compensation for those lands illegally taken from them that can not be returned.
—-
TRUMP COVID                              
Donald Trump has tweeted a new video, taped after he returned to the White House, in which he tells the American public not to be afraid of COVID-19.
This virus has claimed more than 210-thousand lives in the United States and more than a million worldwide.
In a message that's almost certain to infuriate medical doctors trying to keep the U-S safe, Trump says he has "learned so much" about the virus he contracted.
Said Trump: "Don't let it dominate. Don't let it take over your lives. Don't be afraid of it. You're going to beat it."