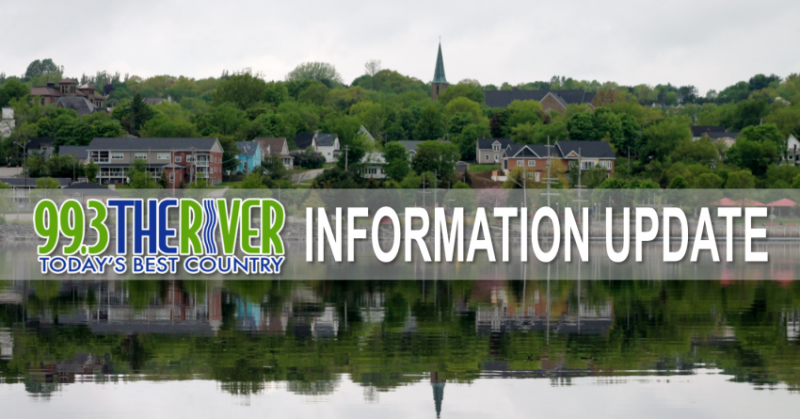 99.3 The River News, Oct 5th, 2020
ALL STORIES FROM MBS NEWSROOM
—-
FIRE SAFETY
Once the kids are back in school, fire fighters usually travel around to different schools giving fire safety presentations…but, of course, this year is different.
Deputy Fire Chief Mario Berthiaume tells the Leader they will be doing their presentations virtually this fall for this Fire Prevention Week. This year's focus is on kitchen safety. Berthiaume says the department will be making good use of the department's website and social media platforms with an interactive virtual showcase for all kindergarten classes.
—-
COVID UPDATE
The surge of the second wave continues to build across Caada…but here in the Atlantic Bubble it's still pretty quiet.
There were no new cases of COVID-19 reported in New Brunswick  yesterday after the first new case in seven-days on Saturday.
That case was located in the Saint John area and was related to travel with officials saying the person was self-isolating as required.
The active case number has also been cut in half with only three active now.
Public Health is also monitoring a situation at a saw mill in Maine near St.
Stephen where 12 cases of COVID-19 have been confirmed… several St. Stephen residents work at the mill, but none have been infected.
—-
DOCTOR SHORTAGE
The legislature with the new majority government won't be sitting until next month…but the opposition leaders are pumping up their criticisms now.
They tell Brunswick News they'd like to see more done to recruit doctors to the province. There are still 37,000 New Brunswickers on the waiting list for a doctor.
People's Alliance Leader Kris Austin doesn't think the pandemic should be used as an excuse for a stalled wait list….you need a doctor – pandemic or not.
Interim Liberal Leader Roger Melanson said the government needs to go "beyond just talk" and build a lasting recruitment and retention planfor doctors…and says we also need more nurses.
Green party Leader David Coon agrees the focus should be on how the goverment recruits staff and says with a new Health Minister in Dorothy Shepard it's an opportunity to deploy staff in ways that they weren't able to before
—-
TROPICAL STORM GAMMA
At least six people are dead after tropical storm Gamma lashed southeastern Mexico on the weekend.
Officials say thousands were evacuated from the Yucatan Peninsula's resort-studded coast with near-hurricane force winds and drenched Tabasco and Chiapas states.
Four of the deaths, including two children, were in Chiapas, where a landslide on a mountainous slope buried their home. Another death was in Tabasco state, where a person was swept away by water.
—-
TRUMP "GETS IT"
President Donald Trump released a video message yesterday stating "I get it" and says becoming infected with COVID has caused him to "really go to school" on the virus.
The President left the hospital via motorcade with his medical team being vary vague about Trump's health, which brought criticism from Democratic Leaders who say the country needs to know the truth about the president's condition.