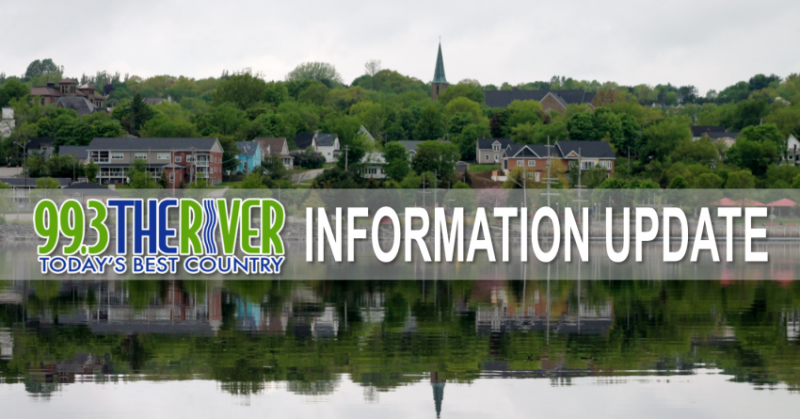 99.3 The River News – Oct. 4, 2019
(FROM MBS NEWSROOM)
Triple fatal
Three women were killed when their mini-van collided with a transport truck
near Bathurst Wednesday night.
The collision came as the driver of the minivan was making a uturn on Route
11.
Three of the five women died at the scene, aged 64, 75 and 88. The driver 79
years old and a 72 year old passenger survived. Most were nuns in Lameque.
Hundreds turned out for a memorial service there last night.
—-
Park Reno
Work will begin soon on major renovations at Elm Park in the heart of Chatham.
Council has approved the plans which involved taking down some trees…but
they will save as many as they can, according to the Leader.
There'll be a new seating area near the library which will also allow for
some outdoor library programming. The distinctive white masts will be moved
to the new entrance. The cenotaph will be reconfigured so the artillery
pieces are closer. New benches and flower beds will also be installed.
—-
SHOOTING
Three men have been arrested and charged, with one still being treated in
hospital, after shots were fired at a home in Jacksontown … north of
Woodstock.
On Wednesday afternoon … a man threatened residents of the home then shots
were fired from outside injuring a man who fled in a car with another man.
Not long after, Woodstock RCMP arrested a 57-year-old man at the scene, a 28
year old man who had been sent to hospital with non life threatening injuries
and a 21 year old on Grafton Shore Road in the community.
All three face numerous firearm related charges and will appear in Woodstock
court on Monday.
—-
Cape Bald rebuilding
Cape Bald Packers will be rebuilding after two devastating fires destroyed
its fish plants less than three weeks apart in February…but it won't be
rebuilding the one in Richibucto Village. It will be concentrating operations
in Cap-Pele where its headquarters are and building a new facility there by
May.
The Richibucto-Village plant had 150 workers. The company tells CBC the
majority of them have found other employment…but the company is offering to
bring those who haven't to Cap-Pele.
—-
Conservatives
Premier Blaine Higgs lent his support to Andrew Scheer as the federal
Conservative leader campaigned in the province yesterday. Higgs said the new
and innovative ideas of the Conservative movement are the "fundamentals" of
conservative philosophy.
—-
Fredericton-Shootings
Lawyers will give their final statements today before a jury begins
deliberations that will determine if Mathew Raymond is fit to stand trial on
four counts of first-degree murder.
The jury heard experts testify at the hearing this week on whether the
49-year-old Fredericton man understands the charges and can instruct a lawyer
on how to defend him.
—-
Measles update
Health officials continue to watch for any measles cases to turn up in the
greater Moncton area.
But Dr. Yves Leger admits the chances are probably very low…because the
person might not have been very contagious or contagious at all at the time
they were in the area last month.
The person was at the Holiday Inn Express and Suites in Dieppe on September
19th and 20th, in the airport departure lounge and on Air Canada flight 8903
to Montreal on the 20th,.
Anyone exhibiting symptoms should isolate them selves and call 8-1-1 for
advise on where to go and when.
Do not go to a hospital or doctors office without calling first so as not to
infect others.
—-
MAYORS MEET
Mayors from all over the Maritimes are meeting in Campbellton this weekend
for the annual Atlantic Mayors Congress.
They will be discussing topics of municipal interest such as Climate Change,
Renewable Energy, and Indigenous Communities with keynote speaker Chief Darcy
Gray.
The Atlantic Mayors' organization says its committed to improving municipal
government and developing a strong, unified voice to advocate for
municipalities in the Atlantic Region.
—-
SCHOOL CHANGES
The Higgs government appears poised to dramatically alter the structure of
public schooling in the province.
Education Minister Dominc Cardy told reporters the government plans to remove
conventional grades from schools, with kindgergarten, grade one and grade
two. The so-called 'flexible learning environments' will later be extended to
eliminate higher grades. All elementary schools in the province would be
expected to adopt the new 'gradeless model' within five years. It will then
be extended to Middle and High schools.
Cardy says the province's green paper on education is based on international
best practices and successful experiments already underway in some
classrooms. Some of the changes could be introduced as early as next fall.
—-
HEAVY KIDS
New Brunswick has some of the highest rates of childhood obesity rates in
Canada but the Heart and Stroke Foundation is aiming to change that.
Christine Roherty tells CBC they are hoping parents pick up and run with
their 5-2-1-0 program. The message promotes a daily routine five fruits or
veggies, less than two hours of screen time, an hour of physical activity and
zero sugary drinks.
Roherty says ignoring the problem could leave kids with a lifetime of chronic
conditions.
—-
Sheer Dual Citizen
Conservative Leader Andrew Scheer was battered by questions yesterday about
his dual Canadian-American citizenship. His father was born in the U-S and
Sheer as well as his sisters were given American citizenship.
Scheer told reporters no one ever asked about his dual citizenship, so he
never spoke about it publicly. But he says he decided to renounce his
American citizenship after becoming party leader, and began the process in
August.
Elsewhere on the campaign trail…
Liberal Leader Justin Trudeau defended his party's use of two campaign planes
by promising to buy carbon offsets for greenhouse-gas emissions the planes
produce.
Green Leader Elizabeth May was promising to push any minority government for
more aggressive action on the climate.
N-D-P Leader Jagmeet Singh headed to Toronto, where he hopes to take seats
back from Liberals after an extended sojourn in BC.
—-
FLU SHOTS
Canadians may have a tougher time getting access to flu shots this season.
The federal government is reporting delays in producing and distributing the
vaccine, which means some provincial flu vaccination programs may need to
wait until supplies are worked out.
The Public Health Agency of Canada co-ordinates purchases by the provinces
and says 55 per cent of the total order is available for distribution.
The agency aims to have 90 per cent of the supply by the end of the month.
—-
US WHALE CONCERNS
The U-S government says it's working with Canada to address the concerns of a
Maine lobster fishermen's group about a plan to try to save the North
Atlantic right whale.
The Maine Lobstermen's Association pulled its support from the plan this
summer because of concerns it placed too much onus on lobstermen.
It calls for the removal of miles of trap rope from U-S waters but the group
says endangered right whales are also subject to entanglement in fishing gear
in Canadian waters.
Chris Oliver, assistant administrator for the National Marine Fisheries
Service, released a letter today saying the U-S is working with Canada to
reduce that problem.
—-
DEBATE
The French Language debate in Montreal has wrapped up — with the four
invited federal leaders making their pitch to the Quebec voters.
Conservative Andrew Scheer was on the hot seat for a good portion of the
debate facing questions from other leaders on his stance on abortion and
medical assisted death.
The N-D-P's Jagmeet Singh pressed Sheer on his personal values of separating
church and government with Trudeau joining in bringing up Sheer's past of
voting in favor or restricting abortion rights.
Bloc Leader Yves-Francois Blanchet took time to poke fun at both Sheer and
Singh's french skills while simply reiterating the Bloc is in the best
interest of Quebec.
Green Leader Elizabeth May and the PPC's Maxime Bernier were not invited to
attend.
—-
SPORTS
In the NHL…
The Habs lost to Carolina 4-3.
—-
The Jets were dumped by the Rangers 6-4.
—-
The Flames lost to Colorado 5-3.
—-
And .. the Bruins got past the Stars 2-1.
===========
In the NFL …
Seattle edged the LA Rams 30 to 29.