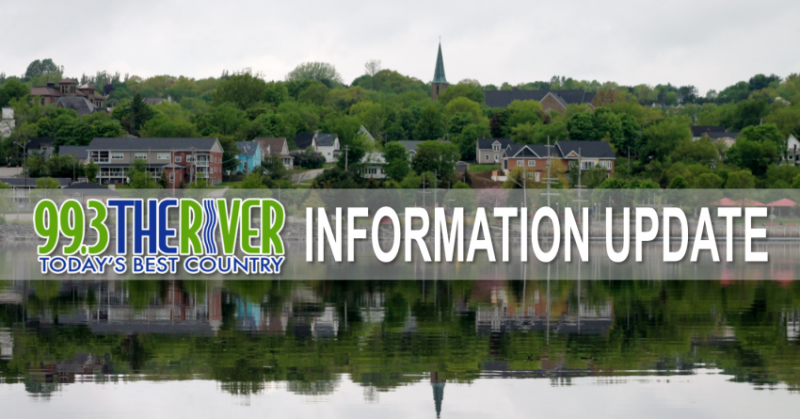 99.3 The River News—-Oct 16th, 2020
ALL STORIES FROM MBS NEWSROOM
—-
COVID 
Public health had some much need good news yesterday, reporting no new cases of Covid-19 in the province.
That was some welcome relief after the outbreaks in Moncton and Cambellton had resulted in 90 new cases over the previous seven days. 89 of those cases are still considered active, with five in hospital and one person in intensive care.
Meanwhile in person classes have resumed at all five schools in the Campbellton region where cases of Covid-19 have been confirmed. The exception is for middle school students at Dalhouise Regional High… they will remain at home doing online learning for another week as a precaution.
Things weren't as good nationally as 23-hundred cases were added yesterday with 20-thousand still active… there were also 35 deaths meaning 97-hundred Canadians have now died from COVID-19.
—-
MIR FIRE DEPT
Some changes are coming to the Miramichi Fire Department. City Council has voted to accept recommendations in a consultant's report on emergency planning and communications strategies.
Fire Chief Tony Lloyd tells the Leader there are 21 recomendations suggesting ways of record keeping, dealing with abandoned buildings, speeding up demolition of vacant, derelict buildings that are a hazard. An abandoned building directory should be readily available to fire and police departments. Another is to have Irving Energy help local responders with equipment, training, water supply, public notifications and other requirements at the Jane Street bulk propane facility.
—-
COUNCIL SPENDING   
Miramichi City Council has approved a couple of purchases, according to the Leader.
Councillors voted unanimously to award a contract for $390,885 to Maritech Constructionof Nova Scotia to build a new operations centre on the northside.
The new buildingon the former Newcastle Ready-Mix site will house a number of vehicles including snow blowers and machines used to repair brroken water and sewer lines among other things.
Council also approved just under $100,000 to the Bus Centre for a new 24-passenger transit bus.
—-
NURSES INQUIRY
The New Brunswick Nurses Union is calling for a provincial inquiry into what it says are unacceptable conditions in long-term care homes. Union president Paula Doucet says the sector is in dire need of reform, and the most vulnerable seniors in New Brunswick are at risk.
A survey of registered nurses working in nursing homes found that more than 90% said residents are not being regularly provided with exercise, and more than half said residents are not being regularly bathed.
Doucet says the government can't be relied on to address the crisis on its own and needs additional data to bring about the necessary change.
—-
FREDERICTON SHOOTINGS         
Jurors for the trial of accused mass murderer Matthew Raymond were shown more images and messages from his computer yesterday.
Many of the pictures, including celebrities andpoliticians were accompanied by notes, allegedly from Raymond, questioning whether the people in the photos are transgender, evil or the devil. There were also multiple videos of the sky and postings about the air being poisoned by some unknown group.
Raymond's lawers have admitted he killed Donnie Robichaud, Bobbie Lee Wright, Robb Costello and Sara Burns and are now laying out their case that he was not criminally responsible at the time because of a mental disorder.
—-
ABORTION       
The Canadian Civil Liberties Association is preparing to take the New Brunswick Government to court over access to abortions.
The move comes after the closure of Clinic 5-5-4 in Fredericton…the only non hospital clinic offering abortions.
The association is asking the province to end its "discriminatory laws"
that prevent people from having wider access to abortion services or face legal proceedings. The government says its laws are legal and can withstand Charter challenges.
—-
LUMBER PRICES   
With COVID prompting a mass of home renovations the price of lumber has skyrocketed, but woodlot owners say those price increases haven't trickled down to them.
Rick Doucett with the New Brunswick Federation of Woodlot Owners tells CBC royalties paid to owners has not gone up although finished lumber has climbed. He says there are record setting prices right now… in some cases climbing 100%, but woodlot owners aren't seeing any of that on their end of the supply chain.
Doucett says his group is making suggestions for changes to the Crown Land and Forest Act to ensure woodlot owners get their fair share.