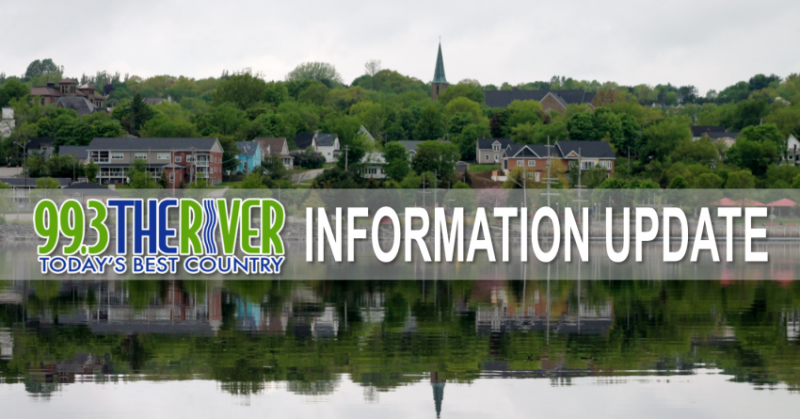 99.3 The River News—-Oct 13th, 2020
ALL STORIES FROM MBS NEWSROOM
—-
COVID UPD       
Outbreaks of Covid-19 in the two areas of province continue to grow.
Cheif Medical Officer Dr. Jennifer Russel announced an additional six cases yesterday – three connected to the outbreak in Moncton and the other three connected to the outbreak in the Campbellton region.
That brings the number of active cases in the province up to 76, including 33 in the Campbellton zone and 40 in the Moncton region, with most of those connected to the outbreak at the Manoir Notre Dame care home.
Dr. Russel says there are now five people hopsitalized with the virus in the New Brusnwick, including one patient in intensive care.
—-
TOURISM CONCERNS 
With two outbreaks in the province and winter getting set to take hold many in the tourism industry are worried how they will make it through.
Carol Alderdice of the tourism industry association of New Brunswick tells CTV she is especially concerned about restaurants because they're patios are winding down.
Alderdice says she is also concerned about hotels because it appears many aren't staying in hotels which she believes is because people like to control their own environment in the pandemic.
Tourism Minister Tammy Scott-Wallace has said the Explore NB Travel Incentive will continue into March… a move Alderdice says could help.
—-
 COVID  SCHOOLS  
Meanwhile, Education Dominc Cardy addressed the growing concern after cases of Covid-19 have been confirmed in three schools in the Campbellton region, including Sugarloaf Senior High and two elementary schools in Dalhousie.
Both those elementary schools will be closed to in person classes today with students learning from home instead while contact tracing work continues.
Sugerloaf senior high will also be switiching to at home learning for Tuesday and Wednesday – but Cardy says a decision for later in the week has yet to be made.
Cardy also confirmed contact tracing has taken place for a possible exposure among some at Janeville Elementary school, east of Bathurst, but in person classes there will proceed as normal on Tuesday.
—-
CRB ISSUES 
Government officials say applications for the new COVID-19 financial support are back online after technical issues left many unable to apply yesterday.
The Canada Revenue Agency tells CTV they experienced issues yesterday morning with the application process, but everything was restored by Monday afternoon.
The CRB or Canada Recovery Benefit is the replacement program for CERB that pays 5-hundred per/week up to 26-weeks for those who continue to lose work due to COVID-19.
Its estimated over 700-thousand Canadians will be applying for the new program.
—-
ELECTION 2020
Donald Trump was back on the campaign trail, holding his first rally since he contracted COVID-19.
Trump took the stage no mask insisting he's not contagious, declaring he was in good health and felt powerful and well enough to dive into the crowd "to kiss the guys and the beautiful women".