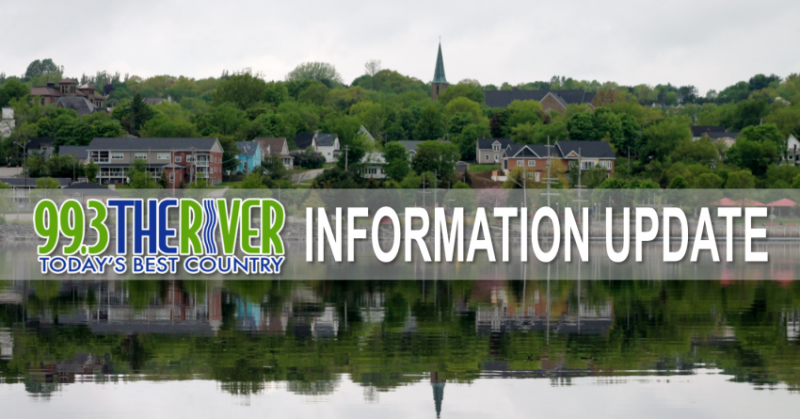 99.3 The River News – Oct. 1, 2019
(FROM MBS NEWSROOM)
MOOSE HUNT
It was a big year for the moose hunt in New Brunswick with almost 3700
animals being harvested.
Preliminary numbers show its a slight increase over last year with over
82-percent of licensed hunters being successful.
According to CBC provincial records indicate this as the third largest moose
hunt in the 59 years they have been keeping track.
Date compiled from this hunt will be used to calculate the number of licenses
for the 2020 draw.
—-
MILK PRICES
If you happen to be in Nova Scotia it might not hurt to stop and grab some
milk.
According to Global News there is as much as a 27-percent difference between
milk in New Brunswick as compared to our neighbors to the south.
Minimum retail prices between the provinces vary by just 80-cents but that's
the minimum…. milk at some stores in Moncton is $7.29 for four litres, but
in Amherst… only 45-minutes away… it's $5.27.
New Brunswick's Farm Products Commission says market conditions have forced
Nova Scotia to sell closer to the minimum set price although dairy farmers
are paid the same.
—-
Nursing home workers
Unions representing nursing home workers are preparing to put what Premier
Higgs calls the government's final contract offer to a vote.
Premier Blaine Higgs offered raises over four years of 1%, 1.25%, 1.5% and
1.75%, but workers would have to give up two sick days per year.
Higgs said he hopes it can be wrapped up within two months.
Shannon Teare, president of the New Brunswick Council of Nursing Home Unions,
tells CBC he won't have to wait that long… they're ready to vote on it now.
She says the overwhelming communication received from nursing home workers is
that they are angry…very angry. Teare wants the government to realize that
nursing home workers are tired of working in poor conditions.
—-
PLANE LANDING
A small plane was forced to land yesterday afternoon on a highway on the New
Brunswick side of the Confederation Bridge.
RCMP say mechanical problems forced the plane down about a kilometer away
from the bridge on Highway 16 in Bayfield.
The pilot… in his early 20s, took off from the Moncton Flight College and
had to land on the highway just before 12:45.
Police say no one was injured, but the plane suffered minor damage. Transport
Canada is investigating and the highway was fully open by 2:15.
—-
FLAG RAISING
Sugarloaf Senior High in Campbellton has made history as the first New
Brunswick school to permanently fly the Mi'kmaq Grand Council flag.
The flag raisings ceremony held yesterday was in conjunction with Orange
Shirt Day that promotes awareness of the impact of residential schools.
Elders of Listuguij First Nation, students, staff, and parents participated
in the ceremony that saw the flag smudged before being raised beside the
Canadian and provincial flags. The flag bearing a red cross and five pointed
star will now be flown with its two counterparts permanently.
—-
ELECTION 20
Gun control, the deficit and child care dominated Day 20 of the campaign for
the federal election that's now three weeks away.
Liberal Leader Justin Trudeau while in Toronto said his party would
strengthen gun control while the Conservatives would weaken it.
Conservative Leader Andrew Scheer… also in Ontario accused Trudeau of
disregarding the deficit when the Liberals announced billions in new
spending.
N-D-P Leader Jagmeet Singh… still in BC… promised universal child care
nationwide. Elizabeth May of the Green's was on National TV defending her
62-billion-dollar spending package.
And… PPC Leader Maxime Bernier is facing questions about his parties
membership after several assaults were reported at a campaign stop that broke
out in protest in Hamilton this weekend.
—-
NEW YORK WHALE
Necropsy results from the badly decomposed North Atlantic right whale found
of Long Island New York could take a month or two.
Canadian scientists are eager to know what caused the death of the whale
identified as Snake Eyes as he was last spotted badly entangled in the Gulf
of St Lawrence.
Phillip Hamilton, a research scientist at Boston's New England Aquarium tells
CTV the death is intriguing as the carcass was found with no ropes or gear
attached.
Snake Eyes was first spotted in 1979 and could be listed as the ninth dead
right whale from Canadian waters this year after a cause of death is made
clear.
—-
SPORTS
In Monday night football…the Steelers won their first game of the year 27-3
over Cincinatti which is still winless.
The baseball playoffs get underway today with the National league wildcard
game between the Nats and Brewers.