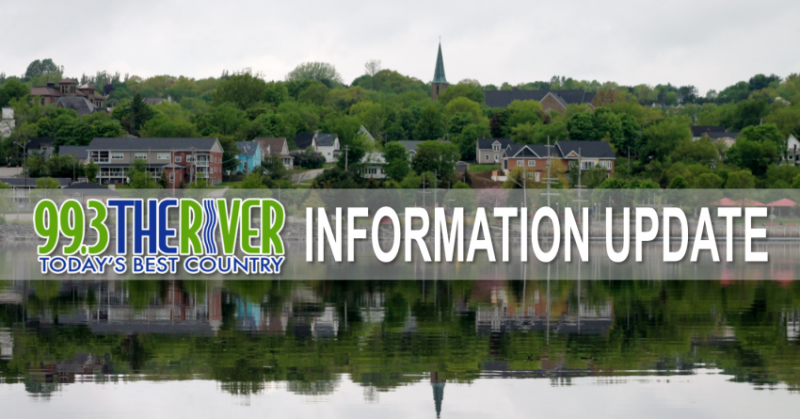 99.3 The River News – Nov. 8, 2019
(FROM MBS NEWSROOM)
STOLEN TUBA
Miramichi Police are investigating after an antique tuba belonging to a
well-known late entertainer in Miramichi was stolen earlier this week.
Blaine Farrah tells CBC he discovered the antique tuba belonging to his late
father Willam Farrah had been taken from his locked shed. William Farrah
played the instrument for hospital patients, local graduation ceremonies and
other events for decades. While the thieves made off with the half century
old tuba, they didn't get the mouth piece so it can't actually be played.
—-
Weather update
The storm sped up and also weakened a little….so we won't be getting as
much snow by the time it ends tonight as forecasters were predicting earlier.
Anywhere from 2cm to 10cm is predicted for most of the province…although
maybe up to 15cms over higher terrain in the southeast and right along the
Fundy Shore more rain than snow.
Driving will be tricky because many people still don't have their winter
tires on yet…and it'll be cold tomorrow with most of the province seeing
highs that are below the freezing point.
—-
McCain update Rex'n
People in the Grand Falls area are welcoming the announcement by McCain Foods
that it is expanding with a new specialty product line at its potato plant.
McCain will be spending $80-million and the new plant should be ready in
2021.
Mayor Marcel Deschenes of Grand Falls welcomed the news, pointing out to CBC
the area lost 180 jobs last year with closure of the Dr. Oetker plant…so
he's pleased McCain wants to invest further in the area.
—-
INDIGNEOUS JOB PROGRAM
A New Brunswick program has been launched to help Indigenous university
students transition into the workforce.
Future-Ready-Wabanaki is a partnership between the provincial government and
the four publicly funded universities. The program will match students with
on-the-job experience during their studies and work with recruiters and
employers to retain employees.
The initiative follows the template of a similar student jobs program called
Future-Ready-N-B.
—-
TRUMP FOUNDATION
A New York judge has ordered U-S President Donald Trump to pay
two-million-dollars to resolve a lawsuit alleging he misused his charitable
foundation to further his political and business interests.
The Trump Foundation says money raised by the penalty will go to several
charities, calling the lawsuit politically motivated.
In a defiant statement issued Thursday evening, Trump suggests he's neither
sorry nor in the wrong.
He said — quote — "I am the only person I know, perhaps the only person in
history, who can give major money to charity, charge no expense and be
attacked by the political hacks in New York State."
—-
Trudeau talks
Prime Minister Trudeau says western alienation is what he calls a
"significant issue" for his new government.
The prime minister, heading into his first post-election caucus meeting,
says they have a lot of work to do to ensure they're governing for the entire
country. Trudeau says he's been reaching out to premiers, mayors and business
leaders.
The Liberals didn't win a single seat in Alberta and Saskatchewan.
—-
ONT BOYS HOMICIDE
Charges have now been laid after two young brothers — ages nine and 12 —
were found dead in a home in Brampton, Ontario.
Police initially responded to a medical call and did not see any obvious
signs of trauma.
The coroner later determined the deaths were suspicious.
The boys' father — 52-year-old Edwin Bastidas faces two
counts of first-degree murder.
Police say they're not seeking any other suspects in the case.
—-
Whale conference
There was a conference on the Right Whales in Moncton yesterday that brought
together over 70 fisheries leaders, bureaucrats and other stakeholders.
Martin Mallet, executive director of the Maritime Fishermen's Union, tells
the Times and Transcript one of the major points to come out of the meeting
is that they all need to do a better job explaining that the Gulf is safer
for the whales, since they started showing up unexpectedly in 2017 after
frequenting the Bay of Fundy before that. Mallet says a lot of measures have
been adopted and sacrifices made to save the whales but all many American
regulators see are the headlines about whale deaths.
—-
SPORTS
In the MHL…the Western Capitals beat the Timberwolves 9-4 at Credit Union
Place.
In the NHL…the Leafs needed overtime to edge the visiting Golden Knights
2-1. The Canadiens lost 3-2 in OT to Philadelphia. Senators clipped the
Kings 3-2 in overtime. The Flames downed the Devils 5-2. Blackhawks beat
Vancouver 5-2. (Penguins got by the Islanders 4-3 in overtime.)