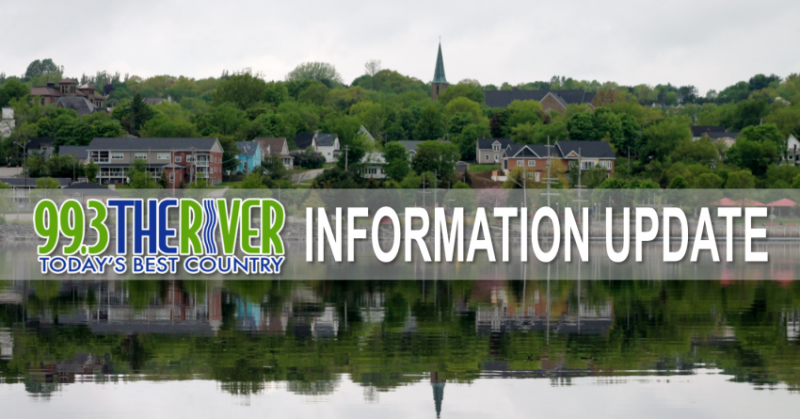 99.3 The River News – Nov. 7, 2019
(FROM MBS NEWSROOM)
HOME INVASION
Caraquet RCMP are asking for the public's help in identifying three suspects
in a home invasion on the Acadian Peninsula Tuesday night.
The Mounties were called to a residence on Route 11 in Village-Blanchard
around 11:30pm. Three suspects wearing dark hoodies and masks forced their
way into a home and assaulted the homeowner with a weapon. The victim was
treated in hospital for non-life threatening injuries and later released.
Nothing was taken during the incident.
At least two of the suspects spoke French and all three left the scene in a
small white car headed towards Caraquet.
—-
SUN CORNER FIRE GG/RCMP (For THUR)
RCMP are investigating what's now been deemed a suspicious fire at a vacant
home in Sunny Corner Halloween night.
The Mounties and Sunny Corner Firefighters responded to the fire on River
Road during the overnight hours. The house was vacant at the time and no one
was hurt. Investigators have since determined the fire to be suspicious in
nature.
—-
SENIOR HOME FIRE
Meanwhile, a fire early yesterday morning destroyed a vacant seniors' complex
in Cap Pele.
The times and Transcript reports four different fire departments responded to
the blaze shortly after 5:30am. It began in a living area in the middle of
the building but all 40 units were a complete loss by the time the flames
were out. No one had been living in the home since July – and no one was
hurt. No word yet on the cause.
—-
Remembrance events
Remembrance Day ceremonies are being held in schools in Miramichi today,
according to the Leader.
Then Monday, the ceremony in Newcastle will be held at the Civic Centre on
King George Highway. The Chatham Legion will host its ceremony at James M.
Hill Memorial High School (JMH) at 11:00am and a small lunch will follow at
the legion on McCurdy Street.
—-
CARE BED ISSUES
The provinces two heath authorities say close to 30-percent of hospital beds
are taken by patients waiting for a long term care bed to open up.
Geri Geldart, vice-president of clinical services for Horizon Health tells
the Telegraph Journal it has created a domino effect on services.
She says one example is wait times in ERs are longer as acute care beds are
taken by these patients, which also leads to scenarios where beds are set up
in hallways.
Improving home-care services and opening more nursing home beds are two
possible solutions to the problem which Geldart says will only get worse as
the population ages.
—-
MCCAIN FOODS MONEY
McCain Foods Canada is set to inject 80-million-dollars into its potato plant
in Grand Falls.
The company says the money will go toward expanding production — including
the creation of a new formed potato specialty production line.
It is expected that the investment will create 80 full-time jobs.
Vice-President Dale McCarthy says the project is expected to be operational
by early 2021 and will feature advanced technology for process efficiency,
food safety and packaging.
—-
TAX CREDIT INFO
The New Brunswick government has for the first time published a summary of
provincial tax expenditures.
Finance Minister Ernie Steeves says the summary for 2018 has been published
online as part of the Progressive Conservative government's commitment to
strong fiscal management and public accountability.
The summary provides an estimated cost of tax expenditures including tax
credits, rebates and relief programs provided to individuals, non-profit
organizations, institutions, municipalities and businesses.
It also provides the implementation date and a brief description of each
measures' objectives.
—-
MACADAM LOTS
The mayor of a village in western New Brunswick says council's decision to
sell 16 housing lots for one-dollar apiece is paying dividends.
McAdam Mayor Ken Stannix says one year after the lots were put up for sale,
10 of the lots have been sold and the remaining six have deals pending.
And with one lot recently cleared for construction, Stannix figures there
will be 16 new homes standing on the village's east side within the next
three years.
In all, more than 600 people applied to buy one of the lots.
—-
SHEER STILL HERE
After wrapping up his first caucus meeting since the October 21st elections,
Andrew Scheer assured reporters that he was here to stay.
The Conservative leader's position as head of the party was a question mark
heading into the meeting, but the caucus passed on a chance to bounce Scheer
from the top spot.
It seems any changes will have to wait until the party's bi-annual convention
in April.
Though feisty after holing up with his M-Ps and senators for seven hours,
Scheer repeated many of the attacks he delivered throughout the recent
election.
—-
STORM UPD
Environment Canada has updated its forecast for a storm that is headed our
way.
The latest forecast is calling for parts of New Brunswick to get 10 to 20
centimetres of snow between tonight and tomorrow night…mainly through the
central and southeastern parts of the province. Along the Fundy coast…it'll
be more rain than snow. There will be wind blowing it all around as well.
Driving conditions tomorrow will be treacherous in many area with slick roads
and reduced visibility. Road crews have been preparing their lows and tire
shops report they've had a surge in calls by people looking to get their
winter tires on.
—-
SPORTS 1
A light night in the NHL…Blues beat the Oilers 5-2 for their sixth straight
win. In the only other game, Rangers downed the Red Wings 5-1.
On the hardwood…the Raptors held off a late rally to edge the Sacramento
Kings 124-120.
Now you're up to date…I'm DG