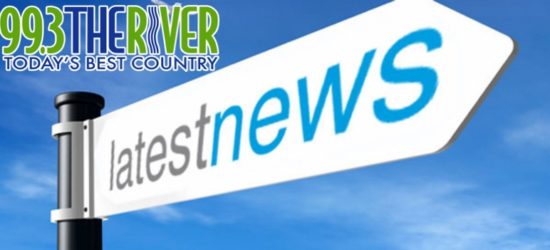 99.3 The River News – Nov. 6/18
(ALL NEWS STORIES PROVIDED BY MBS NEWS DEPARTMENT)
INMATE DEATH
33-year-old Michael Matchett of Miramichi, who was an inmate at the Southeast
Regional Correctional Centre in Shediac has died as the result of injuries
sustained in an assault at the centre on October 26th.
He died on Saturday (Nov 3).
The New Brunswick RCMP's Major Crime Unit is treating the death as a homicide.
—-
CLEANUP
The Miramichi Community Wellness & Recreation Department says that Saturday's
windstorm has caused damage to many of the parks and trails.
They are assessing the damage and will be working to clear fallen trees and
cleaning up debris in those areas.
—-
POWER SHELTER
The City of Miramichi says the Golden Hawk Recreation facility is being made
available to those affected by the outages.
The public is invited to stop in between the hours of 8:30am and 9:00pm to
get warmed up, grab a shower or recharge your mobile devices.
New Brunswickers who are still without power should consider contacting the
Canadian Red Cross if they need assistance.
The agency's toll-free line is now activated at 1-800-863-6582. The Red Cross
can provide temporary accommodations for people in need.
If you still have some battery life, a current list of warming centres and
charging stations is available online at the government website gnb.ca.
Residents should also check with their local municipality for warming centres
and charging stations.
—-
POLITICS
A new minority government is set to assume power in New Brunswick.
Tory premier-designate Blaine Higgs says his government will be sworn into
office on Friday.
Higgs is still in the process of deciding who will be in cabinet.
The Tory government's throne speech will be presented on November 20th.
—-
DODGING QUESTIONS
Liberal prime minister Justin Trudeau is dodging questions about Grit M-P
Nicola Di Iorio, who has not been seen in Ottawa since September 17th.
Trudeau twice told reporters they should talk to the M-P about it.
Di Iorio claims that Trudeau assigned him responsibilities that necessitate
his absence from the House of Commons.
The Opposition is also demanding to know what Di Iorio's so-called "secret
mandate" is.
—-
Weather-wind peaks
Just how strong were the winds?
The peak gusts in the Maritimes appear to have been at Buctouche at 119kph
followed closely by North Cape in PEI at 117kph. Top winds in Nova Scotia
were at Beaver Island on the Eastern Shore at 106kph.
In Miramichi, top wind peaks were 104kph.
—-
RECALL
A week after Janes brand chicken burgers were put on a food recall list by
the Canadian Food Inspection Agency, the company's chicken strips have been
added.
The agency issued the additional recall because of a possible salmonella
contamination.
Do not eat them.
The Pub Style Chicken Strips come in an 800-gram package with a best-before
date of May 11, 2019.
—-
SPORTS
The Habs outshot the Islanders 4-3. Oilers lost 4-2 to Washington. Bruins
beat the Stars 2-1 in overtime. Devils downed the Penguins 5-1.
The Raptors won their tenth game in 11 starts beating Utah 124-111.
The Monday Night Football game saw the Titans tame the Cowboys 28-14.