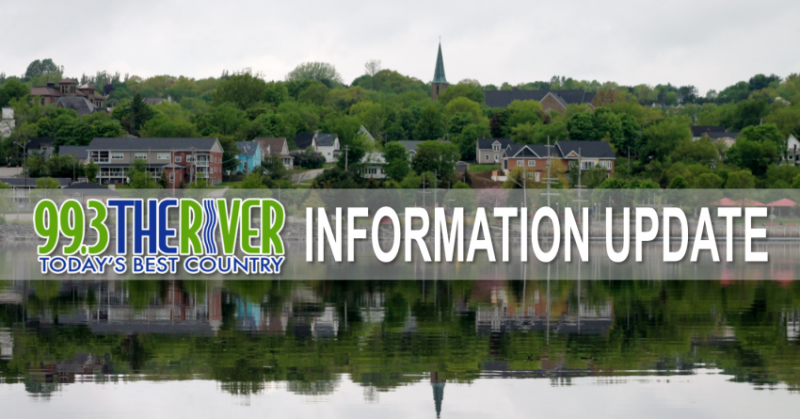 99.3 The River News—-Nov 20th, 2020
ALL STORIES FROM MBS NEWSROOM
—-
COVID 
New restrictions are coming to New Brunswick in light of escalating case numbers of Covid-19.
Public Health announced four new cases yesterday, three in the Moncton area and one in Saint John – along with a new outbreak involving one case at the 'Residence Oasis' long term care home in Dieppe. Premier Blaine Higgs says with the number of cases doubling in the Moncton region over the past week new restrictions are necessary.
—-
POSSIBLE EXPOSURE
The Village of Doaktown is also warning of a possible exposure at the Prospect Place Arena.
The village has posted on its facebook page that it has ceased operations at the arena until at least tuesday as a precautionary measure. It says it has seen rumours on social media about a possible case in the region…that has not been confirmed yet by the Health Department. It is encouraging everyone to follow public health guidelines…wearing a mask, social distancing, washing hands and sanitizing frequently.
Once it gets more official information the village says it will let people know in Doaktown as well as neighbouring communities.
—-
NATIONAL COVID    
Stricter regulations across the country haven't slowed wave two yet as over 46-hundred new cases were added yesterday… infection rates continue to outpace recoveries as active cases have grown to more than 52-thousand.
—-
 COURTHOUSE RENO 
An open house later this month will give residents a chance to peak inside the renovated century old Miramichi courthouse.
Vincent Prager and architect Roberto Menagati have been converting the old Northumberland County Courthouse into a mix of residential and commercial units since last year – with that work now nearing completion. The Leader reports Prager, a director with the Beaverbrook Canadian Foundation, purchased the building in 2017. He says many of the vintage features in the building were incorporated in the redesign, including trim, metal tiles, vaults and even hoilding cells.
Once complete it will offer eight residential units and four office units. An open house is planned for November 29th.
—-
RCMP HARASSMENT   
An independent report on harassment of women in the R-C-M-P says fundamental change is needed at the national police force. It cites the existence of a toxic culture that tolerates hateful and homophobic attitudes in the ranks.
Federal Public Safety Minister Bill Blair says he will announce in the coming weeks how the government will respond to the report, and how it intends to make changes.
R-C-M-P Commissioner Brenda Lucki expressed sorrow and outrage at the report's findings.