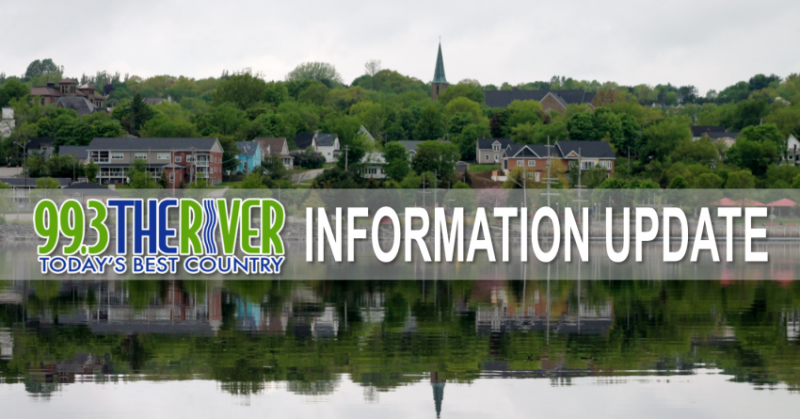 99.3 The River News—-Monday, March 8th, 2021
ALL STORIES FROM MBS NEWSROOM
—-
COVID   
All regions of the province moved back to the less-restrictive yellow recovery phase as of midnight.
While the restrictions have been loosened there are still rules in place….wearing masks, social distancing, self isolation and so on.
There were two new cases reported yesterday after six on saturday. One is a person in their 50s in the Miramichi zone linked to a previous case  and the other is travel related…a person in their 30s in the Fredericton region.
Gretna Green Elementary School also notified families and staff of possible exposure to a case of the coronavirus. The school was closed this week for March break. Public Health is calling close contacts.
Chief medical officer of health Dr. Jennifer Russell says she's keeping a close eye on the outbreak in the Miramichi region because of the presence of the U-K varient there. Thousands of residents have turned up for mass testing clinics for the past few days.
—-
HOPSITAL VISITS RESTRICTED 
The Miramichi Regional Hospital is restricting visitor access because of the outbreak.
Horizon Health says no in-person visits are allowed at the hospital despite going back to the Yellow Phase. Virtual visits can be arranged. There are exceptions with one healthy designated visitor for patients in critical care, labour and delivery, neonatal, pediatrics and Post-partum care. Both parents are allowed in pediatrics.
For palliative care, one healthy visitor at a time from a list of 10 designated visitors provided in advance.
Miramichi-area residents are also restricted from visiting other hospitals in the province.
—-
SNOW DEATHS  
R-C-M-P say a snowstorm that blew nearly 40 centimetres of snow across the Acadian Peninsula this week left two people dead.
The Mounties say a 90-year-old woman was found dead on the deck of her home in Paquettville early yesterday morning by a man plowing her driveway.while a 53-year-old man was found dead, wearing snowshoes, in the Bas Caraquet area  late yesterday morning
R-C-M-P says the deaths are not believed to be suspicious and foul play is not suspected.
—-
JAIL SEIZURE
Correctional Service of Canada says they seized contraband items worth thousands of dollars at the Maximum security Atlantic Institution in Renous last week.
Staff say 137 nicotine patches and six SD memory cards were seized by staff.
Officials say the contraband has an institutional value of over 14-thousand-dollars.
—-
MISSING PERSON FOUND DEAD          
A missing 29-year-old man from Ste-Marie-St-Raphaël, has been found deceased near Lamèque
On March 5, the RCMP Underwater Recovery Team conducted searches near the bridge on Route 113 where a snowmobile matching the description of the one belonging to the missing person was found underwater.
Yesterday, officers located a body under the ice and identified it as the missing person.
The investigation is ongoing.
—-
NB-SCHOOL ABSENCES     
Schools in the province are reporting a high number of student absences during the latest spike in coronavirus cases.
According to Brunswick News – Some districts saw as much as a 15% increase in absentees, which accounts for 31,830 non-attendants.
While the lowest numbers for a distract was an 11.4% incease in Anglophone South.
Meanwhile – Francophone School District Northeast and South saw slightly better numbers than this time last year.
The actual reason why students are missing more time than ever is unclear because schools aren't allowed to ask why they're not showing up due to privacy laws.
—-
INFLUENZA   
Only one single case of influenza has been recorded in New Brunswick this season.
Health Minister Dorothy Shephard tells Brunswick News – thats because the pandemic restrictions helped.
Typically 30-60 people in the province die each year due to the common flu, compared to this year which has saw 0 deaths or hospitalizations.
The single case was found in Saint John between December 13 and January 2nd.
—-
BLACKVILLE FIRE 
An elderly man escaped a house fire near Upper Blackville, about 60 km southwest of Miramichi.
The fire Broke out in a house along a rural lane off Howard Road around 730 Friday morning.
The man in his 80's is now staying with a relative and the Red Cross is helping him with emergency purchases like winter clothing, food and other essentials.
There were no reports of injuries from the fire.
—-
MEGHAN AND HARRY
Oprah Winfrey's interview with Meghan and Harry has produced several revelations.
Meghan says she experienced suicidal thoughts. Harry says he felt "trapped"
in royal life. Meghan, who is bi-racial, told Winfrey there were discussions among the royal family about how dark her son's skin would be.
Both Meghan and Harry were critical of the royal family and those who work for them, but both refused to criticize the Queen, with Meghan saying the Queen has "always been wonderful."
The couple also revealed the sex of their second child — it's a girl.