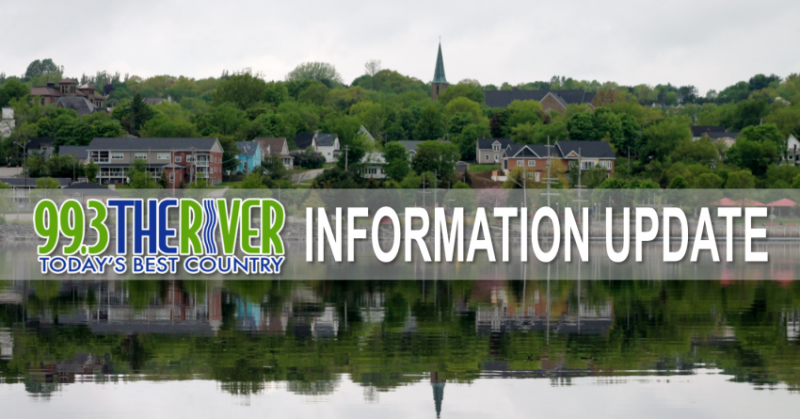 99.3 The River News—-May 11th, 2020
ALL STORIES FROM MBS NEWSROOM
—-
FESTIVAL CANCELLATIONS   
The City of Festivals won't be this year because of the Pandemic.
Miramichi has been branding itself as a city of festivals in recent years, but this year will be different. Premier Blaine Higgs has banned all large gatherings of people until the end of the year.
Mayor Adam Lordon tells the Leader that means the many annual festivals held around here will be taking at least a one-year break.  The Mayor thinks Miramichiers will still find creative ways to celebrate our cultures.
The latest cancellation is the 63rd Miramichi Folksong Festival which was set for early August. But it is being replaced with a virtual festival, so the music will go on…just online on August 3rd.
—-
COVID NUMBERS
With the province moving into the Orange Phase of reopening no new cases of COVID-19 were reported this weekend.
The number of confirmed cases remains at 120 with all but two considered resolved or recovered… neither of the active cases are in hospital.
Dr. Jennifer Russell, chief medical officer of health is reminding people even with numbers staying low and things reopening people need to maintain public health guidelines including staying within your two-household bubble.
Across Canada we are nearing 49-hundred virus related deaths with close to 69-thousand active cases.
—-
MOPED FATAL   
A 17-year-old boy from New Brunswick has died following a collision between a minivan and a moped.
The collision happened Friday on Niagara Road in Lower Coverdale.
The R-C-M-P in Riverview say the minivan was travelling eastbound when it collided with the moped as the driver was turning left onto Manor Ridge Road.
The 17-year-old died at the scene. The driver of the minivan was uninjured.
—-
BUSINESSES OPEN         
Businesses began reopening saturday after their long shutdown because of the pandemic….although the weather wasn't the best for many.
Non-essential businesses were permitted to reopen Friday but shopping is now a very different experience with many restrictions such as social distancing in effect.
Customers are being asked to wear masks in many stores and if they don't have one one will be provided by some businesses. Staff are also wearing masks and gloves. Restaurants are also adjusting…allowed to permit customers inside at tables. But there are fewer tables open – again to maintain social distancing rules.
Public health officials are making the rounds conducting sporadic checks to make sure health guidelines are being followed.
—-
BORDER CONTESTED           
The Canadian Constitution Foundation says it may challenge the Higg's government's decision to close provincial borders due to COVID-19.
Executive Director Joanna Baron says they are considering it  because they're seeing state actors proceed under unconstitutional laws applied arbitrarily.
CCF is the same group that tried to strick down limits on cross-border beer sales last year and says other provinces have ordered a 14-day quarantine after crossing the border not an outright ban.
Premier Blaine Higgs has said opening the border will likely be among the last COVID-19 measures lifted.
—-
HEALTHCARE OPENING UP
Horizon is entering a new phase in reopening plans.
Beginning today, the Horizon Health Network is resuming some urgent and critical services to allow for additional priority elective surgeries, outpatients clinics, lab services for blood and specimen collection and diagnostic imaging which will all be by appointment only.
Patients are asked not to arrive more than 15 minutes before a scheduled appointment. If you arrive earlier, you may be asked to wait in your vehicle.
Patients who arrive without an appointment will be asked to return home and contact their health care provider.
Upon arrival patients will be screened for COVID-19 symptoms, and asked to wear a mask and clean their hands.
—-
PHARMACISTS
Pharmacists have for the most part been able to stay on the job so far during the pandemic.
The College of Pharmacists says there has been no increase in absenteeism since COVID-19 struck…but they want to be prepared.
College Registrar Sam Lanctin tells the Times and Transcript they want to ensure people will be able to get their prescriptions no matter how long the pandemic lasts.
So the College has gone to Court of Queens Bench asking for an order to allow it to waive certain requirements for registration.
They want to be able to allow people who were registered and licensed inthe past or who would normally be eligible for registration to practise during the emergency. A hearing on that will be held tomorrow.
—-
OUTAGES
A spring storm knocked out electricity for thousands of NB Power customers Saturday night and early yesterday morning.
A low pressure system blew through the region dumping 30cms of snow or more in many areas….especially the west central part of the province…for instance there was 33cms in Woodstock. Those areas and the southwest were also the hardest hit by power outages, although all  but a handful of people had their lights back on by yesterday evening.
—-
HELICOPTER CRASH UDATE           
Officials have identified the second victim whose partial remains were recovered after the helicopter crash into the Ionian Sea.
DND says the Office of the Chief Coroner of Ontario used D-N-A to identify the partial remains of the pilot, Captain Brenden Ian MacDonald, originally from New Glasgow.  They were recovered as part of the search that followed the April 29th Cyclone crash that claimed six lives.
The search for the remaining four crew members continues.