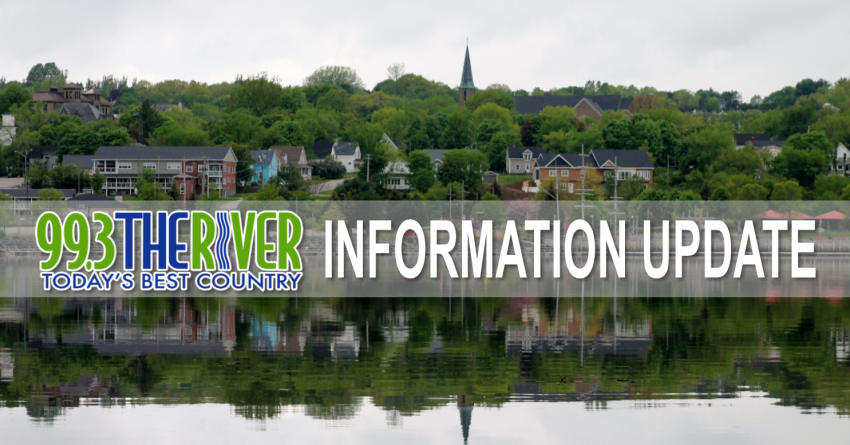 99.3 The River News – May 10/19
(FROM MBS NEWSROOM)
NO TRANSPLANT
The parents of one of the teens killed in that tragic car accident in
Miramichi say they're heartbroken that their son's organs and tissues weren't
used to save others.
The parents of 16-year-old Avery Astle tell CBC they were told by Horizon
Health following his death that no one was available to retrieve his organs.
Michelle Astle says her son would have wanted to help others and that it
would have given them some peace to know a part of him had moved on.
—-
Route 11 upgrades up in the air
Upgrades to Route 11 are still up in the air.
In an interview with the Leader, Premier Blaine Higgs said he thinks it's
time to go back to the drawing board and come up with some fresh ideas.
The government has decided to go ahead with scaled-back plans to twin Route
11 between Shediac Bridge and the Little Buctouche River, after initially
saying it would be cancelled.
Plans for northern sections of the highway towards Miramichi are still
unclear. Higgs says building a superhighway as an expressway to Moncton might
not be the best way to go.
—-
RCMP rifles
Canada's top Mountie welcomes a report that says the R-C-M-P has mismanaged
the purchase, distribution and ongoing maintenance of semi-automatic rifles
known as carbines. The auditor general's report also says the R-C-M-P has
enough hard body armour across the country, but not all officers had access
to the equipment.
Commissioner Brenda Lucki says the R-C-M-P isn't perfect, and that all
members of the force must be properly equipped. The R-C-M-P has agreed with
the auditor's various recommendations and has outlined plans to remedy the
failings.
—-
Elsipogtog-Title-Claim
Ottawa and the Elsipogtog First Nation have signed a memorandum of
understanding that could lead to negotiations on its claim to Aboriginal
title to a third of the province.
Crown-Indigenous Relations Minister Carolyn Bennett and Elsipogtog Chief
Arren Sock say they are working together to advance reconciliation.
Elsipogtog filed a court claim in 2016 seeking a declaration confirming the
Mi'kmaq Nation holds Aboriginal Title and Treaty rights to a district which
covers southeastern New Brunswick. The two sides say that under the
memorandum, they will explore the possibility of entering into negotiations
for the recognition and implementation of Mi'kmaq rights as well as the
protection and management of the environment and natural resources in the
area.
—-
FATAL CRASH 1
RCMP are investigating an early morning crash near Tracadie that claimed the
life of a 94-year-old man.
The man's pickup went off Route 11 and hit a steel post shortly after
midnight. THe 94-year-old man died at the scene. RCMP are still investigating
but say speed may have been a factor.
—-
FATAL CRASH 2
A 78-year-old man has died as a result of injuries sustained in a head-on
collision that occurred last month.
The Smith's Corner man passed away May 7 after the accident April 18th on
Route 126 in Hebert. He was driving a pickup that collided head-on with a car
killing the other driver, a 51 year old woman from Eel Ground First Nation. A
passenger in his truck was treated in hospital and released.
RCMP say their investigation is continuing.
—-
GRADE ONE FRENCH
French Immersion in the province will continue to start in grade one.
Education Minister Dominic Cardy announced today that the government would
not be pushing the introduction of french immersion back to grade three – as
many had feared. Cardy also announced today there would be a broad review of
the province's education system that will include a plan to deliver French
second-language programming. Cardy says public input will be sought and a
green paper on education will be released prior to an education summit to be
held this fall.
—-
Tax bills
The Higgs Government is making some changes to the way property tax
assessments and bills are sent out.
Brunswick news reports The minister responsible for Service New Brunswick,
Sherry Wilson, has introduced a bill to separate property assessment notices
from the actual tax bill. The assessment notice will go out in October then
the tax bill in the spring.
That will give people more time to appeal their assessments if there's been a
large increase like the ones that plagued the previous Liberal government.
—-
CANNABIS NB FUTURE
The New Brunswick government says privatizing Cannabis N-B is one of three
options on the table as it ponders the future of the Crown-owned retailer.
Finance Minister Ernie Steeves says the other options include allowing
experts to run the business or scaling it down and closing Cannabis N-B
stores that aren't making money.
After Cannabis N-B reported last week that it lost 11.7-million dollars in
2018, Premier Blaine Higgs said the province would look at whatever needs to
be done to ensure it's not a drain on public finances.
Steeves says no decisions will be made until after marijuana edibles become
legal in October.
—-
SPORTS 1
In the Presidents cup final, the Huskies scored four times in the first
period and went on to beat the Mooseheads 6-3 to take a three game to two
lead.
The Bruins won the opening game of the Eastern Conference final 5-2 over the
Hurricanes.
The Raptors lost a 112-101 decision to the Sixers and they are going to game
seven sunday in Toronto.