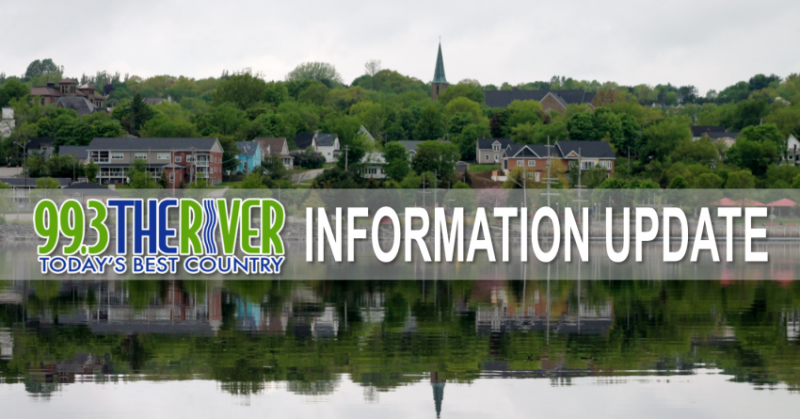 99.3 The River News—-March 5th, 2021
ALL STORIES FROM MBS NEWSROOM
—-
COVID
Five new cases of Covid-19 were reported in New Brunswick yesterday.
Public Health says they include three cases in the Edmundston Health Zone and one each in the Moncton and Miramichi regions. The province also says a presumptive case of the UK varient in the Miramichi that was announced earlier this week has now been confirmed by the National Lab in Winnipeg.
Health officials are also reminding people in the Miramichi area that nine seperate exposure warnings were issued for the community wednesday….you can check them out on the government website. The community walk-in testing clinic at the Dr. Loiser Middle school will continue today. There was a big turnout yesterday.
As of today there are now 36 active cases of the virus in New Brunswick with three people hospitalized – including two patients in intensive care.
There are 7 active cases in the Miramchi region….none in the Bathurst/Acadian Peninsula zone.
—-
SNOW DEATHS  
R-C-M-P say a snowstorm that blew nearly 40 centimetres of snow across the Acadian Peninsula this week left two people dead.
The Mounties say a 90-year-old woman was found dead on the deck of her home in Paquettville early wednesday morning by a man plowing her driveway. A 53-year-old man was found dead, wearing snowshoes, in the Bas Caraquet area also wednesday.
R-C-M-P says the deaths are not believed to be suspicious and foul play is not suspected.
—-
FIRE CONTRACT  
Miramcihi City Council has now ratified a new four year contract with the city's firefighters. The contract, ratified last week, will see firefighetrs received a 2.5-percent wage hike in year one and a two percent annually over the remaining three years. The Leader reports ist also includes a newly endorsed shif schedule for firefighters of 24 hour on and 72 hours off – and also provides permanent pay wage seperation between  the ranks of fire prevention, captains and lieutenants.
—-
 PEDESTRIAN  FATAL 
Edmundston police say an 80-year-old man has died in hospital after being hit by a car wednesday night.
Police say initial reports indicate the man was hit while trying to cross the road and was not seen by the driver.
The police force is continuing its investigation.
—-
PREMIERS HEALT CARE
The premiers are demanding Ottawa immediately boost health-care funding by at least 28-billion dollars a year….reiterating calls for a major hike in health transfers.
The prime minister has acknowledged the federal share of health spending must eventually increase…but says the premiers will have to wait until after the pandemic, which has sent the federal deficit into the stratosphere.
—-
VACCINE DELAYS      
Delaying of the second covid vaccine dose could allow every adult New Brunswicker to get their first dose by June.
Premier Blaine Higgs says by doing so it could help reopen the provinces borders throughout the country as early as spring.
Higgs tells Brunswick News that talks about reopening the Atlantic Bubble could start in April. This comes after data shows significant protection against the virus after just one dose. If the second shot is delayed then Higgs believes we could exceed federal targets.
—-
CANNABIS NB  
Stakeholders are asking the Premier to wait before making a decision about selling Cannabis NB.
The fate of the pot shops has been speculated on for months with Premier Blaine Higgs now expected to make an announcement in the coming weeks.
Assembly of First Nations Regional Chief Roger Augustine and 10 New Brunswick-based cannabis businesses have sent a letter urging Higgs not to make a decision until he has consulted with businesses, residents, and Indigenous groups. According to CBC, the letter states selling the agency would lead to job losses and would be a missed opportunity for reconciliation and economic growth, noting it will make it very difficult to fully include Indigenous entrepreneurs in the regulated retail cannabis space.
—-
Walter-Gretzky 
He was the ultimate Canadian hockey dad who taught and nurtured Number 99.
Walter Gretzky has passed away at 82.
Wayne Gretzky confirmed his father's death last night in a social media post saying his father bravely battled Parkinsons and other health issues in recent years but never let it get him down. Gretsky says his father inspired him to be the best he could be not just in the game of hockey but in life.