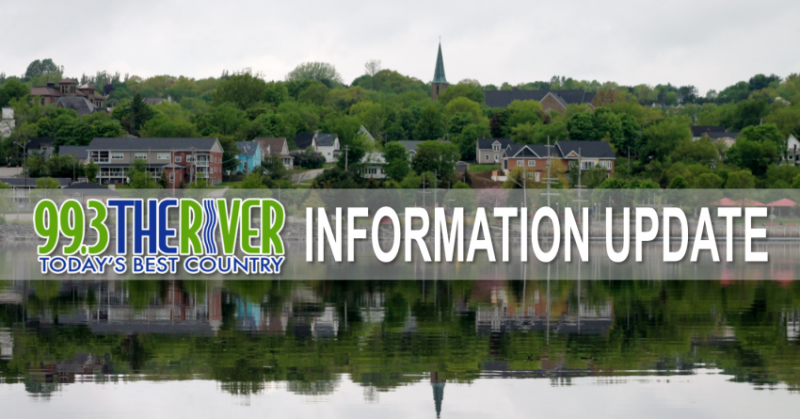 99.3 The River News—-March 31st, 2020
ALL STORIES FROM MBS NEWSROOM
—-
 COMMUNITY SPREAD
New Brunswick's chief medical officer is reporting community transmission of
COVID-19 in the province.
Dr. Jennifer Russell says the province is seeing an increase in cases that can't be directly or indirectly traced to travel.
Russell says it's more important than ever that people with symptoms self-isolate and others follow social distancing rules and go out only for essential errands.
The province is reporting two new cases for a total of 68.
Across Canada we have over 74-hundred cases and 89 deaths.
—-
REALLOCATION     
The province has reallocated about 40 government workers including libraries to help implement the 9-hundred-dollar emergency income benefit.
The benefit for workers or self-employed people who lost their jobs due to
COVID-19 will be administered by the Red Cross and was announced last week to help bridge the gap between now and coming federal aid.
Government spokesperson Erika Jutras tells CBC the redeployment is mandatory, but everyone is co-operating.
Provincial workers will helping with the application process which opened online yesterday or by calling the Red Cross
—-
RELAY FOR LIFE CANCELLED                  
The Miramichi Relay for Life committee has decided to cancel this year's event.
The Canadian Cancer Society announced that it has suspended April fundraising efforts including daffodil sales and door-to-door canvassing. If you would
still like to donate online, you may do so at: cancer.ca.   The New Brunswick
Canadian Cancer Society also has support online for those that may need it
at:  cancer.ca/
—-
MIRAMICHI LAND SALE
In other news….the city of Miramichi is selling a parking lot in downtown Chatham to a developer for $1.
The numbered company plans to build a medical centre and apartment complex on the lot on Water Street between Scotiabank and Maynes Law, according to the Leader.
City manager Mike Noel told city council it'll be a three storey building with medicaL services on the ground floor and four apartments above. Part of the agreement states public parking must remain available on weekends and evenings except for four spaces for the apartment tenants. It's expected construction will begin in June.
—-
THEFT ARREST               
Police in Miramichi have made an arrest following a complaint Sunday regarding a break in and theft at Modular Fabrications.
A release issued Monday morning indicated "various items" had been taken, including a snowmobile, which was recovered after officers spotted a person driving it in the same area.
"The snowmobile was located by our officers in a wooded area just south of Modular Fabrication," the release read.
The investigation is ongoing.
—-
DEATHS       
Newfoundland and Labrador has recorded Atlantic Canada's first death from COVID-19.
The 78-year-old man who died had underlying health conditions and is related to a cluster of 111 cases linked to a St. John's funeral home.
Total number of cases in Canada is now over 7,400 with 89 deaths in Canada and two Canadians who have died in other countries…Japan and Brasil.
—-
MILITARY         
Canada's military is preparing in the event it's called on to help provinces cope with the COVID-19 crisis.
Chief of Defence Staff General Jonathan Vance says the Canadian Forces are also prepared to deploy in the event of spring flooding or forest fires while communities grapple with the coronavirus.
Commander of Maritime Forces Atlantic, Rear-Admiral Craig Baines, says the crews of HMCS Moncton and HMCS Ville de Quebec are being sequestered in a hotel in what he calls an "extremely cautious" step to ensure they aren't exposed to COVID-19. They will be there for two weeks before they head out to sea ready to help any coastal community that needs it.
—-