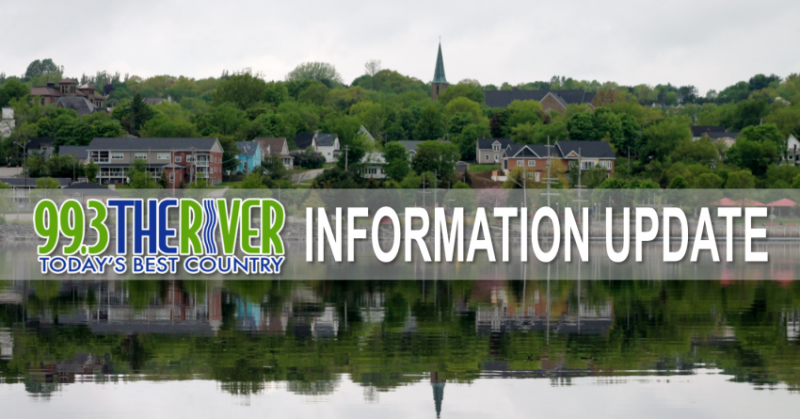 99.3 The River News—-March 18th, 2020
ALL STORIES FROM MBS NEWSROOM
—-
FIRE       
A home was destroyed after a fire in the village of Sainte-Anne-de-Kent early yesterday morning.
The man living at the home along Route 505 was treated in hospital for smoke inhalation and later released.
He is staying with relatives and being assisted by the Red Cross as all of his belongings were lost in the blaze.
There were no other injuries reported and no word on the cause of the fire.
—-
LOCAL CLOSURES
Miramich is closing a number of buildings to the public as of today including City Hall on Henry Street. Also closing is the Miratech Building on General Manson Way and Fire Stations #1 and #2. The Police station will still be accepting public complaints.
The city is encouraging residents to make payments for service including water and sewer bills at banks, online, by cheques in the mail or by phone using a credit card.
All recreation and leisure activities are being reduced or cancelled. City staff are being rotated to maintain essential services…and more will be working from home.
—-
HEALTH THEFT                  =
The New Brunswick Nurses Union says people are stealing masks, gloves, and hand sanitizers from provincial healthcare facilities.
President Paula Doucet tells CBC they have been told in one emergency room patients were going in and removing anything off the walls.
Doucet says its alarming there is a mass hysteria and people feel its necessary to go into heathcare facilities and take what they think they need.
Horizon's chief of staff Dr. John Dornan says there is no evidence of the public stealing and says if staff uses supplies as prescribed there will not be a shortage.
—-
SENIOR MOVE         
The Department of Social Development has introduced an "urgent nursing home placement process" to free up hospital beds occupied by patients waiting to be placed in a long term care home.
Premier Higgs said during yesterday's briefing 65-people will be moved into nursing homes within a 100-kilometers of their permanent address.
Higgs says they may not be placed in their preferred location but the move will allow more capacity in the health-care system to those facing serious illness.
—-
 ELECTIONS CANCELLED     
A small and quick session of legislature yesterday officially suspended the upcoming May 11th municipal elections until as late as May of 2021.
Local Government Minister Jeff Carr is asking all mayors and councillors that were stepping down or retiring to stay in their roles for another year.
The session also allowed for the possible postponement of the by elections coming up in June in Saint Croix and Shediac Bay-Dieppe.
After the bill passed the legislature consisting of only 14-members and the speaker adjourned until April 7th.
—-
 CHILD CASE 
The latest presumptive case of COVID-19 in New Brunswick is a boy under the age of 10.
Health officials say the boy was in close contact with one of the two confirmed travel cases in the province.
New Brunswick now has a total of six presumptive and two confirmed cases of the novel coronavirus.
Premier Blaine Higgs says the province is following social distancing recommendations and the legislature will sit with a quorum of 15 MLA's to pass necessary legislation before it adjourns.
—-
SENIOR SHOPPERS   
Two of Canada's major grocery chains are setting up designated shopping times for seniors and people with disabilities to shop before the general public.
Sobeys and Loblaws will allow seniors and people with disabilities to shop from 7:00am to 8:00am Monday through Saturday before they let regular customers so they can pick up groceries from shelves that have been restocked overnight.