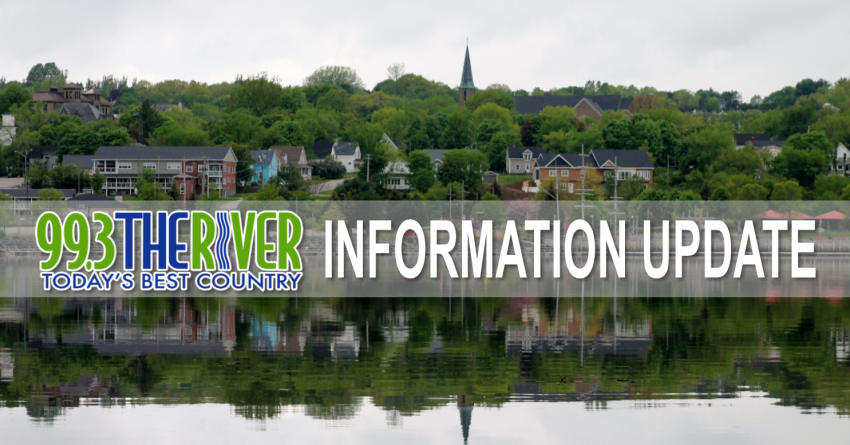 99.3 THE RIVER NEWS – MARCH 13/19
(FROM MBS NEWSROOM)
PLANE DAMAGE
A cargo plane suffered significant damaged when it hit a snowbank at the
Romeo Leblanc Airport Monday.
Kallitta Air Vice President Pete Sanderlin tells Global news the 747 had just
landed and was following directions as it taxied on the tarmac when one if
its engines collided with a snowbank. None of the four crew or anyone on the
ground was hurt.
Sanderlin says repairs to plane could cost upwards of 2-million-dollars and
says he will be asking the airport to cover some of those costs. He says snow
clearing along the tarmac wasn't adequate to accommodate a 747.
—-
OLAND
The judge in the Dennis Oland murder re-trial has visited the site where
Oland's father was brutally murdered in July 2011.
Defence lawyer Alan Gold requested that Justice Terrence Morrison visit
Richard Oland's office in Saint John — arguing it was impossible to get a
true picture of the crime scene without seeing it in person.
Morrison — who is presiding over the judge-alone trial — went to the site
with Dennis Oland and the lawyers after the defence wrapped up its case.
—-
Floodwatch
Riverwatch 2019 is now in operation.
The Emergency Measures Organization has begun closer monitoring of snow and
water levels with hopes this spring will be much better than last year when
we had disastrous flooding.
The snow pack, especially in the north is much deeper than last year…but
the experts say that doesn't necessarily mean the rivers will be higher. It
depends, of course on the weather…with the ideal being melting temperatures
during the day that are not too high…and freezing temperatures at night to
slow it down.
Meanwhile residents who were flooded last year have rebuilt, some raising
their homes and cabins several feet…others building berms.
—-
Nursing home protests
Negotiations are expected to continue today to try to resolve the contract
impasse in nursing homes. Both sides agreed to a media blackout on the
negotiations. But that doesn't mean it was quiet.
Members of CUPE and other protestors were out on the streets in a number of
cities, including Moncton, Saint John, Miramichi and Fredericton. The union
has accused the government of using the court injunction granted on the
weekend to try to eliminate their right to strike. Social Development
minister Dorothy Shepard the stay of proceedings was to protect the safety of
nursing home residents.
More than 60 union members and supporters protested along Mountain Road in
Moncton near Finance Minister Ernie Steeves' constituency office. Steeves was
not there.
—-
Police hearing delayed (cbc wed.am)
An arbitration hearing for two Bathurst police officers facing discipline has
been delayed.
Constables Mathieu Boudreau and Patrick Bulger were facing an arbitration
hearing next week into dismissal by the city for their part in the death of
businessman Michel Vienneau in 2015. Criminal charges were dropped in 2017
when a judge ruled there wasn't enough evidence to go to trial.
No new date for the hearing has been set.
—-
Bathurst mall reopens
All of the Bathurst Mall is open again after parts were closed for several
days.
Some offices on the second floor were closed because of cracks appearing in
the walls caused by a heavy snow load on the roof. But structural engineers
have taken a close look and declared everything safe. So the offices have
been reopened.
—-
AIRCRAFT CONCERNS
Airline pilots on at least two U-S flights have reported that an automated
system seemed to cause their Boeing 737 Max 8 planes to tilt down suddenly.
The pilots said that soon after engaging the autopilot on the Max 8, the nose
tilted down sharply — in both cases, they recovered quickly after
disconnecting the autopilot.
The Max 8 is at the centre of a growing global ban by more than 40 countries
following Sunday's crash in Ethiopia, which happened less than 5 months after
a similar fatal crash in Indonesia.
—-
AIRPLANE
Air Canada has cancelled its flights from Halifax to London and St. John's to
London after the United Kingdom banned all Boeing Max 8 jets in its airspace.
That's the jet Air Canada was using for the flights and it says it's working
to rebook passengers through its Montreal, Ottawa and Toronto hubs.
Regulators in Britain have temporarily banned the Max 8 from operating in its
airspace following the Ethiopian Airlines crash on Sunday — the second crash
involving that type of jet in less than five months.
—-
HOLLYWOOD "MORALS"
More defendants are expected to surrender today in connection with the
college admissions cheating scandal.
Actress Lori Loughlin promised the F-B-I that she would surrender
to face charges connected to her alleged half-million-dollar payment to get
her daughters into the University of Southern California.
In addition, actress Felicity Huffman is accused of paying 15-thousand
dollars — disguised as a charitable donation — so her daughter could
partake in the college entrance cheating scam.
—-
Sunwing grounds planes
Canadian airlines continue to fly the Boeing 737 Max8s, but are cancelling
flights to countries where they are now banned from flying…including the
European Union.
Air Canada had to cancel a couple of flights from Halifax and St. John's to
London yesterday. More are cancelled today and tomorrow. Sunwing Airlines
says it is temporarily grounding its four MAX 8s.
Federal Transport Minister Marc Garneau will provide an update on the
situation today.
Meanwhile the union representing Air Canada flight attendants says the
company will allow those who dopn't want to fly on the Max8 to be reassigned.