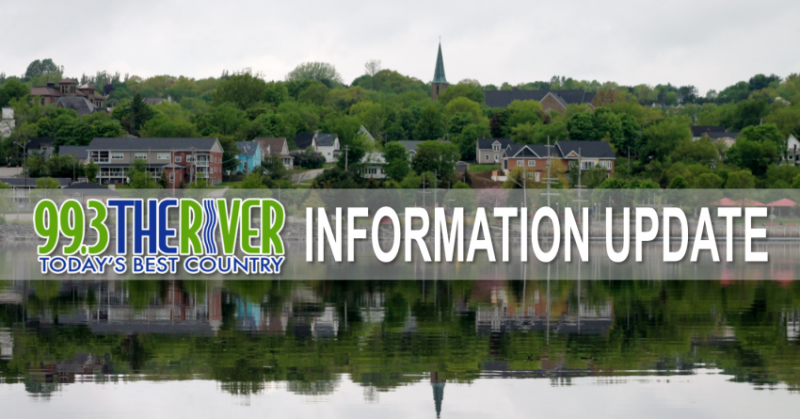 99.3 The River News—-March 10th, 2021
ALL STORIES FROM MBS NEWSROOM
—-
COVID
The province is reporting its 29th Covid related death. It was another resident of the Manoir Belle Vue nursing home in Edmunston.
Meanwhile just one new case of Covid-19 was reported yesterday…an individual in their sixties in the Bathurst region. The numbers were also adjusted after public health learned a previous case in the Fredericton area was already recorded in a different province.
There are currently 35 active cases remaining in the province – with three people hospitalized including two in intensive care.
The Miramichi zone has the most active cases in the province with 16…although for the first time in over a week there were no new cases announced yesterday.
The Moncton Region shows 5 active cases.
The Saint John zone shows 2 active cases.
—-
HOSPITAL MASKS       
Cloth masks are no longer good enough for patients and visitors at hospitals and long term care homes in the province.
Brunswick News reports a memo from late last month is directing all facilities to start providing medical masks. The memo pointed to the arrival of the highly contagious varients for the decision to upgrade mask requirements. Horizon Health announced the measure went into effect yesterday. People arriving at the door will now be prompted to swap their mask for one from the facility's own stockpile.
—-
MLA PARENTAL LEAVE
A Green Party MLA is calling for better assistance for parents in the Legislature
Megan Mitton announced Monday she is expecting her second child, and says it's past time to talk about how new parents who are elected members can be accommodated.
MLAs don't pay into employment insurance so they can't take paid parental leave, And someone else can't backfill the position if she's away, because only elected members can sit and take part in debates and votes.
Mitton tells CBC –  more funding could help her keep up with issues, And allowing virtual voting or proxy voting would let her participate without being in the capital, or would permit another MLA to vote in her place.
A committee of MLAs that sets procedural rules is scheduled to revisit the issue today
Mitton says one reason there still hasn't been changes "is that there haven't been that many young women in her position.
—-
POLL DATA   
A new poll shows Premier Blaine Higgs continues to enjoy the support of most New Brunswickers.
The quarterly poll from Narrative Research shows 69% are satisfied with Higgs' job performance….although that is down slightly from the 72% rating in the last survey in November.
The Higgs Conservatives also continue to be the preferred party of choice…but just barely. The PCs have 35% of respondents favouring the party….down from 41% last fall. The Liberals are second with 32%…up four points; The greens were unchanged at 20%….while the People Alliance and NDP came in at 6% each.
—-
SCHOOL VENTILATION   
New Brunswick plans to study schools that do not have a ventilation system
Sixty of the 294 schools in the province don't have integral ventilation systems, This fiscal year The Department of Education will spend $200,000 to study those schools.
Green Party Leader David Coon tells CBC – it's too late to be studying the issue, and the department should get straight to installing the systems.
David Greenfield, chair of the school's parent school support committee, wrote a letter to the Anglophone School District West's education council in January, saying the lack of a ventilation system has been an ongoing concern for parents.
Anglophone School District West says air quality tests will be done by the government, reviews will begin this month and schools without the systems will be prioritized.
—-