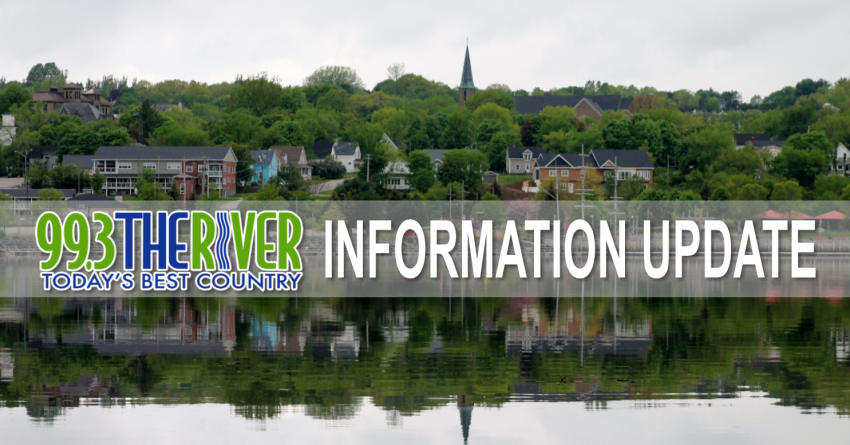 99.3 The River News – June 5, 2019
(FROM MBS NEWSROOM)
MOUNTIES REMEMBERED
The commanding officer of the R-C-M-P in Moncton is calling on the public to
honour the legacy of three Mounties.
Yesterday marked the fifth anniversary of the deaths of Constables Fabrice
Gevaudan, Dave Ross and Doug Larche…and wounding of constables Eric Dubois
and Darlene Goguen.
Assistant Commissioner Larry Tremblay says people can honour the officers by
looking out for each other.
—-
ASSAULT SENTENCE
37-year-old Zachariah Russell from Bathurst has been sentenced to almost two
and a half years in prison stemming from an incident in July, 2018.
On July 8th, Bathurst RCMP responded to a report of a stabbing in Gloucester
Junction, N.B., near Bathurst. Russell had fled the scene before police
arrived.
He was arrested on a Canada wide warrant on July 31st.
Russell was found guilty in Bathurst Provincial Court of 11 charges including
aggravated assault, careless use of a firearm and drug offences.
—-
Mi'kmaw interpreter for Commons
A New Brunswick man has been chosen to be an interpreter in Parliament.
Brian Francis of Elsipogtog is joining other First Nations interpreters from
across Canada as the federal government promotes Indigenous languages.
Francis told the Times and Transcript indigenous languages are on death row
and something really needs to be done to preserve them. He says very few
young people speak it now, while the older ones speak it fluently.
The Indigenous Languages Act is expected to pass final reading this month
which will make it possible for people to address the Commons in their
traditional language…but they will have to give a few days notice so staff
can make arrangements for the appropriate interpreter. Francis says First
Nations languages have similarities but are quite different.
—-
Bridge work
A quick traffic note.
Miramichi Bridge is down to one lane for some spring cleaning again today
from 8:00am to 5:00pm…so you can expect delays.
—-
Miramichi Transit Free Bus Rides
Miramichi Transit will be offering free bus rides today to help recognize an
important world-wide environmental initiative.
World Environment Day is meant to encourage awareness and action for the
protection of the environment. More than 143 countries take part.
Miramichi Transit will mark the day with free rides to help residents
understand how beneficial transit can be for an individual and the
environment we live in.
—-
SHALE GAS ALLOWED
Premier Blaine Higgs confirmed yesterday his government passed regulatory
changes last week to allow shale gas work to resume in the Sussex area.
Higgs told reporters they have approved an order-in-council allowing for an
exception to the province wide moratorium.
The opposition Liberals immediately jumped on the news calling it secretive,
saying Higgs made decisions behind closed doors.
Corridor Resources started extracting gas in the Sussex area in 1999 but
stopped new fracking after the Liberal government imposed the moratorium in
2014.
—-
HIGGS TO EXAMINE WORKERS SICK TIME BK/TELEGRAPH JOURNAL TUE AFT
After daring the the opposition to defeat his minority government over the
nursing home workers dispute last week, Premier Blaine Higgs is adding fuel
to the fire.
According to the Telegraph Journal Higgs says he would never agree to raise
workers' salaries significantly without taking a hard look at sick leave and
overtime.
The Premier says he wants to know if workers are using sick time as vacation
time.
The Union calls Higgs comments a slap in the face.
—-
ELECTORIAL REFORM
New Brunswick's chief electoral officer is proposing changes to enhance
voting procedures in the province — including ending the political
appointment of returning officers.
Kim Poffenroth says the officers that manage provincial and municipal
elections should instead be chosen through a competitive hiring process.
That's among more than 100 recommendations included in a discussion paper
tabled by Poffenroth before a legislature committee today.
She says in a statement that some recommendations will require the political
will to relinquish long-standing practices that favour the governing party
but will help increase the efficiency of elections in the province.
—-
FIRST FEMALE JUDGE
Prime Minister Justin Trudeau has appointed the first female chief justice of
the Court of Queen's Bench in New Brunswick.
Trudeau says in a statement that DeWare has more than 18 years of experience
practising law in Moncton and most recently spent nearly seven years as a
judge on the province's superior court.
She is fully bilingual and served from July 2014 to July 2016 providing
bilingual judicial services to the Woodstock and Fredericton jurisdictions.
—-
DEAD RIGHT WHALE
Fisheries and Oceans Canada received a report of a dead Right Whale drifting
in Gulf of St. Lawrence yesterday.
The department is working with the Marine Animal Response Society, the Quebec
Marine Mammal Emergency Response Network, and the National Oceanic and
Atmospheric Administration to find the whale.
When the animal is found it will be tag for tracking till the department can
figure out recovery options.
—-
Nurses defence
A former labour and delivery nurse at the Moncton Hospital has filed a
statement of defence in a class-action suit.
In the statement, Nicole Ruest's lawyers deny she was negligent and say she
did not breach her duty of care. Ruest is accused of administering Oxycontin
to women who were in labour without their knowledge or consent. The lawyers
say "at all times, she provided nursing care that met or exceeded the
applicable standard of care. She and Horizon Health are both asking the judge
to dismiss the suit.
She is also making a cross-claim against Horizon, according to the Times and
Transcript seeking compensation against any damages or costs awarded to the
plaintiffs, along with her own legal costs.
—-
SPORTS
The Blue Jays fired a couple of homers in the fifth inning and went on to
beat the Yankees 4-3. Red Sox had an 8-3 win in Kansas City.