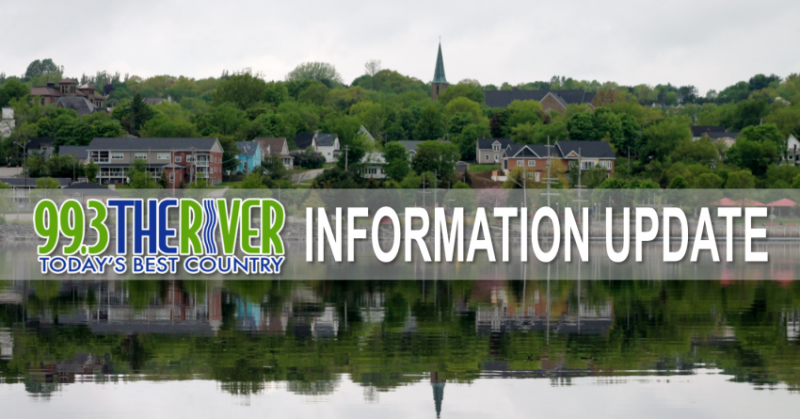 99.3 The River News—-June 22nd, 2020
ALL STORIES FROM MBS NEWSROOM
—-
ASSAULT PROTECTION       
The New Brunswick Nurses Union is calling for increased security measures after the assault on a nurse and security officer in Miramichi last week.
President Paula Doucet tells the Times & Transcript enough is enough saying people boarding airplanes are safer than people going to hospital.
33-year-old Justin Keith MacIvor was charged with assault with a weapon after assaulting a nurse and holding a security guard at knifepoint in Mirimichi on Thursday.
The incident comes only 15-months after a nurse manger was assaulted at the Dr. Georges-L.-Dumont Hospital in Moncton.
The Union has been pushing for metal detectors and advanced training for security staff in hospitals to better protect staff and patients.
—-
 COVID UPDATE     
The province reported one new case of COVID-19 over the weekend bringing the active cases in New Brusnwick to 27.
The latest case announced on Saturday is a person in their 50s in the Campbellton region related to the longterm care facility in Atholville where two residents have died.
This weekend marked the beginning of loosened restrictions under the next step of yellow with visits to longterm care homes allowed, organized sports have resumed, and no cap on gatherings with physical-distancing.
Zone-5 or the Campbellton region remains under the orange phase but advisories of avoiding non-essential travel to and from the region have been dropped.
Nationally we have surpassed 101-thousand cases and 8430 have died from COVID-19.
—-
TRAIN DERAILMENT     
A train derailment in Saint John on Saturday night shut down two streets and kept CN and fire crews busy cleaing up.
The train went off the tracks around 6:30 that evening and was carrying potash, woodchips, and one empty car had previously contained sulphur leading to some concern.
Eight cars derailed and it was right over the Brunswick Pipeline, but officials say there was no danger to the public as crews quickly secured the scene.
McAllister Drive to Russell Street were closed for a couple of hours and crews will be back out today (MON) to begin putting the cars back on the tracks.
—-
IRON ON HOLD     
Maritime Iron says they are putting the proposed 1.5-billion-dollar pig iron processing plant in Belledune on hold.
Officials with the company tell CBC while New Brunswick remains their first choice they are now exploring other options.
The news comes only a week after NB Power pulled out of the project saying the cost to ratepayers would be two high surrounding the use of the Belledune Generating station to burn by-products from the plant.
The facility would have become the highest emitter of greenhouse gases in the province, but would have provided up to 13-hundred jobs during construction and 2-hundred fulltime jobs once operational.
—-
HELICOPTER IDENTITY     
The military says the remains of four forces members killed when a Cyclone helicopter crashed into the Ionian Sea off Greece in late April have been identified.
The Department of National Defence says the remains were positively identified Thursday by the Chief Coroner for Ontario.
Those identified include Sub-Lieutenant Matthew Pyke, a naval warfare officer originally from Truro.
The remains were found during a combined search and recovery operation with the United States Navy conducted between May 25th and June 2nd
—-
TICK WARNINGS     
People in the Maritimes who enjoy the outdoors are being urged to be aware of ticks as they return to trails and forested areas.
The Nature Conservancy of Canada is urging people to take precautions against blacklegged or deer ticks that can carry various bacterial diseases, including Lyme disease.
Atlantic vice-president John Foley says there are a number of steps people can take to minimize the risk of exposure from tick bites, including wearing bug repellent containing Deet.
Foley says people should also wear light coloured clothing including long-sleeved shirts and long pants to keep skin protected and they should also cover their head with a hat.
—-
MEXICAN WORKERS 
Mexico is sending farm workers to Canada again after securing promises for more inspections and oversight to curb outbreaks of COVID-19.
At least two Mexican men have died and hundreds more have fallen ill with the virus in recent weeks on farms across the country.
The situation led Mexico to temporarily stop allowing workers to leave for Canada.
Meawhile, 27 Mexican workers who had been in quarantine for the past two weeks were released yesterday so they can go to work in a Lobster plant in Cap Pele today.