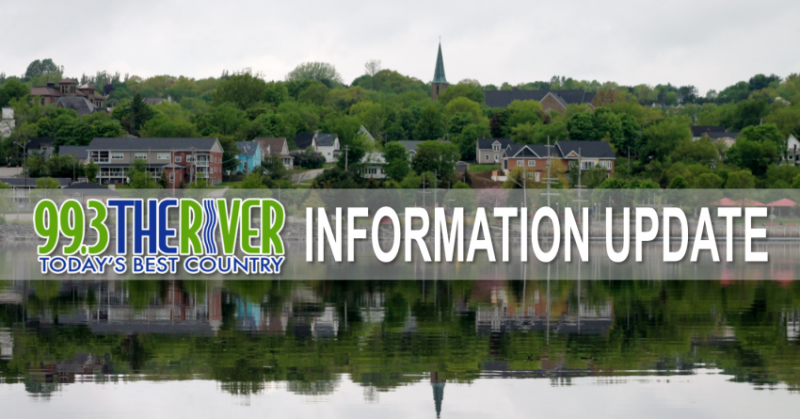 99.3 The River News—-June 19th, 2020
ALL STORIES FROM MBS NEWSROOM
—-
WALK FOR RODNEY
The funeral will be held today at Metepenagiag for Rodney Levi. Because the funeral is restricted to 50 people, there will be healing walks as his family and community mourn his passing in other communities. Healing walks are planned for Elsipogtog First Nation and Miramichi.
Brent Johnson is co-organizing today's walk in Big Cove at 2:00pm in memory of Levi.  Johnson, who is related but couldn't attend the funeral, tells the Leader the walk at Elsipogtog will be restricted to residents of the First Nation as they have controls in place to keep COVID-19 out. He says there'll be water and sports drinks available because of the heat wave and elders will follow in vehicles.
The Healing Walk in Miramichi will also start at 2:00pm from James M. Hill Memorial High School and run until 4:00pm. Participants are asked to consider wearing red and bring signs reading "I Stand with Rodney."  Also, because of the hot weather, bring water and sun protection.
—-
GRAD CEREMONY
154 graduates of Miramichi Valley High School got their diplomas in a special outdoor ceremony at the school's sports field, according to the Leader.
Class valedictorian Andrey Estrada Abarca said in his speech it's remarkable that he and his classmates could celebrate their graduation with family and friends, given the public health restrictions. Abarca said it it shows how resilient and strong our community is.
James M. Hill Memorial High School celebrated its graduation with a similiar drive-in ceremony tuesday. Seniors paraded across the stage outside the school to receive their diplomas while families watched from their cars.
—-
CREDIT UNION
The Beaubear Credit Union is doubling the amount that all Atlantic Credit Unions have pledged to give to their employees to buy local.
All Credit Unions across the Atlantic network had committed to giving each employee $25 as part of a campaign to encourage local spending. The Beabubear branch is doubling that with another $25. Employees are being encouraged to share how they've been spending the money on social media under the hashtag Loyal-to-local-challenge.
—-
UNSAFE HOSPITAL  
Some staff who have worked in the COVID-19 unit at Campbellton Regional Hospital say existing safety protocals don't make them feel safe.
Three unidentified workers spoke with CBC saying they have been warned by Vitalite to not speak to media as the number of infections of hospital staff has grown to at least 10.
Some of the issues identified are virus unit staff using the same lockeroom as other staff, not being isued hair and shoe coverings, and working in other units after treating COVID patients.
Vitalite CEO Gilles Lanteigne said during a virutal media scrum Wednesday they were 'very, very confident' in current controls and are working to reassure staff.
—-
VACCINE DEFEATED   
The bill to to mandate vaccinations for New Brunswick's schoolchildren has been defeated in the legisature.
The bill, brought forward by Education Minister Dominic Cardy, was defeated 22-20 by in a vote yesterday afternoon.
It would have eliminated all but medical exemptions, meaning childen who were unvaccinated for religious or philosophical objections would not be able to attend school
Premier Blaine Higgs supported it, while six Conservatives went against the party voting no along with 12 Liberal MLAs, and the three People's Alliance members… the Green's abstained.
Cardy tweeted after the vote he was disappointed some MLAs couldn't stand up against the bullying, the harassment and threats from anti-vaccination activists.
—-
CIGARETTE BUST      
Saint-Leonard RCMP arrested a 34-year-old man from Dieppe after seizing over 104,000 illegal cigarettes in Saint-Jaques.
Police stopped a vehicle at a check-point on the Trans-Canada Highway and noticed contraband tobacco inside the vehicle.
A search revealed more than 500-cartons of illegal cigarettes… which where promply seized along with the vehicle.
The man was arrested and has since been released pending a court date in October.
—-
PARLIAMENT RACISM   
NDP Leader Jagmeet Singh says he believes the gesture a Bloc Quebecois M-P made toward him dismissed the lives of Indigenous and Black people who have been victimized by police. Singh says Alain Therrien made a brushing-off hand gesture after refusing the necessary unanimous consent for a motion on systemic racism in the R-C-M-P.
The Bloc tried to have Singh kicked out of the House of Commons for a second day yesterday for calling the Bloc member racist. But Singh was able to stay, and asked the prime minister to commit to a review of racism in the R-C-M-P.
Trudeau responded that he plans to address systemic racism in Canadian institutions, including the R-C-M-P, as quickly as possible.
—-
HEAT
The Heat warnings remain in effect for the entire Maritime region.
Environment Canada is now saying the hot, sticky weather could continue into next week.
New Brunswick will be hardest hit with the humidex readings between 38 to 41– with the muggiest weather expected for the province's northeast.
In Nova Scotia and P-E-I, the humidex value will be above 32 with the hottest conditions expected in inland Nova Scotia, where it will feelmore like 39.