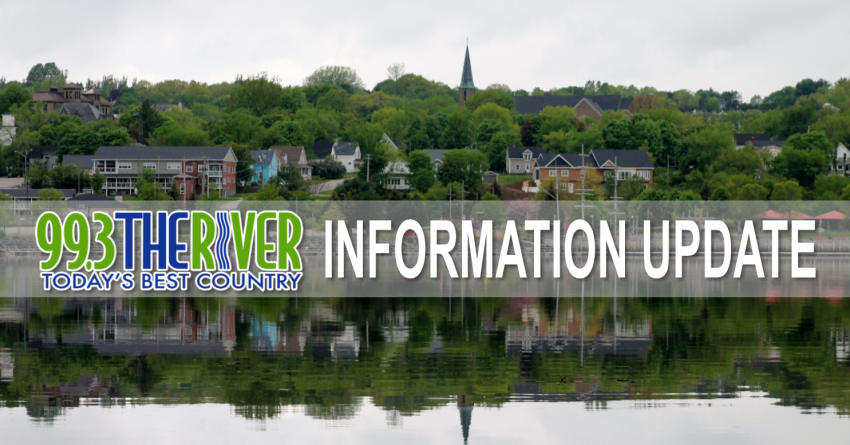 99.3 The River News – June 12, 2019
(FROM MBS NEWSROOM)
Carrefour Beausoleil
Ecole Carrefour Beausoleil is overcrowded at 274 students this year,
according to the executive director of the community centre that houses the
french school…and there many waiting to get in.
Marc Allain told CBC the education council for the Francophone South school
district is neglecting this area's lone francophone school in favour of the
larger, southern centres like Saint John and Fredericton. Allain says the
education council is ignoring the school's growing overcrowding issue and its
constitutional obligations by moving expansion plans lower on the priority
list below new schools in Fredericton and Saint John.
He says a lack of space has been an issued for more than ten years and they
feel they are being left behind.
—-
Escuminac ceremonies
Officials are gearing up for ceremonies in Escuminac this weekend marking the
disaster sixty years ago when 35 fishermen were lost at sea in a storm.
A series of events marking the 60th anniversary will kick off saturday
evening with a meet and greet at the school in Baie Sainte-Anne with
presentations by students and screening of a documentary Film. Sunday morning
there'll be special services at five area churches. Then in the afternoon an
official celebration of life ceremony will be held on the wharf at 2:00pm.
—-
WALL OF INSECTS
A video of thousands of insects swarming on the Acadian Peninsula has gone
viral.
Caraquet resident Monia Chiasson filmed the video on an early morning walk on
Sunday.
Chiasson tells CBC …. the video of the wall of bugs that are thought to be
"midges" at the Four Roads Beach gave her shivers.
Biologists say it's impressive to see, but not that unusual.
The cold weather had stunted the insects growth and now it is happening all
at once in the warmer weather.
—-
Hospital attack
A teen is facing charges after another assault on a staff member at a
hospital in Moncton.
The 15-year-old boy was arrested after a 34 year old man was attacked at the
Dr. Georges-L.-Dumont University Hospital Monday night.
The teen has been sent for a 30 day psychiatric evaluation and will return to
court July 10th.
The man's injuries were apparently not too serious…certainly not as bad as
those suffered by a nurse in March who is still recovering from various head
injuries.
—-
AUD GEN TAXES
New Brunswick's auditor general says the province has no policies to guide
the way it forgives overdue property taxes.
In an audit released Tuesday, Kim MacPherson says she found that despite
millions of dollars being forgiven at the discretion of the tax commissioner
and the provincial Treasury Board, the Department of Finance has no
procedures to guide such decisions.
As well, MacPherson found these decisions are not publicly reported.
She says that without proper procedures, these decisions may lead to …
quote … "unfairness and inconsistencies."
—-
MEDICARE CARDS
New Brunswick's auditor general says the province's automatic medicare card
renewal policy increases the risk of cards getting into the wrong hands.
Kim MacPherson reviewed medicare cards as part of her latest series of
audits.
She says existing cardholders are not evaluated for ongoing eligibility under
a process making it harder to identify those who are in-eligible.
MacPherson says the renewal policy and the decision to outsource certain
parts of the process also increased the risk of privacy breaches.
—-
MLAs co-operating
There seems to be a new mood of co-operation at the legislature.
According to the CBC …. with the house preparing to adjourn for the summer,
all four parties are setting up all party committees to discuss behind closed
door complicated issues such as healthcare reform and official languages.
During the spring session of the house on most issues, it was the PCs and
Alliance versus the Liberals and Greens.
But Universite de Moncton political scientist Roger Ouellette says …. they
seem to have decided they have to work together because nobody wants an
election.
—-
UNITY THREATS
The prime minister is accusing a number of conservative premiers of playing
politics and stoking the flames of regionalism over Bill C-69 — the new
environmental assessment bill for major infrastructure projects.
The premiers have demanded that Justin Trudeau approve all 187 proposed
amendments to the bill, otherwise it could break up the country.
Trudeau said his government is happy to accept amendments that make the bill
better, but he would not bend to a threat to national unity.
—-
BASIC INCOME
As traditional, full-time employment declines in favour of short-term
contract work, a cross-party committee of M-Ps says it's time for the federal
government to take a deeper look at a guaranteed minimum income.
The M-Ps are calling for a revamp of the employment-insurance system.
That would include reducing the minimum number of hours someone must work
before qualifying for benefits, boosting payments to low-wage workers, and
reconsidering the benefits available to self-employed workers.
—-
INTERN CHANGES
The federal government has released new rules governing unpaid interns in
federally regulated sectors.
They include 40-hour work weeks, holidays, maternity-related reassignments,
leave and breaks.
Eliminating unpaid internships in federally regulated environments was a
Liberal campaign promise in 2015.
Legislation was delayed until December of 2017 because labour groups, student
unions and others representing interns said the protections weren't strong
enough in the Liberals' first attempt.
—-
SPORTS
The Blue Jays lost their fifth straight as the Orioles beat them 4-2. Red
Sox were pounded 9-5 by Texas.