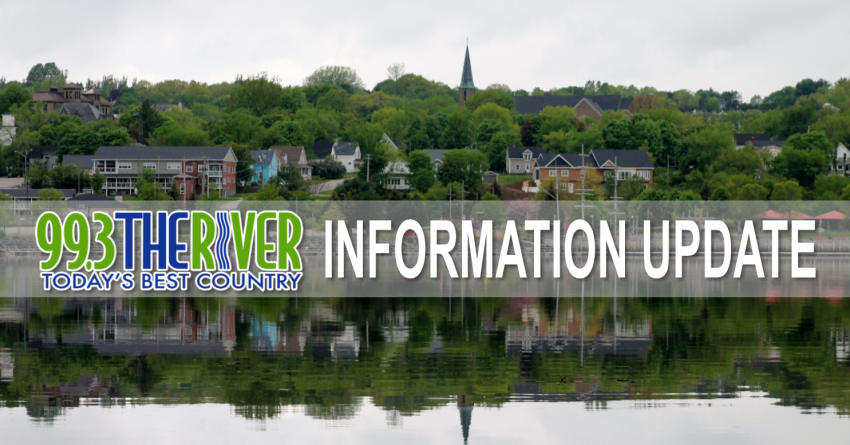 99.3 The River News – July 8, 2019
(FROM MBS NEWSROOM)
ELDERS MAKE ROAD REPAIRS
The elders of Elsipogtog First Nation have taken much needed road repairs
into their own hands.
CBC reports …. about a dozen people earlier this week shovelled dirt into
large pot holes on Graham Road, the only road that connects the First Nation
to nearby communities.
They say the road had become unsafe for travel and emergency vehicles
wouldn't be able to pass.
Elders say the road hasn't been re-built in over 30 years.
Debate over who should rebuild the road is stirring.
The province owns almost 400 meters of it, but the remainder falls under
federal jurisdiction.
—-
Evacuees update
An emergency shelter for evacuees from an apartment building have to get out
of an emergency shelter at James M. Hill High school by 2:00 this afternoon.
Renovations still aren't done at their building on Cole Crescent. Some
tenants are staying with family or friends…but several have no where else
to go and have pitched tents behind the building…but inside a tent is not
where you want to be in hot weather.
Landlord Brian Grosseth says he's working as hard as he can to get the
renovations done and up to fire code standards…but he says the fire
department requested more upgrades friday. He says the worst news is that he
has to install fire proof doors in the building and they are on back order
now expected to take eight weeks. He thought about bringing in trailers for his
tenants but was told insurance won't cover it.
—-
TORNADO WARNING
After tornado warnings were issued in New Brunswick on Saturday, some people
are wondering why their phones didn't get the automatic alert.
Mel Lemmon, a meteorologist with Environment Canada tells CBC only those in
areas at risk of a tornado received the alert on their mobile devices.
Lemmon says if you were travelling you may not have gotten the alert either
as its about where you are, not where your from.
The alert was issued for people in Grand Lake, Queens County, Oromocto and
Sunbury County around 4pm on Saturday. It lasted for about 30 minutes.
—-
FUNDY RESCUE
A man who broke his leg while hiking in Fundy National Park had to be
airlifted to a hospital in Moncton over the weekend.
The man was found in the Little Salmon River area after a search and rescue
team spent several hours looking for him.
Phil Howe of the Greater Fundy Ground Search and Rescue says the incident
should serve as a reminder to hikers to do their homework before attempting
the Fundy Footpath because of its rough terrain and lack of cell service.
—-
WHALES
There is growing concern for three North Atlantic right whales in the Gulf of
St. Lawrence that appear to be entangled in fishing gear.
DFO says one of the whales was spotted east of Miscou Island with a rope
around its tail and dragging something heavy.
Two others were detected Thursday, one east of Gaspe, Quebec, and the other
east of Miscou.
D-F-O says all three entangled whales were sighted in areas already closed to
fishing.
—-
THE CARTERS
Former U-S President Jimmy Carter and his wife, Rosalynn, marked their 73rd
wedding anniversary over the weekend, approaching George and Barbara Bush as
the longest-married presidential couple in U-S history.
The Carters married July 7th, 1946, in a Methodist church in their hometown
of Plains, Georgia, when he was 21 and she was 18.
The Bushes wed January 6th, 1945, and were married 73 years and 111 days when
Barbara Bush died in April 2018.
George HW Bush died the following December.
—-
Mobile-Outages
Mobile service providers across the country are working to fix widespread
network outages to voice services that some customers have been noticing
since Sunday afternoon.
Text messages, internet and data services are still active, but Rogers'
website confirms some customers may be intermittently experiencing dropped
calls or are unable to place or receive calls on their mobile phone or
wireless home phone service. Bell, Telus and Freedom Mobile users were also
tweeting that they've been experiencing calling issues, but the cause or when
the problem might be repaired isn't known.
—-
Right-Whales-Entangled
Whale rescuers are trying to get to three North Atlantic Right Whales
entangled in fishing gear in the gulf. They were spotted late last week and
on the weekend with two east of Miscou Island and the third off the Gaspe.
They were in areas where fishing was already closed.
—-
SPORTS
The Blue Jays avoided a sweep by beating the Orioles 6-1 in their final game
before the All-Star break. The Red Sox doubled the Tigers 6-3.
The home run derby goes tonight with eight sluggers vying for the million
dollar prize.
The U-S beat the Netherlands 2-nil to win the Women's World Cup.