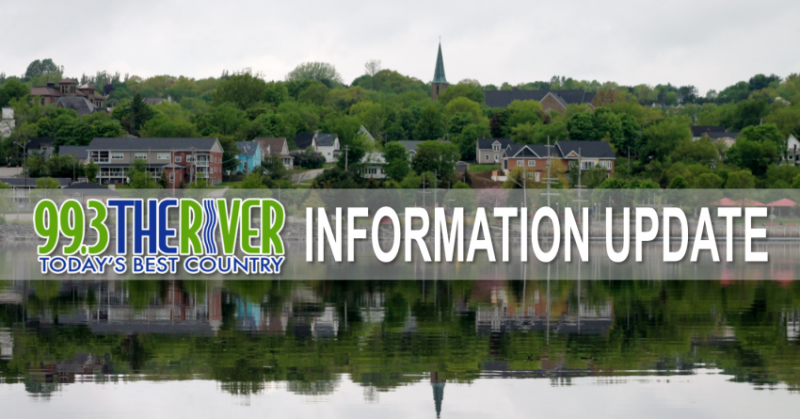 99.3 The River News—-July 27th, 2020
ALL STORIES FROM MBS RADIO
—-
COVID UPDATE    
The province is down to three active cases with no new infections reported over the weekend.
The only new case reported over the weekend in the Atlantic bubble was in Newfoundland Labrador which now has four active cases.
Nova Scotia's last remaining case has recoved leaving them with no active cases while PEI remains at two.
Nationally we added over 12-hundred new cases this weekend as numbers continue to rise in some provinces… we are nearing 114-thousand cases. 16 more virus related deaths were also reported bringing that number to 8,890.
World wide we have surpassed 16 million cases…over 4 million of them in the U-S, the most of any country, and they also have the most deaths at over 146,000.
—-
 GAGETOWN TRAGEDY MARCH   
Soldiers at CFB Gagetown are marching in a rucksack challenge to show support for the people of Nova Scotia after the several tragedies in the province this summer.
According to CBC the goal is to walk 8-hundred-kilometers with a 75-pound rucksack representing the distance it would take to get from Gagetown to Halifax.
Officials say the idea originated with the base's chaplin to keep a sense of togetherness during the outbreak.
Nova Scotia has experienced not only the pandemic, but the mass shootings in April, the loss of  Capt. Jenn Casey in the Snowbird Crash and the loss of several armed forces members in the helicopter crash off Greece.
—-
 DOUCETTE IN CUSTODY        
A six-day manhunt for a man accussed of stabbing a Bridgewater Nova Scotia police sargeant came to an end early yesterday morning.
RCMP say they responded to a call of an attempted vehicle theft and a combination of police dog tracking and air support led to the location of Tobias Doucette.
He was arrested without incident and is being held in custody.
Doucette is facing multiple charges including attempted murder for allegedly stabbing Bridgewater Police Sargeant Matthew Bennet, injuring a law enforcement animal and aggravated assault.
—-
 BORDER BETTER     
After the mayors of Sackville and Amherst voiced their concerns about the New Brunswick/Nova Scotia border it appears things were moving along more smoothly on the weekend.
Amhest Mayor David Kogan tells CTV a meeting with New Brunswick's Department of Public Safety and other officials gave them the opportunity to ask crossings be made more efficient to reduce wait times. Kogan says an hour or two wait doesn't sit well with people meaning they won't cross to shop and visit which defeats the purpose of the Atlantic bubble.
Both truckers and residents crossing this weekend reported the lanes have been split for essential and non-essential and they were continously moving with minimal waits.
——HURRICANES
The U-S is being pounded by two big storms…in in Texas andthe other Hawaii.
Hanna has been downgraded to a tropical storm aftewr slamming into the Texas coast as a category 1 hurricane. It could dump as much as 450mm of rain and flash flood warnings have been posted.
In the Pacific,  Hurricane Douglas is pummeling the Hawaiian Islands with 400mm of rain and winds of 140kph…and people are seeking shelter.