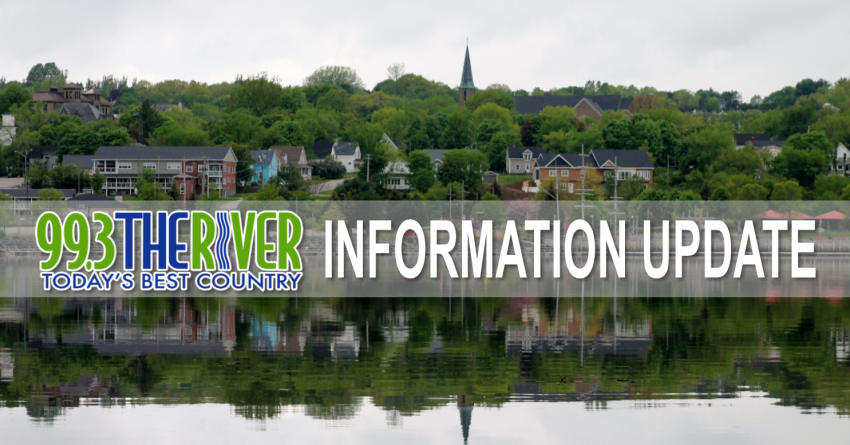 99.3 The River News – July 25, 2019
(FROM MBS NEWSROOM)
DANGEROUS ATV DRIVING
A 21-year-old man from Quarryville has been charged with 9 offences in
connection with several dangerous driving incidents involving an off-road
vehicle.
On four occasions between May 17 and June 29, 2019, Blackville RCMP responded
to incidents believed to involve the same ATV driver.
Stewart Jardine faces charges including driving the ATV at police officers at
high speeds and fleeing from police.
On June 29, …. RCMP responded to a complaint of an impaired ATV driver.
Jardine fled from police and drove the ATV into a ditch before fleeing on
foot, when he was apprehended.
Stewart Jardine also faces several infractions under the Motor Vehicle Act.
He has been released on conditions and is scheduled to return to Miramichi
Provincial Court on August 12.
—-
BUILDINGS UPDATE
There is a chronic housing and homelessness crisis on Cole Crescent and the
community is being asked for help.
For the 50 or so residents of 5 Cole Crescent where an unattended candle
started a fire on Saturday night are expecting to get the all clear to return
to their homes.
The bad news though is … renovation work to bring the neighbouring building
at 15 Cole Crescent up to code is ongoing without any immediate end in sight.
Tenants there were forced out in June after the building was deemed a fire
hazard – some are now living in tents behind the property.
Miramichi Pastor Ray Arsenault has issued a plea for the community to pitch
in and help out.
H says anyone able to volunteer, provide transportation or donate funds is
asked to contact the Skyway to Heaven Church in Chatham at 962-2387 – that's
962-23-87.
—-
BATHURST LOCKOUT
The City of Bathurst is threatening to lockout its administration workers in
an ongoing labour dispute.
CUPE says the city served its members with a 24 hour lockout notice, and as
of today its 20 administrative employees will be barred from the workplace
and will stop being paid.
The union says the city is using the threat of a lockout to try and force a
vote on the city's latest offer.
However, the union claims its members have made their position clear and are
refusing to hold a vote on the city's offer.
The workers including IT support, payroll clerks, secretaries and others
have been without a contract for more than two and half years.
—-
FRACKING
Indigenous leaders from across the country met in Fredericton Tuesday for the
Assembly of First Nations annual general assembly and fracking in the Sussex
area came up.
Chief Patricia Bernard of Madawaska Maliseet First Nation tells the Telegraph
Journal its is something the Mi'kmaq and Wolastoqey chiefs do not approve of
in any form.
Chief George Ginnish of Eel Ground First Nation says the government is going
to get some angry responses as Indigenous peoples should have been consulted
before the ban was lifted.
The Higg's government has partially lifted a moratoreum on shale gas
exploration around Sussex.
The back and forth between first nations and the goverment so far has led
many to think back to the 2013 Rexton riots that saw several RCMP vehicles
torched and mass arrests.
—-
KOREA MISSILES
North Korea has stirred the international community, rattling its sabre with
yet another missile test.
A pair of short-range missiles flew almost 700 kilometers and dropped into
the Sea of Japan.
Japanese Defence officials say while North Korea's missile test launches are
likely a violation of U-N Security Council resolutions, they did not pose any
immediate threat to the country's national security.
—-
IMPLANT RECALL
One of the world leading makers of breast implants has issued a worldwide
recall. Allergan says its recalling its Biocell textured breast implants and
tissue expanders due to potential links with a specific form of breast
cancer. The international pharmaceutical company says it's issuing the recall
as a precaution following recently updated information from the U-S Food and
Drug Administration. In May, Health Canada ordered the implants to stop being
used here following 22 confirmed cases of the associated cancer detected in
woman with the Allergan implants. Neither the company or Health Canada have
said how many Canadian women may need to have the popular implants removed.
—-
BC MANHUNT
A nationwide manhunt continues this morning for two young men from British
Columbia who are suspects in three murders.
R-C-M-P believe 19-year-old Kam McLeod and 18-year-old Bryer Schmegelsky
killed an Australian man and his American girlfriend in northern B-C earlier
this month.
They're also accused of killing an unidentified man whose body was found near
Dease Lake, B.C., four days after the couple was discovered.
Police say McLeod and Schmegelsky were spotted in Meadow Lake, Saskatchewan,
on Sunday, and may have been in northern Manitoba a few days later.
—-
SPORTS-AM
Checking sports….
In baseball…
Cleveland shutout the Blue Jays 4-nothing.
—-
The Rays edged the Red Sox 3-2.
—-
The Yankees 10-7 over the Twins.