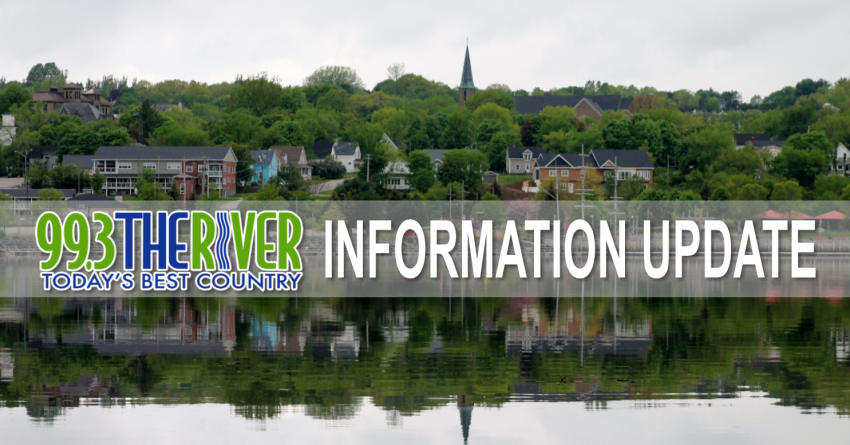 99.3 The River News – July 24 2019
(FROM MBS NEWSROOM)
ASSAULT SENTENCE
Its 4 months in jail for a local man who fled the province 3 years ago after
assaulting his mother and her boyfriend.
The Leader reports … 28 year old Tyler Peterson of Pittsburgh Road near
Doaktown was in Miramchi court and sentenced after pleading guilty in
February 2016 to 6 charges.
They included mischief causing property damage, assault wth a weapon and
uttering threats to cause bodily harm or death.
The charges stemmed from an incident in October 2015.
Peterson left the province after pleading guilty.
—-
MOOSE CRASH
RCMP say two men were injured, one seriously, after their vehicle collided
with a moose just outside Bathurst.
They say the vehicle struck the moose on Route 11 shortly after 10pm last
Thursday.
A 21-year-old male passenger in the vehicle from Shippagan suffered life
threatening injuries.
The driver, a 19-year-old man from Le Goulet, was ejected from the vehicle
but only suffered minor injuries.
—-
MORE ARENA CASH
The Tom Donovan Arena in Renous is getting more money – this time from
Ottawa.
During a celebration event featuring Stanley CUP winning goaltender Jake
Allen of the St.Louis Blues on Monday, Miramichi Grand Lake MP Pat Finnigan
announced another 246-thousand-dollars in federal money for arena upgrades.
The province also stepped up with 90-thousand-dollars in additional funding .
Together with the 250-thousand it received for winning Kraft Hockeyville, and
private donations, the rink now has more than 700-thousand-dollars to spend
on renovations and improvements.
—-
STORAGE DEPOT
The Chaleur Regional Planning Advisory Committee will not recommend rezoning
of land in Big River to allow a half-a-million litre fuel storage depot.
Patrick Mallet, chair of the committee tells the Northern Light they listened
to the people of the community when the decision was being made.
The meeting… with over 40 residents of Big River there, erupted into
applause when the decision was announced.
Michaud Petroleum, the company behind the application was not present. The
final decision on rezoning lies with the Minister of Environment and Local
Government.
—-
WHALE UPDATE
Scientists in Grand-Etang, Quebec have completed tests on another dead right
whale found floating in the Gulf of St. Lawrence.
The federal Fisheries Department says preliminary findings indicate the
whale's body _ the fifth examined this year in Canadian waters _ had no
obvious signs of trauma or entanglement.
The carcass is one of eight dead right whales found in the gulf since last
month.
Though the first of the necropsies failed to determine a cause of death, the
next three confirmed that each of the whales had suffered injuries compatible
with a vessel strike.
—-
BOY BITTEN BY BAT
The mother of a four-year-old New Brunswick boy who was bitten by a brown bat
says it tested positive for rabies.
Tasha Doherty of Hartland tells C-T-V News Atlantic …. her husband killed
the bat that got into her children's bedroom last week and they took their
son Andrew to hospital to begin life-saving rabies injections.
Doherty says the health department later confirmed the bat had tested
positive for the virus but says Andrew is doing fine.
A 21-year-old man from Parksville, B-C died earlier this month from rabies
contracted when a bat attacked him in May.
—-
LANGUAGE COMMISSIONER
The New Brunswick government says it has opened the process of selecting a
new commissioner of official languages and a new integrity commissioner.
A selection committee that includes the legislature's sergeant-at-arms and a
provincial appeal court justice has been set up to identify qualified
candidates.
Premier Blaine Higgs says the province is committed to using a fair and
transparent process to chose the new commissioners because they help hold
government to account by providing a strong, independent voice for New
Brunswickers.
Interested individuals have until August to apply.
—-
CLIMATE CHANGE CURRICULUM
According to a new study Nova Scotia and New Brunswick are lagging behind in
climate change curriculum in high schools.
The study from 2015 published in PLOS One says the two provinces have the
least comprehensive teachings in six core topics: climate, the earth is
warming, its because of us, experts agree, its bad, and we can fix it.
The Herald reports the study states the current high school curriculums only
meet the climate aspect.
Lead author Seth Wynes does warn the study only looks at official documents
and teachers that are passionate about climate change may be expanding on
those ideas.
—-
JUSTICE COSTS
Experts are pointing out how two legal cases in our region show that money
can make a difference on whether someone mounts a successful defence in a
major crime.
Last week, a judge in Saint John found Dennis Oland not guilty of the bloody
2011 murder of his wealthy father in Saint John, after 6 years of legal
wrangling.
UNB law professor … Nicole O'Byrne … says Oland had the ability to pay a
defence team to follow up on every aspect of the case by hiring experts and
by taking portions of the case to the Supreme Court of Canada.
The co-president of Innocence Canada … Kirk Makin (mah-KINN) … contrasts
the Oland case with the wrongful conviction of Glen Assoun in 1999, when he
went to trial without a defence lawyer.
—-
GROCERY STORE MISSING
The body of a grocery store worker reported missing in Iown ten years
ago has been found behind one of the store's coolers. Police in Council
Bluffs have confirmed the remains of missing 25-year-old Larry
Murillo-Moncada were discovered by workers removing the large cooler and
shelving unit at the now closed No-Frills supermarket. Murillo-Moncada was
reported missing in November of 2009. Apparently workers at sometimes climbed
on top of the large cooling unit in the storage room of the grocery store
during breaks and its' believed Murillo-Moncada slipped into an 18 inch wide
space behind it. Investigators believe the loud compressors on the cooling
unit likely muffled any of his cries for help. An autopsy showed no evidence
of trauma and he likely died from dehydration.
—-
WHALE FATIGUE
Canada's fisheries minister says many of the people working to save the
dwindling population of North Atlantic right whales are feeling drained by
the ongoing ordeal.
Jonathan Wilkinson says he has committed to closing more fisheries and
reducing speed limits for ships in an attempt to prevent the lumbering whales
from being hit by boats or entangled in fishing gear.
He says there has been only one death of a right whale reported since the
new, "aggressive" measures came into effect in the last few weeks.
He says the whales are being tracked every day by five or more aircraft,
which have logged more than 11-hundred hours in the air since April.
—-
SPORTS-AM
Checking sports …
In the Majors ….
The Blue Jays edged Cleveland 2-1.
—–
The Red Sox got past the Rays 5-4.
—–
The Yankees and Twins battled it out to a 14-12 final for the Yanks.