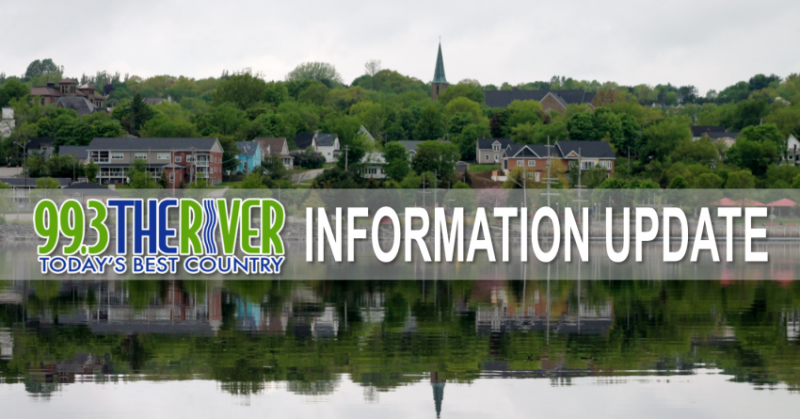 99.3 The River News—-July 22nd, 2020
ALL STORIES FROM MBS NEWSROOM
—-
NB FATAL CRASH   
A 71-year-old woman from Big River has died following a two-vehicle collision in Bathurst on Monday. RCMP say it appears a southbound SUV crossed the centre line on Route 11 and collided with an oncoming SUV around noon yesterday.  A 58-year-old man and a 60-year-old woman from Val-Comeau in the southbound SUV were taken to hospital with serious injuries. The sole occuepent of the otehr vehicle, a 71-year-old woman was rushed to hospital but later died from her injuries.
—-
MURDER CASE UPDATE     
Lawyers for the man charged with first degree murder in the death of Brandon Martin were in court briefly yesterday asking for a delay.
Ethen James Harnish appeared via video conference. His lawyer told the judge they need more time to go over the disclosure of evidence. So the judge set August 18th for his next appearance.
Martin went missing in May of last year after he was dropped off at a residence in Chatham. His body was found near the Plaster Rock-Renous Highway in late May this year and Harnish was arrested in June.
—-
CAR FOUND – NO LADY
RCMP say a car belonging to a missing Saint-Isidore woman has been found abandoned near Bathurst.
The Mounties say the car beloging to Jenny McLaughlin was reported blocking an ATV trail in the Rough Waters area, south of Bathurst, Saturday. A search of the area failed to find any sign of the missing 34-year-old woman.
MacLaughlin was last seen at her home in Saint Isidore on July 15th and was reported missing last Friday. She's described as 6′, 217 pounds, with green eyes and short brown hair that may be dyed purple.
Anyone with information about McLaughlin's whereabouts, or who may have spotted her vehicle between last Tuesday and Friday, is asked to contact the Tracadie RCMP.
—-
POOLS CLOSED     
They weren't open long. DFO has closed 27 cold water salmon pools on the Miramichi system again because of warm water conditions.
The pools had just been reopened to anglers friday…but DFO issued a release yesterday saying they were closed again until further motice as the water has heated up again.
—-
NB – NURSING HOME CONCERN      
The Director of a nursing home in Shippagan is defending the facility after an anonymous employee stated residents weren't getting proper care.
The employee told Radio Canada conditions at Les Residences MGR Chiasson are catastrophic with some residents waiting up to two weeks for baths.
Director Anne-Marie Richardson Chiasson says the home is doing the best it can with what they have, as they are limited by what the government gives them.
The employee said there are up to 20-employees on sick leave creating the issues and Richardson Chiasson says they have filled some positions including three specifically for bathing residents.
—-
QUEBEC DAY TRIPS   
Premier Blaine Higgs is looking to expand the travel bubble into some Quebec regions on August 1st.
Higgs speaking with reporters stated its important to realize this is not a bubble with Quebec, its a regional connection twinning some communities that have a way of life back and forth.
The proposed expansion would include communities in Quebec bordering Restigouche… including Pointe-a-la-Croix and Listuguj… and communties bordering Madawaska County.
At first the move will allow for only day trips and people who have travelled to other parts of Quebec will be asked not to come into New Brunswick nor will they be able to travel to other regions in the Atlantic bubble.
—-
COVID UPDATE   
Newfoundland/Labrador broke its 10-day streak of no new cases reporting a travel related case yesterday.
The province was the only one in the Atlantic Bubble to report a new case as numbers of active cases also continue to fall in the region.
Both Newfoundland and Nova Scotia have one active case, PEI is down to three, and New Brunswick has five cases remaining.
Nationally we added almost 6-hundred cases as we approach 112-thousand and we now have 8862 virus related deaths adding four yesterday.
—-
UNREASONABLE FORCE    
An independent civilian police watchdog says it has concerns about unreasonable force used by RCMP during mental health wellness calls.
The Civilian Review and Complaints Commission released a statement in response to what it called recent high-profile and controversial incidents involving RCMP in New Brunswick.
Chair Michelaine Lahaie tells CBC the commissions findings have consistently highlighted concerns about police adopting a command and control approach when dealing with someone in crisis.
Lahaie says they have issued 14-findings in five-years across the country concluding the RCMP's actions on wellness checks were unreasonable. RCMP have not commented on the statement.
—-
MANHUNT
A manhunt continues for a suspect in Bridgewater Nova Scotia wanted for stabbing a police officer.
Police started looking for Tobias Charles Doucette after a police sargeant responding to a domestic dispute call was stabbed in the neck at a local hotel early yesterday morning.
Doucette ran into the woods. Police apparently got close yesterday as they report a police dog was stabbed, but Doucette fled.
some residents have been evacuated while others have been advised to stay inside with their doors locked. The officer is recovering from serious injuries.