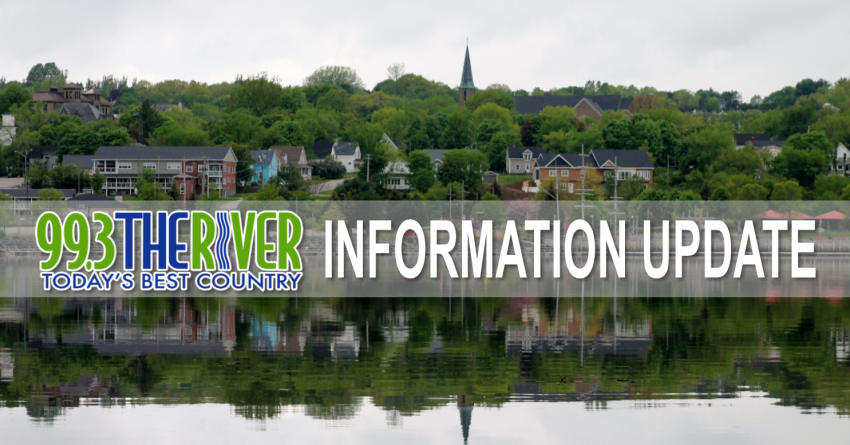 99.3 The River News – July 11, 2019
BOIL UPDATE
A boil water order affecting a large area of Chatham is expected to remain in
place for several days.
The order was prompted by a water main break on Water Street near Kelly Road
according to a facebook post by Mayor Adam Lordon. The break occurred during
the city's annual flushing of the water system. Roughly 1,300 homes have been
affected; from Kelly Road at Morrison Cove – east to Kerr's Construction on
Wellington Street…and from Saint Thomas Street north to the river. You can
see a map of the affected areas on our website at 993theriver.com.
The city says water used for consumption of any kind should be boiled for at
least a minute. The boil water order will remain in place until the city can
produce consecutive days of clean tests.
—-
NO POT IN CAP PELE
While many New Brunswick communities have actively courted cannabis
producers, Village Council in Cap Pele has taken steps to make sure they stay
away…at least temporarily.
The Times and Transcript reports Cape Pele Council agreed this week to extend
a ban on cannabis production in the village from six months to two years.
Councillor Hector Doiron says the decision will allow council to see how it
plays out elsewhere before deciding if they want it in Cape Pele.
—-
Fish map
Environmental groups across the Maritimes can now access a detailed map of
watersheds and problems in them put together by the Nature Conservancy of
Canada.
It has released its Freshwater Conservation Blueprint which is meant to help
protect waterways and habitats for fish and other wildlife.
Josh Noseworthy tells the Leader the map shows where different types of
freshwater fish, crasyfish and muscles are distributed and problems they face
like pollution and barriers to fish passage like dams and culverts.
The full watershed health, hydrologic unit and waterway classification maps
are available online at 2c1forest.databasin.org.
—-
INMATE DEATH REPORT
A newly released report says correctional officers inside the Saint John
Regional Correctional Centre did not perform proper checks on a sick inmate
who died in his cell.
C-B-C used access to information legislation to obtain the Department of
Public Safety report, which says the officers violated correctional policies
by using video screens to monitor 37-year-old Jeffrey Ryan.
The report says that by the time someone entered his cell on March 8th, 2011,
Ryan had been dead for a while.
The report was originally withheld by the department but was released after a
ruling from the Office of the Integrity Commissioner.
—-
TEEN NURSE ATTACK
A psychiatric evaluation on a teen who attacked a nurse at the Dr. Georges L.
Dumont Hospital last month was presented in court yesterday. It said the 15
year old boy does not suffer from any mental disorder which would make him
not criminally responsible for the attack.
The Times and Transcript reports some documents were not available so the
judge delayed a decision on releasing the teen until at least tomorrow.
A 34 year old nurse at the hospital was cut by a piece of glass June
10th…but is recovering.
—-
MEDIA PROTECTIONS
Canada and Britain are leading a push today to secure more protections for
journalists around the world.
Foreign Minister Chrystia Freeland is in London, where she and U-K Foreign
Secretary Jeremy Hunt are co-hosting a two-day conference with politicians,
activists and journalists from more than 100 countries.
Two Russian news outlets have been banned from the conference for their
alleged active role in spreading disinformation.
The Committee to Protect Journalists says 54 media workers were killed
worldwide in 2018.
—-
HARD TO SPOT WHALES
One of the three entangled North Atlantic Right Whales in the gulf was
spotted on Tuesday night, but was lost before the Campobello Rescue Team
could get to it.
The whale… No. 4440 surfaced but aerial surveillance had to go back to
refuel so it was unable to assist with leading the rescue operation to it.
A release says the endangered right whales are very difficult to track as
they spend a significant amount of time under the water.
Aerial and water searchesf will take place again today with the Campobello
team remaining on standby in the gulf.
—-
Ont-Forest-Fires
As many as two-thousand wildfire evacuees from Northern Ontario will soon
head west to Saskatchewan.
Premier Scott Moe says Ontario has helped his province in the past and he is
now ready to return the favour after Ontario Premier Doug Ford made the
request for help.
The Ontario government says it is also reaching out to mayors across the
province to ask them to host evacuees, including some of 3,800 other evacuees
from the Pikangikum First Nation.
—-
SPORTS
Roger Federer and Rafael Nadal will square off at Wimbledon for
the first time in 11 years in one of the semi-finals.
Canada's Brooke Henderson has earned another award for her stellar season on
the L-P-G-A Tour with two wins. She was named best female golfer at the ESPY
Awards.