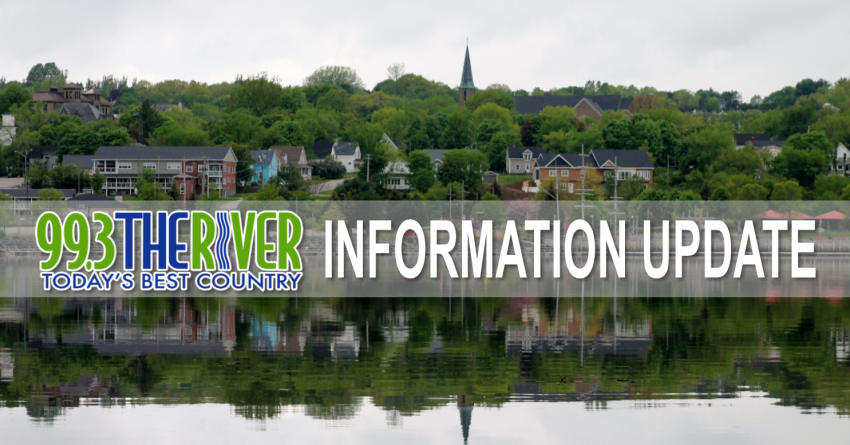 99.3 The River News – July 10, 2019
Boil advisory
A boil water advisory has been issued for a large part of Chatham.
The advisory covers an area from Kelly Road at Morrison Cove east to Kerr's
Construction on Wellington Street…and from Saint Thomas Street north to the
river. You can see a map online at Miramichi.org.
All water for consumption including washing food, making juices and formula,
washing food, brushing teeth and making ice cubes should be boiled for at
least one minute. The Health Department says adults, adolescents and older
children can bathe, shower or wash using tap water…but toddlers and infants
should be sponged and make sure they don't swallow any water.
—-
DISPLACED TENANTS UPDATE
The Salvation Army Community Resource Centre in Newcastle has agreed to
provide beds for up to 6 people displaced from that apartment building
declared unsafe last month.
A previous temporary shelter at JMH school closed Monday, although only a
handful of people was making use of it at the time. The majority of the 50 or
so tenants displace from the Cole Cresent building are staying with family or
friends. Some have pitched tents in the backyard.
The Social Development Department has assured residence receiving assistance
they will still get their cheques…despite being in tents and not at a fixed
address.
—-
MOOSE LICENSE RESULTS
Results are now available for the more than 55-thousand people who applied
for a moose hunting licence this year in New Brunswick.
People can check online or call the Department of Energy and Resource
Development to find out if they got one of the four-thousand-744 licenses up
for grabs in this year's random draw.
The province made changes this year to increase the chances of applicants
whose names had not been drawn for 20 years or more.
The season runs from September 24th to the 28th.
—-
Fatal accident trial
An Acadieville woman will go to trial next summer in a deadly accident in
February last year.
35 year old Danielle Lortz has chosen trial by judge and jury on a charge of
dangerous driving causing death in the head-on collision on Route 116 near
Elsipogtog that killed 27 year old Ryan Ward of Birch Ridge.
—-
INDIGENOUS CHILD POVERTY
A new study released today says Indigenous children are more than twice as
likely to live in poverty than other children in Canada, with little
improvement over the last decade.
Researchers at the Assembly of First Nations and the Canadian Centre for
Policy Alternatives found that just under half of First Nation children, both
on- and off-reserve, live in poverty.
That figure tops 50 per cent when looking at First Nations children living
on-reserve.
In fact, the on-reserve child-poverty rate is roughly three times the
national rate of 17.6 per cent reported in the 2016 census.
—-
MMPA REPORT
With the death of 6 endangered right whales, the entanglement of 3 others,
and continued criticism over the seal hunt…
Canada now has to submit a report showing how the country is planning to meet
the United States Marine Mammal Protection Act.
According to CBC failure to meet the US requirements could result in the loss
of Canada's biggest export market for seafood valued at 4.3-billion dollars.
Fisheries and Oceans Canada will submit the progress report detailing
protections for over 200 Canadian fisheries that interact with marine
mammals, including the most valuable, lobster and crab.
A preliminary response from the Americans is expected in September.
—-
Winnipeg-CO
Dozens of people are recovering in hospital following significant carbon
monoxide poisoning in a Winnipeg motel.
46 people were hospitalized, with 15 listed in critical condition, but
everyone was expected to survive.
Investigators believe the CO leak originated in the motel's boiler room.
—-
Salad recall
There's a salad recall in effect by the Canadian Food Inspection Agency.
Eat Smart-brand kale salad has been recalled in six provinces, including
Atlantic Canada because it could be contaminated with Listeria. They are Eat
Smart's Sweet Kale Vegetable Salad Bag Kits with a best-before date of July
17. You can check the product code online at Inspection.GC.CA.
No illnesses have been reported in connection with the product packaged by
Fresh Taste Produce Limited.
—-
SPORTS
The American League beat the Nationals 4-3 for its seventh straight win in
the All-Star Game. The A-L pitching staff struck out 16 batters in all.
Cleveland's Shane Bieber, who pitched a perfect fifth inning, was named MVP.
John Daly has withdrawn from the British Open after being told he can't ride
a cart because of a medical condition. Daly says he has osteoarthritis in his
right knee and that makes it difficult to walk. The R-and-A said it denied
his request because it considers walking to be an integral part of the
championship.