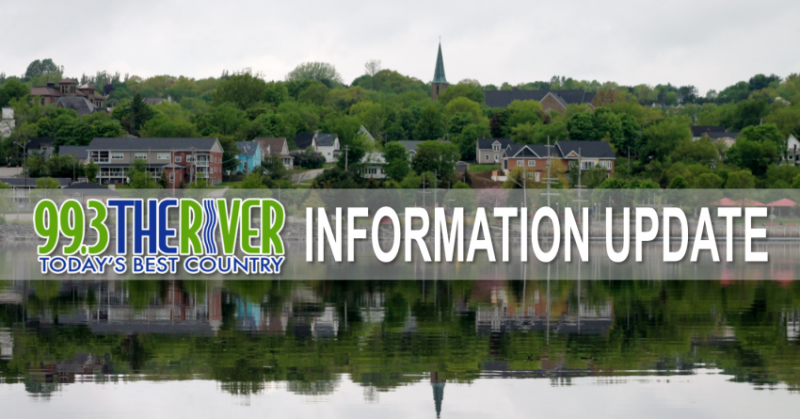 99.3 The River News—-January 7th, 2021
ALL STORIES FROM MBS NEWSROOM
—-
COVID    
For a second day in a row, New Brunswick is reporting record number of new cases. Chief Medical Officer, Dr. Jennifer Russel says Public Health is seeing the continued spread of new cases that originated with social gatherings over the holidays.
Dr. Russel says six of the new cases are in the Moncton Region, Three each in the Fredericton and Campbellton regions, 1 in Edmunston and 18 in the Saint John region. The cases in Saint John include another outbreak affecting a different residence at the Shannex Parkland Long Term care facility. Dr.
Russel also reported that 97 health care workers  are now off the job for covid reasons, either due to infection or possible exposure, and says that is  already having an impact on services. She warned today that New Brusnwickers need to take public health guidelines seriously in order  to avoid revertimng to the  even more restrictive red phase of recovery. With todays record case numbers there are now 110 active cases of the virus in New Brunswick.
—-REC FACILITIES           
The return to the Orange phase province-wide has prompted the city to close all of its recreation facilities…
The Golden Hawk and Linden Rec Centre, Lord Beaverbrook Arena, Miramichi Civic Centre and Miramichi Valley High indoor pool are closed until further notice. There'll be updates on the recreation department's facebook page.
—-
SALVATION ARMY     
There are smiles on the faces of officials at the Salvation Army.
Miramichiers stepped up and shoved even more money into the kettles during the pre-Christmas campaign.
Major Wayne Hurdle told the Leader that because of the pandemic restrictions they had far fewer volunteers to man the kettles in stores…and they were anticipating higher demand as well. But he says the kettle campaign brought in over $74,000, and one of the Rotary Clubs topped that up for a total of over $85,000….$10,000 more than was raised the previous Christmas.
—-
BELLEDUNE FIRE
Two people have been displaced by a fire that caused major damage to their home near Belledune.
They are staying with relatives for now and getting help from the Red Cross with emergency supplies. Neither was injured in the blaze on Mitchell Road late yesterday morning
—-
SHOOTER ARRESTED 
The suspect in a Moncton area shooting has been arrested in Nova Scotia. RCMP first issued an alert late Tuesday after a man was shot near Riverview High School. The victim suffered non-life threatening injuries. Police quickly identified the suspect as 24-year-ol Jansen Bryan Baker and warned he was considered armed and dangerous. With Baker still on the run, all schools in the greater Moncton area were closed today.
Shortly after 8am this morning Baker's black 2020 Hyundai Eleantra was foudn abandoned across the border in Amherst, NS. That prompted a provincial emergency alert to be issued in Nova Scotia, warning the public about Baker.
A short time later, around noon, the RCMP announced that Baker had been arrested without incident in Amherst and there was no further threat to the public.
—-
UNIVERSITY STUDENT BACK HOME  
More than 1,200 university students are returning to the province for winter semester on arrival students are expected to self isolate for the mandatory 14 days as well as complete daily check ins support is being offered including assistance with travel, grocery delivery, and a connection to campus and community health services and after-hours support along with some dorms being offered for students who live off campus with roommates that need to self isolate according to CBC the province has mandated international students to be tested after 10 days of isolation
—-
 US ELECTION
Lawmakers in the US have begun the unusually drawn out official process of certifying Joe Biden's election as President. Both houses met in a joint session to certify the results of each state – but as a group of rougue republicans voice objections to individual state results, both houses, by law, then break into seperate sessions to discuss the merits of the objection.
The process is expected to play out well into the overnight hours –  but the objections are unlikley to have the support needed to stop the certification of results.  The entire process is overseen, constitutionally,  by Vice President Mike Pence, who after years of unwavering loyality is now facing President Trump's ire for refusing to stop it.
Trump, for his part, delivered a speech this afternoon riling up a crowd of tens of thousands of his supporters protesting in Washington as the certification process is playing out – with fears that thos poretsts could end in violence as Trumps defeat is enshrined in law.